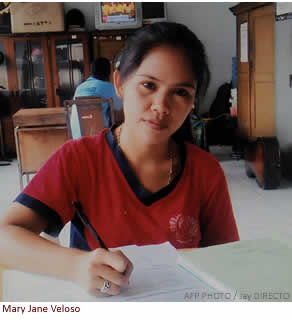 n the 28th of April, the Indonesian government will execute Filipina Mary Jane Veloso by firing squad. For this luckless young woman, it will be the culmination of a life that from the beginning, had been dealt a losing hand.

First and foremost, she was born a Filipino. In a country where according to an Asian Development Bank (ADB) study, 18 million live on 50 pesos or less a day, her chances of being born into poverty were a lot greater than if she was born in Europe or North America—or even in other countries in Southeast Asia.

Growing up poor in Nueva Ecija, the youngest of five siblings, Veloso only made it to her first year of high school before dropping out and marrying at 17. She had two children before she and her husband separated.

With little education, and even more limited resources, in a country that forces its citizens to fend for themselves and find work anywhere in the world they can, Veloso ended up in Dubai, working as a maid. She did not complete her two-year employment contract, but promptly returned home after she was almost sexually assaulted.

To pile on to her misfortunes, a fellow Filipina and townmate of Veloso, a woman by the name of "Christine," offered her a job in job as a domestic helper in Yogyakarta, Indonesia. This woman even gave Veloso an advance of $500 plus a brand-new piece of luggage to take with her on her trip. Hidden within the unusually heavy bag's lining were 2.6 kilograms of heroin.

After her arrest, Christine warned Veloso's family from seeking help from Philippine authorities. She told them the syndicate would kill them off one by one if they did. Christine continued living openly in Cabanatuan. It was only in late March, after Veloso's plight gained widespread media attention that Christine packed-up her belongings and left.

Veloso's trial in Indonesian court was nothing short of a travesty of justice. The International Association of Democratic Lawyers (IADL), a group accredited by the United Nations, has written to Indonesian President Joko Widodo. In the letter, IADL president Jeanne Mirrer states "We are gravely concerned about her case because of the numerous reported violations of the Veloso's human rights, including the right to a fair trial and due process as guaranteed under both domestic and international law."

The Philippine government, through its embassy in Indonesia must surely have been informed of Mary Jane Veloso's arrest by Indonesian officials in 2010. Unfortunately, due to incompetence or apathy, or both—typical of most Philippine government (and non-government) bureaucracies—Veloso was left to fend for herself in what many international legal experts insist was an unfair trial.

Overseas Filipino Workers (OFW) like Veloso are the true heroes of the Philippine economy. They have been able to achieve what lackadaisical get-rich-quick-oriented Filipino businessmen would never have been able to. And for the most part, they did it without government help. However, despite appearing pro-OFW, according to the Research group IBON the Aquino administration had been reducing their budget for OFWs since 2011. IBON points out that the budgets of the three main government agencies involved with Filipinos overseas i.e., "Department of Foreign Affairs (DFA), Philippine Overseas Employment Administration (POEA) and Commission on Filipinos Overseas (CFO), shrank from Php13.3 billion in 2011 to Php 12.7 billion in 2014." This despite the continually increasing billions of dollars in foreign remittances from OFWs around the globe.

Whatever the final outcome of Mary Jane Veloso's travails is to be. We all are collectively to blame for having failed her. Whether it was what we did or what we failed to do, we Filipinos are in one way or another responsible for what has happened. We delude ourselves into believing we are an empathic, caring society when in fact we are the exact opposite. We think only of ourselves and those close to us, and shut everyone else out. We are highly distrustful of one another and strongly believe that rules and regulations are for other people to follow, but not for us. We act overtly religious and firmly believe we will go to Heaven, but we'll most likely all end up in Hell. Where it is doubtful we'll see Mary Jane. Published 4/25/2015



Philnews.com reserves the right to select and edit comments for publication.

Selected comments from our readers
(Topic: Mary Jane Veloso's Execution Will Only Highlight the Dysfunction of Filipino Society)
Name: JRH
City/State/Country: Vacationland
IP Address: 24.203.177.29

Comments
DFA must create a legal task force with our best & brightest lawyers to represent our OFWs in court anywhere in the world. To defend on the International Association of Democratic Lawyers (IADL) is not good enough. These hardworking OFWs send ever-increasing amounts of billion of dollars back to the Philippines & it greatly benefits Filipino families countryside & other cities outside MM. They contribute 13.5% of our GDP which greatly help our economy. To neglect these global workers is the biggest mistake our govt do. Incompetence or apathy? No, it's plain stupidity & lack of foresight on the part of our govt.
---
Name: Art1234
City/State/Country: Gotham city
IP Address: 162.227.104.101

Comments
The article just described the unfortunate fate of PH, (quite different from it's Asian neighbors ), whose people cannot be totally blamed for their current problems. Firstly, after landing in Guam in 3/6/1521, upon hearing of PH's gold and resources, Spain's Magellan and succeeding conquistadors fought to overrun a divided archipelago, run by small divided kingdoms. The Spanish 3 1/2 centuries rule by sword and religon, resulted in a strict PH Catholic church that, from the 1970's, opposed modern family planning, tripling PH population today, and limiting Filipinos prospects for a better way of life. Mary Jane and the Filipinos today are the victims of this fate, and that PH leaders and the world should help ameliorate PH's current problems.
---
Name: Rogelio Carreon
City/State/Country: Canada
IP Address: 192.197.128.21

Comments
The Editor of this article is 100% right. Indonesia should be expelled as a UN member. MJ Veloso is the sacrificial lamb. The recruiter is the wolf. MJ is gone and the wolf still around. It doesn't make sense. It makes me sick. Where is the logic.
---
Name: Bali Monk
City/State/Country: Indonesia
IP Address: 112.198.77.84

Comments
Shame to those Pilipino politicians who enriched themselves through all means of corruption; totally ignoring and neglecting the poor masses of their own countrymen, enjoy themselves & bluffing with their ill-gotten money; and put the fellow Pilipino in danger, risk and hardship! They are the one supposed to be executed by firing squad, instead, they are enjoying VIP treatment in hospital suite or special detention centers. Time for Pilipino people to wake up and overhaul the whole system.
---
Name: DAN JOSEPH
City/State/Country: NEW YORK, NY
IP Address: 142.105.8.154

Comments
'Due to incompetence or apathy, or both—typical of most Philippine government (and non-government) bureaucracies'. So true!!! Now that it became global news, expect these hypocrite officials and politicians to ride on the limelight.... PWEHHHHHH - ACTORS AND ACTRESSES.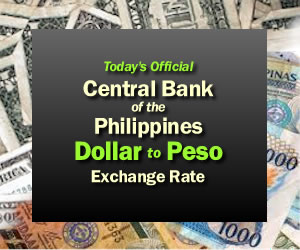 RECENT EDITORIALS
There Will Never be Lasting Peace with the Bangasamoro Basic Law



It is incomprehensible to many that despite all the negatives piling up against it, the Aquino administration is still pushing for Congress to ratify the Bangasamoro Basic Law (BBL). First and foremost, the Moro Islamic Liberation Front with whom the Philippine government entered into an agreement with, massacred 44 Special Action Force (SAF) policemen who were serving an arrest warrant on an international terrorist. Published 4/18/2015
---
Is Manny Pacquiao Giving Floyd Mayweather an Unfair Advantage?

Doctor Expedito Castillo, a retired internist with training in sports medicine thinks so. Castillo who lives in New York points out that Los Angeles—where Manny Pacquiao now trains for his May 2nd fight, and Las Vegas—where Floyd Mayweather trains and where the boxing match will take place, have enormous differences in terms of elevation. Los Angeles is just 233 feet above sea-level, while Las Vegas is a whopping 2,000 feet above sea-level. 33. Published 4/11/2015
---
Just When You Thought Filipino Cops Were the Worst, Here Come US Cops

What in the world has happened to cops in the United States? It seems that today only psychotic, unstable, individuals are joining the U.S. police force this days. People from all across the globe were more than willing to give American cops the benefit of the doubt, at first. But in instance after instance, from Ferguson, MS and the killing of Michael Brown, a young black man who witnesses say was unarmed and posed no threat at all to police; to today's cold-blooded murder of Walter F. Scott, 50 by South Carolina police officer Michael T. Slager, 33. Published 4/7/2015
---
NPA Celebrates 46 Years of Destroying the Philippines

Founded by Bernabe Buscayno, or "Kumander Dante" as he was more commonly known, the New People's Army established on March 29, 1969 marks its 46th year of existence. From less than 40 founding members and a handful of firearms, the NPA grew to over 26,000 members in the 1980s. Today however the Armed Forces of the Philippines (AFP) places NPA membership at less than 5,000 nationwide. That number is expected to dwindle even further as progress and education creep in to the far-flung towns and barrios that were once breeding grounds for recruits. Published 3/30/2015
---
Lee Kuan Yew and Ferdinand Marcos, What a Difference!

An Australian living in the Philippines published a book titled: "The Unlucky Country. The Republic of the Philippines in the 21st Century." The author Duncan McKenzie came up with the title as the counterpoint to "The Lucky Country" a book written in the mid-sixties that refers to Australia. In his book McKenzie explains that the Philippines is unlucky because, for starters, it is an archipelago and therefore naturally fragmented. Published 3/17/2015
---
Will the Philippines Ever Speed Up Its Glacially-Slow Justice System?

We've all heard the saying "justice delayed is justice denied." That maxim has been around since time immemorial. In fact the Pirkei Avot (Hebrew for "Ethics of the Fathers") which dates back to the 1st century B.C. mentions an old rabbi saying that goes: "the sword comes into the world, because of justice delayed and justice denied." In 1215 A.D. a clause from the Magna Carta similarly declares that "to no one will we refuse or delay, right or justice." Published 3/17/2015
---
Amal Alamuddin Clooney Wants to Defend Gloria Macapagal-Arroyo ...Why?

Okay so she's George Clooney's wife, she's got great looks, a law degree and ambitious enough to make a name for herself apart from that of her superstar husband. Fair enough. So Amal Alamuddin Clooney decides to take on high profile cases of injustice around the world. Even better. But filing a complaint with the United Nations Human Rights Council on behalf of former President Gloria Macapagal-Arroyo? What's up with that? Better do your homework Mrs. Clooney. It won't take long for you to realize that Arroyo is getting exactly what she deserves. Published 3/12/2015
---
Manny Pacquiao Should Not Be Given a Tax Exemption

Senator Aquilino "Koko" Pimentel III has proposed a bill to grant Manny Pacquiao a special tax exemption for the income he will earn from his May 2nd boxing match with Floyd Mayweather Jr. Pimentel justifies his bill as a "fitting tribute" to the Filipino eight-division world champion adding that "Manny is now part of our history and of world sports history. Let's give him this tax incentive in recognition to his invaluable efforts to promote boxing and the country around the world." Published 3/4/2015
---
With Negotiators Like These on Our Team, Who Needs an Opposing Side?

What on earth happened to these two women—supposedly  handpicked by the president himself to argue on behalf of the Philippine government in peace negotiations with the Moro Islamic Liberation Front—who now seem to be mouthpieces for the Moros? Have Secretary Teresita Deles, Presidential Adviser on the Peace Process and Professor Miriam Coronel-Ferrer, chair of the negotiating panel become mesmerized by the tough "macho" image the rebels project? Published 2/27/2015
---
Read more articles from our archives