n the surface, the Philippines can seem like an enjoyable and friendly place to do business. But scratch the surface and you'll find yourself in a strange and alien world where a whole new set of rules and attitudes apply. (con't below)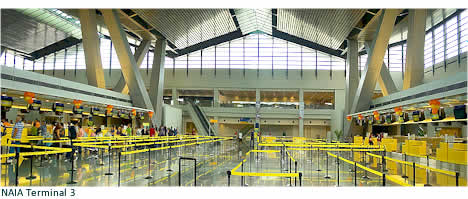 Just recently, the Fraser Institute, a well-known North American think-tank, ranked the Philippines third from the bottom, on its annual survey of the best places to do business for mining companies. The country is missing out on multi-billion dollar foreign investments—not to mention the thousands of jobs new businesses can provide—simply because foreign companies see the Philippines as unreliable. Rules can change mid-stream, and local jurisdictions can impose ever increasing requirements. The country already suffers from a history of failed business projects where foreign investors were left "holding the bag." A prime example is the construction of NAIA Terminal 3 where German airport services firm Frapport AG found itself entangled in a web of government agencies, bureaucrats, the courts, and the previous Gloria Arroyo administration. Unfortunately for Frapport AG, a simple straightforward airport project turned into a nightmare. Sadly Fraport AG's experience is in no way an isolated case. These things happen all the time in the Philippines where there is no requirement for full disclosure and all parties to a deal—no matter how minor—usually have another secret deal going on the side.
Although the Philippines has recently improved its overall credit rating, that improvement has not translated into a significant boost in foreign direct investments to the country. In fact Indonesia continues to receive four times as much foreign investment even if it now rates lower than the Philippines. Why? As we point out above, the reason is the Philippines has, over the years, built a reputation of inconsistency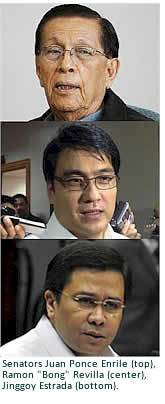 and unreliability, in addition to widespread corruption, a poorly educated populace, inadequate infrastructure, and a hopelessly ineffective judiciary.
From large multinational corporations to mom-and-pop businesses started by balikbayans, many entrepreneurs who set up shop here in the Philippines, have since left in frustration. Many point to the almost whimsical attitude of local officials who seem to delight in giving businesses a difficult time simply to prove to everyone that they can. When business owners realize that the odds are stacked against them despite their best efforts, they close shop and move elsewhere. And in today's world of global connectivity, that could be anywhere else outside the Philippines.
The recent pork-barrel scandal that is currently all over the news also highlights just how widespread and far-reaching corruption is in the country. Sitting senators who took an oath to serve the people are now accused of serving only themselves to the tune of tens of millions of pesos. They are now fighting tooth-and-nail to exonerate themselves. And why shouldn't they, others before them stole much more yet never spent a day in jail.
It may seem counterintuitive to some but Philippine courts have a lot to do with improving the business climate of the country. Government officials can offer all kinds of business incentives and talk till they're blue in the face. But unless the Philippines has a properly functioning judiciary, reputable foreign businesses will have to think long and hard before they ever invest or set up shop here. Published 03/10/2014



Philnews.com reserves the right to select and edit comments for publication.

Comments from Our Readers
Name: Enteng D'Dragon
City/State/Country: Pulo ng mga mahangin
IP Address: 64.40.183.70

Comments
Ed pointed out -"Many point to the almost whimsical attitude of local officials who seem to delight in giving businesses a difficult time .. "- That is only part of the reason why RP is in the basement level. Greater reason is the "attitude of the people" when it comes to seeing " opportunity" to plunder when given the chance! In 1998 I brought with me Canadian capital and investors and invested over CDN$2M as seed money for a trading venture. A year later, I was told that our local (Filipino) managers established their own taxi business. I investigated and found out that they advanced the funds from our treasury (they're supposed to manage) with the admonition that-- we should not worry because they will deduct the payment from their salaries!!. In less than a year-- we closed shop!
---
Name: SOMEONE
City/State/Country: SOMEWHERE
IP Address: 108.183.75.178

Comments
It is not just the government thieves driving business away but also the militant, unreasonable Unions. For a country badly in need of manufacturing companies the workers allow themselves to be sweet talked by Communists to make trouble by making all sorts of demands. And notice that as aggressive as they were in dealing with foreign investors/employers they do not show such aggressiveness in dealing with thieving politicians. You wonder why? It's as if they have already accepted the crookedness in their government and have made adjustments for it. The rest is fair game. If you were a foreign investor and you could get the same thing manufactured somewhere else without this pestering unions, wouldn't you?
---
Name: JRH
City/State/Country: Montreal, Canada
IP Address: 70.83.179.172

Comments
Apply the 'keep it simple' formula by eliminating red tape, high business fees, easy one-stop processing, tax break, tax break, & more tax breaks. In other words, a drastic overhaul of the old system for it to work. It shows that the Phil did not become a better country after the Edsa Revolution but instead got into deeper misery in attracting foreign investors. Instead of instituting good strategy our politicians concentrated in enriching themselves. If we want a progressive country we must have true commitments & a better system to attract investors. If we can't do that then this problem stays. It's like cancer that's incurable. So, simplify the process & give more incentives. Sticking to the old system will not solve this problem. So, wake up & just do it.
---
Name: Paco Sa Cruz
City/State/Country: Vietnam
IP Address: 123.28.157.19

Comments
Gone are the days when the winning politicians are branded as "abogado di kampanilya". After Marcos was removed from power and Cory took over along with the "abogago di kampanilya", we have not recovered from the corrupt system put in place by Marcos. The useless COMELEC in the pretense of protecting democracy, allow every kind of monkey to run for an elected position and movie stars and other popular personalities, started to rule the country. The best and the brightest were replaced by popular no-brainers and products of corrupt political dynasty. Election become useless as unqualified personalities continue to win and the country is left with corrupt and self-serving politicians resulting in an unwanted business environment aptly described in this article.



Philippine NewsLink reserves the right to select and edit comments for publication.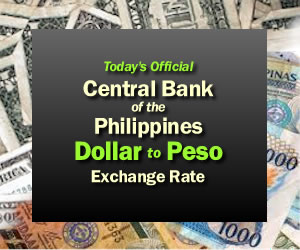 RECENT EDITORIALS
To All Those Who Were Part of the EDSA People Power Revolution—Thank You!



On February 25, the Philippines will celebrate the 28th anniversary of the People Power revolution known as EDSA One. For four days in February, 1986, freedom-starved Filipinos amassed on Epifanio de los Santos Avenue (EDSA), in front of Camps Crame and Aguinaldo to shield Secretary Juan Ponce Enrile, General Fidel Ramos, and their military supporters from possible assault by forces controlled by the late dictator Ferdinand Marcos. Published 02/25/2014
---
The Arc of the Moral Universe and the Salvador "Bubby" Dacer Case

How long before the people responsible for the Dacer-Corbito murders are brought to justice? The hopeful answer may be found in a speech delivered by Dr. Martin Luther King Jr. on the steps of the Alabama State Capitol on March 25, 1965 when he said: "How long? Not long, because no lie can live forever. How long? Not long, because you shall reap what you sow. How long? Not long, because the arc of the moral universe is long, but it bends toward justice." Published 02/16/2014
---
Will Ruby Tuason's Revelations Make a Difference? Remember This Is the Philippines

Another whistleblower Ruby Tuason will soon testify before the Department of Justice, and the Philippine Senate. And probably before the Ombudsman, the Batasan committees, the Sandiganbayan and other courts as well. Her appearances will likely involve high drama, moving testimony, and bombshell revelations that will be plastered across the front pages of Philippine dailies and reverberate throughout social media. Published 02/10/2014
---
Macho, Macho Men and the Matriarchal Philippine Society

An online article a week ago concluded that the reason that Deniece Cornejo the vixen in the Vhong Navarro mauling incident was being mercilessly vilified was because Philippine society tends to treat women that way (LINK). The writer a certain Tricia Aquino in collaboration with Judy Taguiwalo a University of the Philippines professor in the Department of Women and Development Studies, try to paint a bleak picture of Filipina women as persecuted second-class citizens who end up being blamed for the troubles that befall them. Published 02/5/2014
---
We Must Learn from the Past, for the Future of Mindanao

Will the signing of the last annex of the peace accord between the Philippine Government and the Moro Islamic Liberation Front (MILF) finally bring lasting peace to troubled Mindanao? Everyone hopes so. But let's go back several decades in time and see how the country fared in a similar situation back then. Published 02/2/2014
---
The Internet: Keeping Philippine Politicians Honest

On January 20, 2014 Senator Ramon "Bong" Revilla Jr., delivered his long-awaited privilege speech to refute the charges and allegations leveled against him regarding the misuse of his Priority Development Assistance Fund (PDAF). Unfortunately, the senator's speech was light on facts refuting the charges, and heavy on counter-accusations and theatrics. Published 01/22/2014
---
Wanted: A Proactive President Who Will Stand Up to the Chinese

Last Tuesday, Bonnie Glaser a senior adviser at the Center for Strategic and International Studies (CSIS) a Washington, DC-based think-tank testified before a joint hearing of the U.S. House Armed Services Subcommittee on Seapower and Projection Forces and the House Foreign Affairs Subcommittee on the Asia Pacific. Published 01/16/2014
---
Fears of the Philippines as a Narco State

The recent Christmas Day police raid on a drug storage facility in a ranch in Lipa, Batangas yielded not only P420 million pesos ($10 million) worth of methamphetamine hydrochloride (shabu) drugs but also the discovery of a major new player in the Philippine drug scene. "The Mexicans are here. This is the first time that we have confirmed it." Published 01/11/2014
---