he future of Filipinos will be nothing like their past. Each and every Filipino must realize this. The proverbial lackadaisical "Juan Tamad" lying under a guava tree in an idyllic Amorsolo painting-like setting will no longer exist. Instead a new reality like that of ancient Sparta or modern-day Israel will pervade.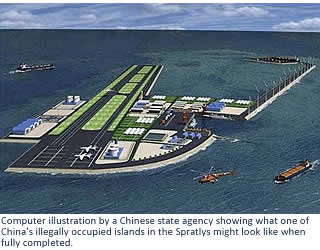 China is growing stronger every day and they are quickly turning into an aggressive, tyrannical power. Like Sparta and Israel, the Philippines will be in a constant state of siege for the foreseeable future. If the Philippines is to survive as an independent country, it has to do something…now!
Gloria Arroyo's act of treason
As we noted in a previous editorial (LINK), the highly secret Joint Marine Seismic Undertaking (JMSU) entered into between then president Gloria Macapagal-Arroyo, and the China National Offshore Oil Corp. [CNOOC] allowed China to map vast portions of the South China Sea—even those located well within the Philippines' 200-mile exclusive economic zone—to locate oil and mineral deposits beneath the sea bed. The JMSU was not only unconstitutional, it was completely lopsided, giving China all the data it needed when it takes over all of the South China Sea, as it is now trying to do.
The Philippine military is nothing but a big joke
In this regard, Filipinos have another former president to thank: the infamous Ilocano from Batac, Ilocos Norte. Ferdinand Marcos used the military to terrorize and intimidate the population during his decades in power. Naturally, even today there is a lingering distrust of the military. To pay for its crimes during martial law, the Armed Forces of the Philippines (AFP) has been underfunded and left to "wither in the vine." After all, who would want to give "those bastards" shiny new military gear after what they did to unarmed civilians during the '70s and '80s? They might even point those weapons at the people once again. In the Philippines today, men in military uniform are not loved and respected like they are in other countries. It is a discredited institution that very few young Filipinos want to be part of. Given all the foregoing, the AFP is just completely undependable and has be crossed-off for now.
So how can Filipinos stand up to China?
The same way Filipinos gradually came to the realization that they could not depend on their inutile government institutions or their mediocre captains of industry to lift the Philippine economy out of the doldrums, they took matters into their own hands by traveling to the four corners of the globe, to work like crazy, and remit money back into the Philippine economy. In so doing, they gave themselves jobs that the Philippines could never have given them, and provided a future for themselves and their families, all the while lifting their country's economy into greater and greater heights.
What President Aquino should do but won't is travel the globe arm-twisting, cajoling, or begging world leaders to stand by the Philippines in its conflict with China. The country is in dire need of a world-class leader who can stand toe-to-toe with presidents, prime ministers, kings and queens and get them to understand the Philippine side in this crisis. Unfortunately, the great majority of the country's elected officials were elected not because of their ability to influence people and change minds, but simply because they had the right last name. President Aquino is no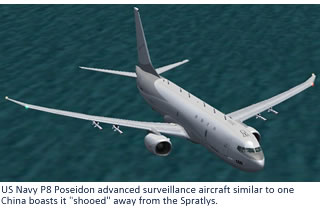 exception—nor are most Philippine senators and congressmen.

So all Filipinos, living abroad (as well as those in the Philippines) must pick up the slack and convince the world that it is in every country's best interest to stop China. For instance, many American legislators are now realizing that China is turning into a very dangerous bully; Filipino-Americans must support those legislators and help them push for a stronger U.S. stand against China. The Filipino-American vote can be crucial to legislators during elections. Fil-Ams should leverage that power to help the Philippines. This same strategy should be used by Filipinos in Canada, or Australia, or the UK, and so on. It won't be easy changing world opinion, but it can be done…and must be done. It is the only reasonable tract open to Filipinos. The military option as we stated earlier is not viable. The AFP will be crushed by the Chinese in a matter of days. But the Chinese will surely back down when they realize the whole world stands with the Philippines.

Millions of Filipinos all over the world can be a truly potent force for good. But they must make the effort and take up that challenge. It must be stressed that putting China in its place now will benefit all of mankind going forward. Filipinos are playing a crucial role as they have become the canaries in the coal mine. What they are going through now will be what many other countries will soon be going through unless China is stopped.

So are we Pinoys up to the challenge? We better be or we can kiss our freedom goodbye. Published 5/23/2015



Philnews.com reserves the right to select and edit comments for publication.

Selected comments from our readers
(Topic: How Filipinos Can Stop China Now)
Name: HMSomeone
City/State/Country: USA
IP Address: 74.77.36.177

Comments
GLORIA ARROYO. Isn't it ironic that the person who sold the PHL down the river to the Chinese is still unscathed & has been trying to generate all sorts of sympathy from gullible Filipinos, one of whom is Joseph Estrada? Has she even been confronted with her Treason? And here we are suggesting that Filipinos living abroad try to bail the PHL out? After seeing one greedy politician after another ransack the Treasury of the country, & getting away with it maybe it's just as well that the country gets occupied by a foreign power. At any rate who would want to fight for a country that coddles its crooks instead of hanging them?
---
Name: Sam "The Mercenary"
City/State/Country: San Diego California
IP Address: 66.27.52.158

Comments
China has one weakness folks. This is their main weakness before and still their weakness now... Food supply. They have less resources for their ridiculous population. So if we can boycott their goods and isolate their country from food
---
Name: josh
From: sd ca usa
Remote Name: 99.120.101.61

Comments
Perhaps those senator who kicked out the American bases have the answer to this issue...Arroyo sure we can blame her too
resources...
---
Name: HMSomeone
City/State/Country: USA
IP Address: 74.77.36.177

Comments
That's right. The proverbial "Juan Tamad" will no longer exist. The tree from where he was waiting for the fruit to drop has died. Now only the proverbial "Basang Sisiw" will be in existence for the foreseeable future. The Editorial in effect has pointed out that the PHL has no one to depend on. Not the USA, not its politicians, not its army, not any so-called friends. So the suggestion is to mobilize the Filipinos abroad to do what they can for their native country. But Filipinos like me think that as bad as the Chinese problem is there is a worse problem, which is the most pressing of all - CORRUPTION. This is something Filipinos in the PHL can do something about. If they don't why even think of China?

---


US to continue 'routine' flights in South China Sea but mulls direct challenge to China
WASHINGTON -- US surveillance aircraft and naval ships have yet to test China's territorial claims around artificial islands built in the South China Sea, but the Pentagon warned Thursday that could be "the next step."

DNA test results confirm remains belonged to terrorist Basit Usman
MANILA, May 22 (PNA) -- DNA tests on the remains of a man, who was killed in an encounter with Moro Islamic Liberation Front (MILF) forces last May 3, 2015 in Maguindanao, belonged to wanted terrorist Abdul Basit Usman, the Philippine National Police (PNP) said on Friday.

Analyst on Bangsamoro: terror groups in Mindanao could band together
Can a law creating a Bangsamoro region really bring peace to Mindanao? A security analyst thinks that scattered terrorist groups in the south could join forces and pose a greater threat in the area if the proposed law failed to live up to its promises.

APEC trade ministers to start work on Asia-Pacific free trade pact
BORACAY ISLAND, Aklan, May 22 (PNA) -- Trade ministers from the 21 members of the Asia-Pacific Economic Cooperation (APEC) forum will start laying the groundwork for the Free Trade Area of the Asia-Pacific (FTAAP) to speed up the economic integration process in the region.

Energy Regulatory Commission okays Meralco's pre-paid electric system
The Energy Regulatory Commission (ERC) has approved the Manila Electric Company's (Meralco) new prepaid electric system or "Kuryente Load." "The ERC Decision dated April 27, 2015 states that Meralco's application is compliant with the provisions of the PRES Rules mandated by ERC," Meralco said in a statement Friday.

VP Binay eyes Duterte as running-mate
DAVAO - After being spurned by Senator Grace Poe, Vice-President Jejomar Binay is now eyeing Davao City Mayor Rodrigo Duterte as a possible running-mate in the 2016 elections. Binay said he is open to the possibility of asking the popular Davao mayor if he is interested in joining forces as his running-mate.

Philippines is most improved country in Asia-Pacific for PPP readiness – The Economist
MANILA -- The Philippines has been recognized as most improved country in Asia-Pacific for PPP readiness in the recent report by The Economist Intelligence Unit last April entitled "Evaluating the environment for public-private partnerships in Asia-Pacific, The 2014 Infrascope".

Philippines should improve human capital to be competitive, says official
BORACAY ISLAND, Aklan -- Underscoring the importance of human capital for the country to be competitive in the global market, a foreign affairs official has said that the Philippines must develop its human capital by orienting it toward science and technology.

Lacson asks Aquino to convene Nat'l Security Council
Former Sen. Panfilo Lacson on Friday suggested that President Benigno Aquino III convene the National Security Council (NSC) immediately for discussion ...
READ IT AT PHILIPPINES NEWS HEADLINES
Philippines, US assert rights, ignore China warning
WASHINGTON – The United States military will continue air and sea patrols in international waters even after the Chinese navy repeatedly warned a US surveillance plane ...
READ IT AT PHILIPPINES NEWS HEADLINES
BBL does not ensure peace, senator insists
SENATE Majority Leader Alan Peter Cayetano has warned of a more powerful and dangerous Moro Islamic Liberation Front if the Bangsamoro Basic ...
READ IT AT PHILIPPINES NEWS HEADLINES
China declares victory in US surveillance overflight
China declared victory on Friday over an encounter with a US surveillance aircraft overflying the contested South China Sea, saying its military "drove away" the intruder ...
READ IT AT PHILIPPINES NEWS HEADLINES
Passage of BBL scripted?
Still smarting from what he described as a travesty that took place with the House Ad Hoc Committee's approval of the "unconstitutional" Bangsamoro ...
READ IT AT PHILIPPINES NEWS HEADLINES
2 LRT trains collide due to technical glitch; at least 1 hurt
An oncoming train of the Light Rail Transit (LRT) hit another train along Monumento station on Saturday morning due to a technical glitch. In a report by radio station DZMM ...
READ IT AT PHILIPPINES NEWS HEADLINES
Gerry Limlingan's general denial of no value
Gerry Limlingan and his brother Victor are "entrepreneurs and industry experts, with a long list of accomplishments in their respective fields," their family counsel ...
READ IT AT PHILIPPINES NEWS HEADLINES
China says US actions in South China Sea 'irresponsible, dangerous'
BEIJING - China said on Friday it was "strongly dissatisfied" after a US military plane flew over part of the South China Sea near where China is building artificial islands, and called ...
READ IT AT PHILIPPINES NEWS HEADLINES
UN chief urges peaceful solution of South China Sea dispute
HANOI, Vietnam — U.N. Secretary-General Ban Ki-moon called Friday for a peaceful solution to territorial disputes in the South China Sea, where China's increased ...
READ IT AT PHILIPPINES NEWS HEADLINES
China 'concerned' over Indonesia's blowing up of fishing boat
BEIJING - China on Thursday expressed "serious concern" over the blowing up of a Chinese fishing vessel seized by Indonesia six years ago, the first such incident under President ...
READ IT AT PHILIPPINES NEWS HEADLINES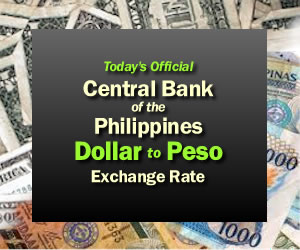 Pacman's Gamble



The world now knows that while training for his May 2 "Fight of the Century" with undefeated world welterweight boxing champion Floyd Mayweather, Manny "Pacman" Pacquiao suffered a shoulder injury. According to his trainer, Freddie Roach, this mishap occurred on April 4 in a sparring session when he threw a right hook and his arm "got entangled with those of his sparring partner". Published 5/17/2015
---
Chinese Military Bases Under Construction on Philippine Reefs Must be Destroyed Now!

This is the reality: China's military leaders are rushing the construction of military bases in six different reef areas inside the Philippines' exclusive 200 mile economic zone. The Philippines is doing nothing to immediately stop it. Published 5/10/2015
---
Is Vice President Jejomar Binay the Manchurian Candidate?

It was made into two classic films, the first with Frank Sinatra in 1962 and the second with Denzel Washington in 2004. "The Manchurian Candidate", the 1959 best-selling novel by Richard Condon, told the tale of a group of American soldiers captured during the Korean War who were taken to Manchuria, China where they were brainwashed by Chinese officials. Published 5/3/2015
---
Pacmania Sweeps the World

Walk down any big city in the Philippines and you feel the excitement gripping everyone; men and women, boxing aficionados or not. Sunday's match (Manila-time) between Manny Pacquiao and Floyd Mayweather will have the country, glued to screens, large and small in major metropolitan areas as well as far-flung rural barrios. Published 4/29/2015
---
Mary Jane Veloso's Execution Will Only Highlight the Dysfunction of Filipino Society

On the 28th of April, the Indonesian government will execute Filipina Mary Jane Veloso by firing squad. For this luckless young woman, it will be the culmination of a life that from the beginning, had been dealt a losing hand. Published 4/25/2015
---
There Will Never be Lasting Peace with the Bangasamoro Basic Law

It is incomprehensible to many that despite all the negatives piling up against it, the Aquino administration is still pushing for Congress to ratify the Bangasamoro Basic Law (BBL). First and foremost, the Moro Islamic Liberation Front with whom the Philippine government entered into an agreement with, massacred 44 Special Action Force (SAF) policemen who were serving an arrest warrant on an international terrorist. Published 4/18/2015
---
Is Manny Pacquiao Giving Floyd Mayweather an Unfair Advantage?

Doctor Expedito Castillo, a retired internist with training in sports medicine thinks so. Castillo who lives in New York points out that Los Angeles—where Manny Pacquiao now trains for his May 2nd fight, and Las Vegas—where Floyd Mayweather trains and where the boxing match will take place, have enormous differences in terms of elevation. Los Angeles is just 233 feet above sea-level, while Las Vegas is a whopping 2,000 feet above sea-level. 33. Published 4/11/2015
---
Just When You Thought Filipino Cops Were the Worst, Here Come US Cops

What in the world has happened to cops in the United States? It seems that today only psychotic, unstable, individuals are joining the U.S. police force this days. People from all across the globe were more than willing to give American cops the benefit of the doubt, at first. But in instance after instance, from Ferguson, MS and the killing of Michael Brown, a young black man who witnesses say was unarmed and posed no threat at all to police; to today's cold-blooded murder of Walter F. Scott, 50 by South Carolina police officer Michael T. Slager, 33. Published 4/7/2015
---
NPA Celebrates 46 Years of Destroying the Philippines

Founded by Bernabe Buscayno, or "Kumander Dante" as he was more commonly known, the New People's Army established on March 29, 1969 marks its 46th year of existence. From less than 40 founding members and a handful of firearms, the NPA grew to over 26,000 members in the 1980s. Today however the Armed Forces of the Philippines (AFP) places NPA membership at less than 5,000 nationwide. That number is expected to dwindle even further as progress and education creep in to the far-flung towns and barrios that were once breeding grounds for recruits. Published 3/30/2015
---
Lee Kuan Yew and Ferdinand Marcos, What a Difference!

An Australian living in the Philippines published a book titled: "The Unlucky Country. The Republic of the Philippines in the 21st Century." The author Duncan McKenzie came up with the title as the counterpoint to "The Lucky Country" a book written in the mid-sixties that refers to Australia. In his book McKenzie explains that the Philippines is unlucky because, for starters, it is an archipelago and therefore naturally fragmented. Published 3/17/2015
---
Will the Philippines Ever Speed Up Its Glacially-Slow Justice System?

We've all heard the saying "justice delayed is justice denied." That maxim has been around since time immemorial. In fact the Pirkei Avot (Hebrew for "Ethics of the Fathers") which dates back to the 1st century B.C. mentions an old rabbi saying that goes: "the sword comes into the world, because of justice delayed and justice denied." In 1215 A.D. a clause from the Magna Carta similarly declares that "to no one will we refuse or delay, right or justice." Published 3/17/2015
---