Rappler
Manila Times
Asian Journal
Filipino Express
Malaya Online
Daily Tribune
CNN Philippines
Philippine News
Kababayan LA
MindanaoTimes
Sun Star
Negros Chronicle
Bohol Chronicle


President's Office
Vice President's Ofc.
Phil. Senate
Phil. Hse of Rep.
Supreme Court
Peso Exch Rate
Showbiz
Lazada
Buy & Sell Online
Filipino Channel
Phil History
Phil Business
Phil Basketball
Make it Cebu
BuWorld Online

---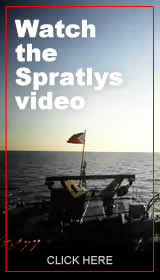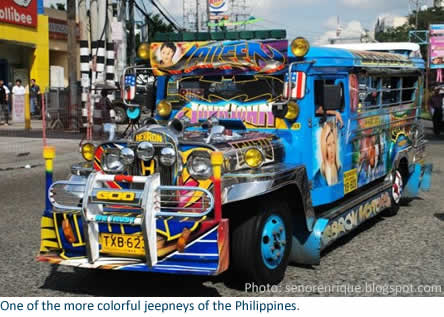 rom its inception, the Philippine jeepney has been a symbol of Pinoy ingenuity. In the war-ravaged streets of newly liberated Manila in 1945, Filipinos were faced with huge public transportation problem. The tram system (tranvia) that used to serve major thoroughfares of the city was completely destroyed; its metal rails uprooted, and the overhead electric cables gone. It was going to take years to put the entire system back in place. However, quick-thinking Pinoys saw that the city had a surplus of U.S. Army jeeps. There were so many jeeps in fact that the Army actually began burying a few just to get rid of them.
That was all the encouragement resourceful Manilenos needed to create the unique Filipino invention we know as the jeepney. At the time, there was no shortage of military jeeps so jeepneys began sprouting everywhere ... transportation problem solved!
For those came up with the idea, the jeepney was simply a stop-gap measure to get Filipinos around the war-ravaged streets of Manila. It was never intended to be a permanent fixture of Philippine public transportation.
The jeepney's garish colors and kitsch decor make it a sight to behold. Blinking colored lights, loud music, and fancy car horn just adds to its pizzaz.
For Filipinos, the ubiquitous jeepney is probably the cheapest way to get around. But like all things in this world, we believe the era of the jeepney unfortunately, must come to an end.
Why the jeepney must go
For starters, according to Wikipedia "A recent study published in a Metro Manila newspaper compared the fuel use of a 16-passenger jeepney to a 54-passenger air-conditioned bus and found that the fuel consumption for both was the same." So assuming that the study is accurate, it would take 3.375 jeepneys to move all 54 passengers of one bus. And if the fuel consumption of the Jeepney and the bus are the same as Wikipedia also notes, then a city with jeepneys uses three times as much fuel to move people, than it would if it relied only on buses. That is one reason why when you go to any developed country in the world, you see buses or trams moving commuters around.
Secondly, jeepneys exacerbate the problem of overcrowded city streets. You need more of them to carry commuters around. Jeepneys can block traffic as they wait to fill up with passengers. Jeepney drivers weave in and out of traffic as they try overtake other jeepneys in order to be the first to reach waiting passengers up ahead. The cost of scrapes and dings on a jeepney are negligible and their drivers use that fact to cut off other vehicles on the road whose drivers usually yield to avoid costly collision repairs. As far as they're concerned, they're "king of the road" in the Philippines.
Thirdly, jeepneys are not safe. Passengers have no safety harnesses and in a rear or head-on collision, passengers are likely to slam into one another.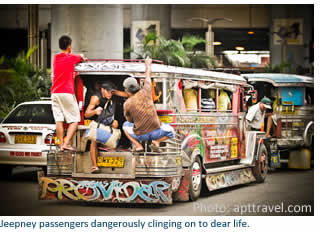 The front windshield of the average jeepney is filled with stickers, trinkets and objects that can block the driver's view of the road. Proper maintenance is left to the discretion of the jeepney's owner or driver. So it is not unusual to see jeepneys with bald tires on the road. Overloading is routinely tolerated by local traffic enforcers. Tired and exhausted riders are allowed to stand clinging to the rear of jeepneys sometimes with deadly consequences. It would be safe to say that passenger safety and comfort are notions unfamiliar to the jeepney riding public.
And the jeepney driver is constantly distracted by trying to keep tabs of who has paid their fare and who hasn't. On long routes, the driver must compute how much fare should be paid by passengers. How much money they gave and how much change they should get. And if all that is not enough to drive someone up the wall (no pun intended), the jeepney driver has to look out for passengers wanting to get on or off, weave through potholed streets, and avoid all other vehicles on the road. In short a jeepney driver's job as it exists today is an accident waiting to happen. Thank goodness for their ability to multitask that accident rates aren't sky high. But going forward, this cannot be allowed to continue. The Filipino riding public deserve better ... much better.
Lastly, jeepneys are a significant contributor to the country's greenhouse gasses. The millions of jeepneys most of which are powered by "dirty" surplus diesel engines contribute to the smog that envelopes most major cities in the Philippines. Philippine delegates to climate conferences like to point the finger at developed countries because those countries pollute a lot. But that does not absolve us from being guilty as well. Acting proactively and gradually phasing out the jeepney in favor of more environmentally friendly modes of public transportation like buses and trains, will go a long way in cleaning up our own environment.
Getting jeepneys off the street is long overdue, and must happen, sooner rather than later. The jeepney was a great invention and truly served its purpose. But it has now overstayed its welcome on Philippine streets and must be retired. Like the horse and buggy or the steam locomotive, the jeepney should only be found in museums and not on Philippine roads. Published 11/24/2015



Philnews.com reserves the right to select and edit comments for publication.
---
You can also post your comments below
via DISQUS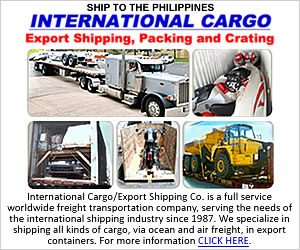 Like the Marcos Days, Filipinos Treated as Second-class Citizens During the APEC Summit



Did Philippine President Benigno Aquino III ever consult his bosses (the Filipino people) instead of listening to the bad advice of his mostly clueless advisers. Even on the best of days, just getting from point-A to point-B in this smog-choked metropolis is already a herculean task. The well-off in their air-conditioned SUVs crawl at a snail's pace through narrow streets—their mostly diesel-powered behemoths spewing a deadly cocktail of pollutants into the atmosphere. Published 11/20/2015
---
The Philippines Should Stand by Obama and Talk About China's Bullying at the APEC Summit



While China seems to have intimidated most APEC participants into avoiding any mention of their illegal activities in the South China Sea (West Philippine Sea), American President Barack Obama seems to have finally found the nerve to speak out publicly against it and says he plans to do so at the upcoming APEC meeting. For the past year and a half, on the bad advice of his National Security Adviser Susan Rice, Obama kept silent about China's ongoing construction on shoals and reefs in the South China Sea. Published 11/16/2015
---
We Need a New Filipino Paradigm, Because the Old One No Longer Works



Reading the comments sent to our forum, one can easily sense the frustration many readers have of how things are done in the Philippines. This is especially true of our many readers who live abroad. In our view, it is the 400-plus years of Spanish colonization that molded the Filipino persona into what it is today. Spain needed a mellow, compliant, non-combative populace that it could easily control given the overwhelming numbers of "natives" versus their colonial masters. Published 11/9/2015
---
Laglag Bala Could Reverse Any Positive Views Outsiders Have of the Philippines



Overseas Filipino Workers (OFWs) are up in arms with regards to all these bullets showing up on airport x-ray machines inside luggage and bags of unsuspecting passengers. Philippine laws make it a serious offence to bring even a single bullet on an airplane—a situation that scam artists in an around Philippine airport terminals have quickly exploited to the hilt. Published 11/3/2015
---
Standing Up to China, To Teach It a Lesson or Two



On Thursday, September 24, 2015, a day before the official start of Chinese president Xi Jinping's first state visit to the United States, U.S. President Barack Obama invited his Chinese counterpart to a very private, closed-door, informal dinner at Blair House, just across the street from the White House. Aside from both presidents, only a handful of aides from both sides were in attendance. During that dinner, Which lasted close to three hours Obama tried to get Xi to stop what China was doing in the South China Sea. Published 10/29/2015
---
Sadly, We Filipinos Are So Used to Lying, It's become Second Nature to Most of Us



Compared to people from Western cultures, we Filipinos tend to lie a lot more. It's a reality we Filipinos have to face throughout our lives. Lying is so ubiquitous in our culture that oftentimes we do it unconsciously. From fibs and little white lies to more egregious dishonest acts like fraud and deceit, if you're a Pinoy, you just have to put up with more of it. Some would argue that it is actually worse in some countries. And while that may be true, there are still a lot more countries where it is better. Published 10/25/2015
---
Another Marcos in Malacañang? It May Happen Sooner Than You Think



Remember the old hit song "Yesterday Once More" by the Carpenters? Well yesterday could be back in our future someday soon. Okay here's the scenario. Ferdinand "Bongbong" Marcos Jr. wins the Vice Presidential race because all that hidden Marcos wealth was suddenly "unhidden" to buy his election. Then assume his teammate Miriam Defensor Santiago, with some of that Marcos money to boost her poll numbers, becomes president. What the Philippines will then have is an extremely volatile situation—like a bottle of nitroglycerine resting against a jackhammer; one wrong move and everything goes kaboom!. Published 10/20/2015
---
Philippine Presidential Elections 2016: The Circus is Finally in Town



Every six years the crazies come out en force in a mad rush to file Certificates of Candidacy (COCs) for the Philippine Presidential Elections. The Commission on Elections (COMELEC) gives everyone only a four-day window within which to file  their COCs.  Thus the normally busy COMELEC offices in Intramuros turn into a madhouse of frenetic activity as who's-who politicos and their supporters parade in and out of that compound. So lets take a quick, less serious view of some of the more serious contenders for the Philippine Presidency and Vice Presidency. Published 10/16/2015
---
Ombudsman Conchita Carpio-Morales: the Lady with More Guts Than Most Filipino Males



Conchita Carpio-Morales, Three words that should make all Filipinos a bit more proud of themselves today. In a country where nothing ever seems to gets done; where court cases just hang in the air unresolved for decades; where the very rich see themselves as above the law and the very poor believe they have the right to simply get what they want because—well, they're poor; Ombudsman Conchita Carpio-Morales, has served notice to Filipinos one and all that she is one individual who will not play by the twisted rules of Philippine politics Published 10/10/2015
---
Mar Roxas and the Liberal Party Might Twerk Its Way to Defeat in the 2016 Elections



In the land of Maria Clara and the supposedly chaste, and virtuous Filipina, why do we have young women performing lewd dance numbers in front of the general public? Case in point is the recent Liberal Party meeting and birthday party for Congressman Benjamin Agarao where a group of scantily-clad "exotic dancers" performed lewd dance numbers "for the boys." Published 10/4/2015
---
Is China's Xi Jinping Speaking from Both Sides of His Mouth?



On September 28, 2015 Chinese President Xi Jinping addressed the world body during the 70th session of the United Nations General Assembly, in New York. In his speech Xi committed his country to various laudable endeavors such as a reinvigorated effort to curb greenhouse gasses and combat climate change; a $100 million aid fund for Africa; and $1 billion for U.N. development projects across the globe. Published 9/29/2015
---
Philippine Elections: Where the Most Qualified Don't Run While the Least Qualified Do



In a country where the elderly have always been given due deference and respect, in today's politics you have the exact opposite. Instead of the senior most experienced leaders running for office, you have ambitious, precocious, youth, still wet behind the ears who do the running. The result of this phenomena is that over the years the Philippines has continually lost ground to its neighbors who are all slowly turning into developed economies while the Philippines—the country that lead Southeast Asia during much of the 20th Century—is becoming more deeply entrenched as a Third World nation. Published 9/24/2015
---
Grace Poe—Another Unqualified Leader To Be "Anointed" by Gullible Filipino Voters?



Well it's official; neophyte Senator Grace Poe is running for president. To reiterate, our stand on her qualifications remains the same: she is nowhere near qualified to become president. She has no track record and no experience under her belt. It is good that she chose Senator Chiz Escudero for her vice presidential running mate. He's had far more experience in government and can offer her guidance should she become president. Published 9/19/2015
---




China says won't cease building on South China Sea isles
KUALA LUMPUR - China said on Sunday it will continue to build military and civilian facilities on its artificial islands in the disputed South China Sea and the United States was testing it by sending warships through the area.

President Aquino urges China to respect rule of law
President Benigno Aquino III once again apealed to China to respect the rule of law amid increasing tensions in the South China Sea due to Beijing's massive land reclamation and use of force, which he said has threatened livelihoods of Filipino fishermen and damage the ecological environment in the disputed waters.

Duterte entry into the 2016 presidential race 'changes game'
THE entry of Davao City Mayor Rodrigo Duterte into the 2016 presidential race is a game changer as he is likely to take votes away from Liberal Party standard bearer Manuel Roxas II and hurt survey frontrunner Senator Grace Poe, political analysts said Sunday.
President Aquino joined ASEAN Leaders in signing Kuala Lumpur Declaration
KUALA LUMPUR, Malaysia, Nov. 23 -- President Benigno S. Aquino III on Sunday joined his regional counterparts in signing the Kuala Lumpur Declaration on the Establishment of the Association of Southeast Asian Nations (ASEAN) Community which will be launched on December 31.

U.S. House Foreign Affairs Committee Chairman Royce on Strengthening U.S.-Philippines Ties
Washington, D.C. – Today, House Foreign Affairs Committee Chairman Ed Royce (R-CA) issued the following statement on the recent announcement that the United States will transfer a U.S. Coast Guard cutter and a research vessel to the Philippines.

Pinoy seafarer honored in UK for bravery at sea
MANILA - The International Maritime Organization (IMO) cited Filipino seafarer Vicente Somera for exceptional bravery at sea in saving a hypothermic sailor in 2014 who was trying to repair a leak on his vessel, the Department of Foreign Affairs reported Monday.

70 years of Philippine, Australia ties highlighted in a photo exhibit
Australian Minister for Trade and Investment Andrew Robb and Department of Foreign Affairs Undersecretary Rafael Seguis recently led the launch of the photo exhibit dubbed, "Philippines and Australia: The First Seventy Years."

Palace thanks Filipinos for helping make the country's APEC hosting a success
MANILA, Nov. 23 -- Malacañang expressed its gratitude to millions of Filipinos nationwide who helped make the country's recent hosting of the 2015 Asia-Pacific Economic Cooperation (APEC) Leaders' Meeting and other related summits a huge success.

Duterte: If you want an American president, vote for Grace Poe
MANILA, Philippines – Davao City Mayor Rodrigo on Monday afternoon told the public and the voters that if they want to have a Filipino president, they should go to the remaining candidates aside from presidential ...
READ IT AT PHILIPPINES NEWS HEADLINES
Justice remains elusive 6 years after Maguindanao Massacre
Ampatuan, Maguindanao/Quezon City — When will the long wait for promised justice end? This question will again be raised as hundreds of people converge today in Sitio Masalay, Barangay Salman, on the 6th anniversary of the killing ...
READ IT AT PHILIPPINES NEWS HEADLINES
Poe denies Duterte's claims she asked him to be his vice president
MANILA, Philippines – Sen. Grace Poe on Monday denied that she asked Davao City Mayor Rodrigo "Rody" Duterte to take her as his vice president and later on to be her vice president. Poe made the clarification following ...
READ IT AT PHILIPPINES NEWS HEADLINES
Rizalito David appeals disqualification case vs. Grace Poe
Radio commentator Rizalito David on Monday asked the Senate Electoral Tribunal (SET) to reverse its ruling junking his disqualification case against Sen. Grace Poe. In a 66-page motion for reconsideration filed with the SET office, David ...
READ IT AT PHILIPPINES NEWS HEADLINES
State witness in Maguindanao massacre fears for his life
MAGUINDANAO, Philippines - The state witness to the Nov. 23, 2009 Maguindanao massacre is worried he could be murdered by people that want him silent sooner than the judiciary can hand a verdict on the case.
READ IT AT PHILIPPINES NEWS HEADLINES
DOJ appeals for understanding from family of Maguindanao massacre victims
The Department of Justice (DOJ) appealed for understanding from the family of the 58 victims, including 32 journalists, of the Maguindanao massacre for the slow proceedings of their case against all the accused, led by Datu Unsay ...
READ IT AT PHILIPPINES NEWS HEADLINES
Dominguez brains behind judge's slay; gunman confessed before death
CAMP OLIVAS, Pampanga – The Bulacan police on Monday filed a murder complaint against convicted car theft syndicate leader Raymond Dominguez following the confession of a gunman who tagged him ...
READ IT AT PHILIPPINES NEWS HEADLINES
ASEAN creates 'Community' at summit shadowed by terrorism worries
KUALA LUMPUR - Southeast Asian nations on Sunday established a formal community that attempts to create freer movement of trade and capital in an area of 625 million people with a combined economic output of $2.6 trillion.
READ IT AT PHILIPPINES NEWS HEADLINES
Japan may send military to South China Sea, Abe says
MANILA -- Tokyo will consider dispatching its Self-Defense Forces to the South China Sea, Prime Minister Shinzo Abe told U.S. President Barack Obama here Thursday, suggesting a possible role for Japan patrolling ...
READ IT AT PHILIPPINES NEWS HEADLINES
MMDA: Road clearing to last until June
TO DECONGEST Edsa and provide alternate routes for motorists even after the holiday season, the Metropolitan Manila Development Authority (MMDA) said it would go on clearing the 17 Mabuhay Lanes until June next year. "We will ...
READ IT AT PHILIPPINES NEWS HEADLINES