fter leaving her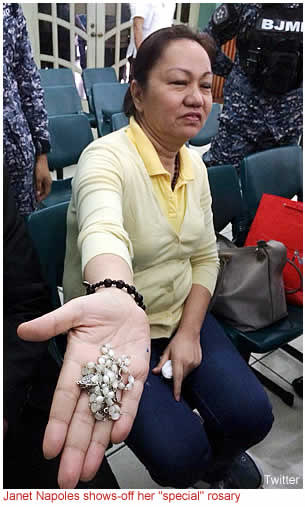 August 15th bail hearing at the Sandiganbayan, Janet Lim Napoles showed the media the marble rosary she personally received from recently canonized Saint Pope John Paul II. Her lawyer Stephen David later disclosed to media that Napoles prays 2,000 rosaries a day. Given that a day has only 24 hours or 1,440 minutes, Napoles would have to complete an entire rosary in less than a minute praying non-stop for an entire day…every day. Atty. David also pointed out that Napoles paid for the schooling of at least 200 priests and helped construct many Catholic churches.
Does this mean that God will forgive or at the very least shorten Napoles' stay in Purgatory? So that, in spite of the billions of pesos she stole from the government—billions that should have gone to marginalized segments of Philippine society but instead went to her pockets (and bathtub) and the pockets of her cohorts in crime—in the end Napoles attains redemption and gets to strum a harp with the rest of the angelic choir. Right?
All transgressions are forgivable—just repent and God will forgive you. That is what Catholic teaching has been instilling into the minds of Filipinos for almost 500 years. And they seem to have wholeheartedly bought that line, so much so that today there are many Filipinos who cheat, steal, lie and even kill but believe they will still end up in Heaven. The rich and powerful commit all sorts of nefarious deeds six days a week but attend Mass on Sunday and believe all their misdeeds are washed away. This is how all those corrupt, immoral, unethical and criminal Filipinos are able to live with themselves.
China has got it right
When Pope Francis visited South Korea this August, his plane was allowed to fly over Chinese airspace. In the past, Vatican flights had to skirt Chinese airspace whenever a Pope flew to Asia. The conciliatory gesture by China was not lost on the Pontiff who stated that he very much wanted to visit China as soon as possible. Pope Francis however was quickly though politely rebuffed by Chinese leaders who told him to refrain from interfering in China.
There are approximately 12 million Catholics in China, but the state-run church known as the Chinese Catholic Patriotic Association is overseen by Catholic bishops who are appointed by the Chinese government, not the Vatican. Pope Francis did indicate that all he is asking the Chinese government is that the Catholic Church be given the "freedom to do its job" in China. Unfortunately, that is precisely what Beijing is leery of.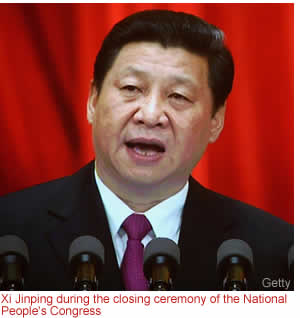 Chinese leaders need only look at their neighbor to the Southeast to see how unbridled church interference can wreck havoc on a country. In the Philippines, Catholic bishops constantly meddle in state affairs: they tell government officials what laws they should or shouldn't pass; they threaten with excommunication or otherwise intimidate those who speak out against them; they exercise tremendous authority without any corresponding responsibility.
Case in point: despite the United States, the United Nations, and the Philippine government's efforts to curb the country's soaring birthrate, the Catholic Church remains steadfast against any and all forms of birth control for Filipinos. And now that the Philippine population has passed the 100 million threshold, church leaders do not see it as their responsibility to provide for the wherewithal to house, feed, educate, and employ all these additional human beings who are the direct result of their misguided religious policies.
Chinese President Xi Jinping and the rest of China's politburo realize that this could happen to them and have thus told Pope Francis—however well-intentioned his overtures might be—no thanks, and leave us alone. Published 08/30/2014



Philnews.com reserves the right to select and edit comments for publication.

Comments from Our Readers
(Topic: Napoles Prays 2,000 Rosaries a Day, So Does She Get a Free Pass to Heaven?)
Name: JRH
City/State/Country: Montreal, Quebec
IP Address: 70.83.179.172

Comments
'Thou shall no steal' is one of God's commandments, our saintly believer, Janet Lim Napoles, totally forgot & ignored. 2000 rosaries a day? Now, it's God she's trying to con. So what if she spent scholarship money for 200 priests or helped build churches? All the money came from her stolen loot anyway. This is hypocrisy of the highest order. It's typical among other crooks to do bad things & then confess their sins in the hope of being forgiven by Divine providence. It's the highest form of BS if you'll ask me. Majority of Filipinos are inclined to believe that she will roast in hell.
---
Name: HMSomeone
City/State/Country: USA
IP Address: 74.77.36.177

Comments
It's about time PNL raise this subject for discussion. The Filipinos had been so brainwashed, threatened, terrorized and confused by the PHL style of Catholicism for centuries. The belief system implanted by the Friars had predictably turned into superstitions that immobilized the minds of Filipinos. God's name was used as an instrument for intimidation. It's always punishment and hell to control the faithful. Love, Faith, Charity, Justice, became merely secondary reasons to believe in the Catholic Religion. That is not right.
---
Name: Jorge Villanueva
City/State/Country: Canada
IP Address: 142.134.105.38

Comments
It's ironical that even the devil can interpret the scripture to serve his point of view. Presently, the country is gripped with uncertainty as to how far and how fast can the country resolved its problem with the culture of corruption. I re-emphasized the term as a culture and not an aberrant behavior or a mere episodic incident for it has gone through decades with corrupt politicians dipping in the public coffers assuming it as their own and the public fully aware in passive acquiescence of the deed. Meanwhile, the gap between the rich and poor has become a chasm with the wretched poor unable to obtain the basic three-square meals per day and startling diaspora with young blood rushing for better opportunities abroad. Quo vadis Philippines?



Philippine NewsLink reserves the right to select and edit comments for publication.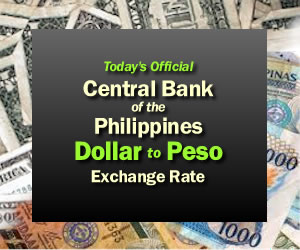 RECENT EDITORIALS
Should President Aquino Get a Second Term as President?



Many Filipinos today are realizing that the single, six-year presidential term as prescribed in the 1987 Constitution is woefully inadequate for a good president like Benigno S. Aquino III. The delegates who wrote that provision in the Constitution must have still been reeling from the almost 20 years of "kleptocratic" rule of strongman Ferdinand Marcos when they decided that one term was enough for any future Philippine president. Four years—the presidential term at the time—would be too short; eight too long. Published 08/23/2014
---
China Owns the Entire South China Sea? What are They Smoking—Opium?

The arrogance of China is becoming readily apparent with each passing day. With their newly acquired economic and military power the Chinese appear unrestrained in their assertiveness towards their neighbors. China, instead of positioning itself as a 21st century superpower appears to be turning back the clock resembling more and more the 12th century empire of Genghis Khan and the Mongol hordes who conquered most of Eurasia...just because they could. Published 08/12/2014
---
On Her 5th Death Anniversary, We Say 'Thanks for Nothing Cory Aquino'

The passage of time has a way of distilling reality and bringing out truths that are sometimes hidden or lost by present circumstances. Case in point is the overwhelming level of admiration many Filipinos have for former President Corazon Aquino. When she passed away in 2009, the entire nation seemed beside itself in grief. Her casket was mobbed by thousands of mourners as it slowly made its way through the streets of Metro Manila to its final resting place at the Manila Memorial Park in Parañaque. Published 08/02/2014
---
The Failure of Philippine Education Is Now Staring Us in the Face

Will the Philippines Ever Become a Developed Country? The short answer to that is no—at least not in our lifetime. While the country has of late improved it credit ratings as evidenced by upgrades from Moody's, Fitch, and Standard & Poor's all that perceived progress is illusory. In the Fifties and Sixties, when the Philippines was undeniably the country at the top of the heap in Southeast Asia, people said it would always be the most industrialized country in the region. Published 08/02/2014
---
So, Should Jejomar Binay Be the Next President of the Philippines?

Though his popularity rating has taken some hits lately, Vice President Jejomar Binay is still far and away the strongest contender for the Philippine presidency in 2016. But is he the right choice for the country? His legions of supporters will give you an enthusiastic "yes;" his detractors however, will tell you "no!" So who's right? To answer our question, lets look instead at Binay's deeds rather than the words of his supporters or detractors. Published 07/25/2014
---
China's Military Base on Mabini Reef Violates the Philippine Constitution

While searching for the missing Malaysia Airlines Flight 370 on March 11, 2014, a Philippine Air Force plane flying over the Kalayaan Island Group in the West Philippine Sea sighted Chinese reclamation activity in the Mabini Reef of the Kalayaan Island Group within the 200 mile Exclusive Economic Zone (EEZ) of the Philippines. His aerial photographs were transmitted to the Philippine government for analysis. Published 07/10/2014
---
Napoles PDAF/NGO Scandal: What is Ten or Fifteen Billion Pesos Really Worth?

For those who have been following the Janet Lim-Napoles PDAF/NGO* scandal these past months, it is easy to get caught up in all the rhetoric—the words and phrases repeated day after day. Words like "ten billion" or "fifteen billion" have turned into something akin to "gray" background noise.  Words devoid of any real meaning or significance. So let us try to put back some meaning into those trite and often-repeated phrases in order to better understand some of the far-reaching ramifications of Napoles' actions. Published 06/30/2014
---