Rappler
Manila Standard
Manila Times
Asian Journal
Filipino Express
Malaya Online
Daily Tribune
CNN Philippines
Philippine News
Kababayan LA
MindanaoTimes
Sun Star
Negros Chronicle
Bohol Chronicle


Showbiz
Lazada
Phil. Senate
Phil Hse of Rep
Peso Exch Rate
Buy & Sell Online
Filipino Channel
Phil History
Phil Business
Phil Basketball
Make it Cebu
BuWorld Online

---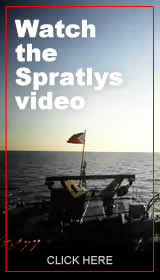 nterior Secretary Mar Roxas got it exactly right when he told Makati Mayor Junjun Binay, "you don't own Makati City." Roxas was referring to the mayor's initial refusal to accept the suspension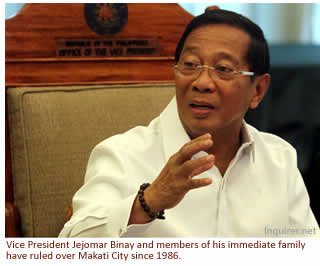 order from the Office of the Ombudsman in connection the ongoing corruption investigation against the mayor. Justice Secretary Leila de Lima chimed in as well, pointing out that "No public official can treat any local government unit as his own kingdom and government office as a royal entitlement."

While Roxas and de Lima were referring to a specific issue involving the Makati mayor, we believe those statements also touch the broader issue of the way Filipino public officials perceive their elected posts. Following in the footsteps of former president Ferdinand Marcos—the father of all corrupt public officials who refused to relinquish power, many public officials today treat political office.

Article X of the 1986 Philippine Constitution clearly states that "the term of office of elective local officials, except for barangay (village) officials, shall be three years and no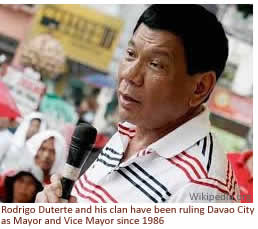 such official shall serve for more than three consecutive terms." However, wily local officials discovered a way to skirt the term-limit provision by having their spouses, sons or daughters run for a single term. That single term gives a term-limited local official the needed "break in service" that will allow them to run for another three terms in office. The process can be repeated ad-infinitum thus keeping province city or municipality in the hands of one family forever. This clearly violates the spirit of the term-limit law and must be stopped. From Jejomar Binay and family, or Rodrigo Duterte and family who've held on to the cities of Makati and Davao respectively, to the Ampatuan clan who control vast regions of Maguindano.
Until the country finally passes an Anti-dynasty law or any other law to address this problem, we suggest that language be added to the swearing-in ceremony of all local officials stating that they recognize that their position is only temporary and that the city, municipality or province they were elected to manage is not a personal fiefdom of theirs or their family. And so they must recognize that they are only temporary stewards the lands they are about to govern.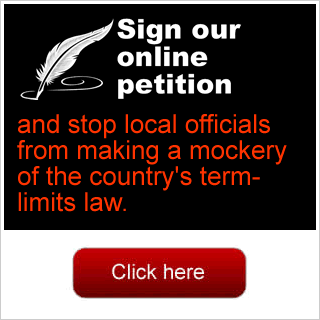 This is by no means the final solution to the problem but a step in the right direction. Because what better time to remind local officials of the transitory nature of their office then at their swearing-in ceremony itself.

If you agree with us that this is a good "first step" that strengthens the term-limits provision as mandated by the Philippine Constitution, then sign our petition to add your voice to the clamor for a better tomorrow. Published 7/3/2015



Philnews.com reserves the right to select and edit comments for publication.
---
You can also post your comments below
via DISQUS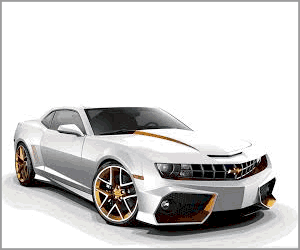 Will Same-Sex Marriage Ever Happen in the Philippines?



Make no mistake, the next elections will be one of the most important—if not the most important—elections the country will ever have. Never since the Philippines gained self-determination in 1946 has it faced such an existential threat from a hostile foreign country as it now faces from China. Published 6/27/2015
---
Who Should be the Next President of the Philippines?

Make no mistake, the next elections will be one of the most important—if not the most important—elections the country will ever have. Never since the Philippines gained self-determination in 1946 has it faced such an existential threat from a hostile foreign country as it now faces from China. Published 6/23/2015
---
Pope's Encyclical May Finally Get Filipinos to Change their Evil Environmental Ways

Pope Francis is about to issue an encyclical on climate change. The 200-page papal letter to Catholic bishops worldwide warns of "unprecedented destruction of the ecosystem" by the end of this century unless drastic changes are made to avert it. This encyclical could not have come any sooner for the Philippines. Published 6/12/2015
---
Congress Wants Gloria Arroyo on House Arrest, Seriously?

When President Benigno Aquino III, wasn't looking (he was in Japan), the House of Representatives quickly passed a resolution urging the Sandiganbayan court to allow house arrest for detained Pampanga Representative and former President Gloria Macapagal-Arroyo. Published 6/12/2015
---
Grace Poe for Philippine President? Not So Fast!

She is photogenic, carries herself well, and Filipinos all seem to love her. The question to ask though is whether the well-liked lady senator is ready to be the next president? Filipinos it seems have a penchant for electing young "celebrities" with zero experience into positions of power, then simply hope for the best with "bahala na ang Dios." Published 6/7/2015
---
Filipinos Need to Stand Tall In the Face of Chinese Aggression

President Aquino made the right move by going to Japan to bolster Philippine-Japanese cooperation. While he might be "preaching to the choir" as far as the Japanese are concerned, he nonetheless needs to communicate the graveness of the situation the Philippines currently faces. Published 6/2/2015
---
Rodrigo Duterte Must Never Become President of the Philippines

After consistently maintaining that he had no intentions to seek higher office, Davao Mayor Rodrigo Duterte hinted that he might actually make a run for the presidency. There was no mention of those lofty intentions that most candidates for president parrot when they make that fateful announcement. Published 5/29/2015
---
How Filipinos Can Stop China Now

The future of Filipinos will be nothing like their past. Each and every Filipino must realize this. The proverbial lackadaisical "Juan Tamad" lying under a guava tree in an idyllic Amorsolo painting-like setting will no longer exist. Instead a new reality like that of ancient Sparta or modern-day Israel will pervade. China is growing stronger every day and they are quickly turning into an aggressive, tyrannical power. Published 5/23/2015
---
Pacman's Gamble

The world now knows that while training for his May 2 "Fight of the Century" with undefeated world welterweight boxing champion Floyd Mayweather, Manny "Pacman" Pacquiao suffered a shoulder injury. According to his trainer, Freddie Roach, this mishap occurred on April 4 in a sparring session when he threw a right hook and his arm "got entangled with those of his sparring partner". Published 5/17/2015
---
Chinese Military Bases Under Construction on Philippine Reefs Must be Destroyed Now!

This is the reality: China's military leaders are rushing the construction of military bases in six different reef areas inside the Philippines' exclusive 200 mile economic zone. The Philippines is doing nothing to immediately stop it. Published 5/10/2015
---
Is Vice President Jejomar Binay the Manchurian Candidate?

It was made into two classic films, the first with Frank Sinatra in 1962 and the second with Denzel Washington in 2004. "The Manchurian Candidate", the 1959 best-selling novel by Richard Condon, told the tale of a group of American soldiers captured during the Korean War who were taken to Manchuria, China where they were brainwashed by Chinese officials. Published 5/3/2015
---
Pacmania Sweeps the World

Walk down any big city in the Philippines and you feel the excitement gripping everyone; men and women, boxing aficionados or not. Sunday's match (Manila-time) between Manny Pacquiao and Floyd Mayweather will have the country, glued to screens, large and small in major metropolitan areas as well as far-flung rural barrios. Published 4/29/2015
---
Mary Jane Veloso's Execution Will Only Highlight the Dysfunction of Filipino Society

On the 28th of April, the Indonesian government will execute Filipina Mary Jane Veloso by firing squad. For this luckless young woman, it will be the culmination of a life that from the beginning, had been dealt a losing hand. Published 4/25/2015
---
There Will Never be Lasting Peace with the Bangasamoro Basic Law

It is incomprehensible to many that despite all the negatives piling up against it, the Aquino administration is still pushing for Congress to ratify the Bangasamoro Basic Law (BBL). First and foremost, the Moro Islamic Liberation Front with whom the Philippine government entered into an agreement with, massacred 44 Special Action Force (SAF) policemen who were serving an arrest warrant on an international terrorist. Published 4/18/2015
---




Philippines argues EEZ case before arbitral tribunal closed hearing
AMSTERDAM - The Philippines argued at a closed hearing on Tuesday that an international court should intervene in its dispute with China over the right to exploit natural resources and fish in the South China Sea.

President Aquino approves proposed P3- trillion national budget for 2016
MANILA, July 7 -- President Aquino has approved the proposed P3.002 trillion 2016 national budget after presiding over a Cabinet meeting today. This represents a 15.2 percent increase from the 2015 national budget and comprises 19.5 percent of the country's Gross Domestic Product ...

VP Binay snubs 'last chance' to attend Senate hearing
MANILA - Vice President Jejomar Binay on Tuesday snubbed again a hearing of the Senate subcommittee investigating him for corruption, but the proceedings went on anyway and delved into his alleged use of dummies to hide his wealth.
Malacañang welcomes survey results on greater public satisfaction with Aquino administration
MANILA, July 7 (PNA) -- The Palace on Tuesday welcomed the results of the latest Social Weather Stations (SWS) survey showing greater public satisfaction with President Benigno S. Aquino III's administration.
PNoy urges cabinet members to intensify implementation of programs to boost inclusive growth
MANILA, July 7 -- President Benigno S. Aquino III has stressed the importance of intensifying the implementation of programs to "further bolster the foundations for sustainable and inclusive growth and progress for all Filipinos".
Guingona says 98% of DND contracts awarded without competitive public bidding
Only two percent of the contracts awarded by the Department of National Defense (DND) in the last two years underwent competitive public bidding, as the rest were through negotiated procurement, Senator Teofisto Guingona III bared Tuesday.
Senator urges "look into list of rice importers."
Senator Chiz Escudero is urging the National Food Authority (NFA) to look into its list of private companies to whom it has issued permits to import rice following reports that "fake rice" is circulating in Davao.
Senate to scrutinize proposed 2016 Php3-T budget
MANILA, July 7 (PNA) – Senator Francis 'Chiz' Escudero on Tuesday said the Senate will scrutinize the details of the proposed Php 3.002-trillion national budget for 2016 to ensure that lawmakers pass a reasonable and responsible budget on time.

De Lima now says Binay enjoys immunity
Justice Secretary Leila de Lima is now singing a different tune insofar as the immunity of Vice President Jejomar Binay from criminal prosecution is concerned. In what looked like a complete turnaround from ...
READ IT AT PHILIPPINES NEWS HEADLINES
Tropical Storm Egay out; Falcon roaring in
MANILA, Philippines - Tropical storm Egay (international name Linfa) left the Philippine area of responsibility yesterday morning but a stronger typhoon was expected to enter the country last night, the Philippine Atmospheric, Geophysical ...
READ IT AT PHILIPPINES NEWS HEADLINES
Mary Jane Veloso execution set next week?
MANILA, Philippines - A group of Filipino migrants yesterday expressed fear that convicted Filipina worker Mary Jane Veloso may be executed next week, after almost three months of temporary ...
READ IT AT PHILIPPINES NEWS HEADLINES
Beijing's South China Sea runway 'nearly complete'—US think-tank
BEIJING–Beijing has nearly completed building a 3,000-meter (9,800-foot) airstrip on a reef in disputed waters in the South China Sea, where tensions are mounting with its neighbors, a US think-tank said. A satellite picture taken ...
READ IT AT PHILIPPINES NEWS HEADLINES
Philippines rejects bilateral talks with China anew
MANILA, Philippines - Malacañang yesterday rejected China's renewed offer of bilateral talks to settle the West Philippine Sea dispute, saying only by engaging other members of the Association ...
READ IT AT PHILIPPINES NEWS HEADLINES
Vietnam's Trong, Obama discuss South China Sea at White House
WASHINGTON - US President Barack Obama said on Tuesday he discussed with Vietnam's General Secretary Ngyen Phu Trong the importance of resolving maritime disputes in the South China Sea in accordance with international law ...
READ IT AT PHILIPPINES NEWS HEADLINES
VP Binay owns lot donated by Philippine Army to Makati city gov't
An 8,877 square meter lot originally owned by the Philippine Army ended up in the hands of Vice President Jejomar Binay's dummies, former Makati vice mayor Ernesto Mercado told the Senate blue ribbon ...
READ IT AT PHILIPPINES NEWS HEADLINES
The Philippines ramps up military spending in face of China threat
The Philippines plans to ramp up military spending over the next 13 years, earmarking more than $20 billion to modernize its forces in the face of Beijing's maritime ambitions in the disputed South China Sea, a top Air Force ...
READ IT AT PHILIPPINES NEWS HEADLINES
Acting Mayor Romulo "Kid" Peña closes Makati Friendship Suites
Aside from suspending Makati's sister-city agreements with 670 local government units (LGUs) nationwide, acting Mayor Romulo "Kid" Peña announced on Tuesday that he was also temporarily shutting down their "home ...
READ IT AT PHILIPPINES NEWS HEADLINES
Fil-Ams rediscover Ilocano roots thru language training
What is the first Ilokano word you learned? For incoming college student Bryant Acoba, it was "nabangsit" or "smelly." The second word was, of course, "nabanglo" (fragrant). Laetitia Marie Nazareno Mahoney first said, "Mama," but ...
READ IT AT PHILIPPINES NEWS HEADLINES