Rappler
Manila Times
Asian Journal
Filipino Express
Malaya Online
Daily Tribune
CNN Philippines
Philippine News
Kababayan LA
MindanaoTimes
Sun Star
Negros Chronicle
Bohol Chronicle


President's Office
Vice President's Ofc.
Phil. Senate
Phil. Hse of Rep.
Supreme Court
Peso Exch Rate
Showbiz
Lazada
Buy & Sell Online
Filipino Channel
Phil History
Phil Business
Phil Basketball
Make it Cebu
BuWorld Online

---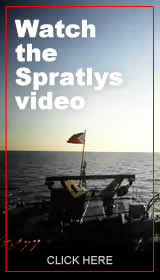 e've seen it all before with Joseph "Erap" Estrada. And if either Jejomar Binay or Rodrigo Duterte win in the upcoming election, we will likely see it again—a president out of his element, grappling with a job that's way over his head.

Many still remember what a fiasco the Estrada presidency was. A man of questionable morals,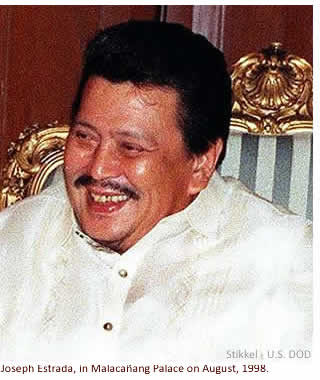 he was building palatial mansions for his numerous mistresses each of which acted as though they were royalty. Goons and scalawags, gambling lords and two-bit scam artists walked in and out of Malacañang like they owned the place.
The "Erap" presidency was a nightmare to educated class. A slap to the face of the country's elites by those with no money and little education, but with numbers large enough to elect anyone they chose for president.
Unfortunately, the Erap administration was a disaster. However, when he started his political career in as Mayor of San Juan, Rizal in 1969, he turned out to be a popular and well-loved as mayor. He paved most of the roads in that small municipality, beautified its public areas, and kept its police force on a short leash. San Juan was quickly transformed from a town with potholed dirt roads to a city with wide concrete streets and beautiful public spaces.
Sadly, one's success running a small municipality does not automatically translate into similar success running a nation. The difficulty and complexity increase exponentially and that is what voters, as well as candidates, fail to grasp. The small-town, parochial, hands-on way of doing things that work so well in the mayor's office, don't work in Malacañang's presidential office.
Binay has been a mayor for decades. The same is true for Duterte. Both are now running for president. And we believe that neither will be good at it. In addition to the reasons we highlight above, serious corruption allegations hound Binay, while temperament and probable involvement with vigilante groups hound Duterte.

So those of you considering voting for either Binay or Duterte, think long and hard about it. Think about how far the Philippines is behind its more developed neighbors. Think about all the big problems facing the country. Most importantly, think about future generations of Filipinos who will have live with the consequences of a Binay or Duterte presidency.

The small-town perspective of former Makati Mayor Jejomar Binay, and current Davao Mayor Rodrigo Duterte will likely make their terms a replay of Estrada's failed presidency. We Filipinos shouldn't put the country through that kind of anguish yet again. So a big "NO" to either Binay or Duterte for president! Published 2/8/2016



Philnews.com reserves the right to select and edit comments for publication.
---
You can also post your comments below
via DISQUS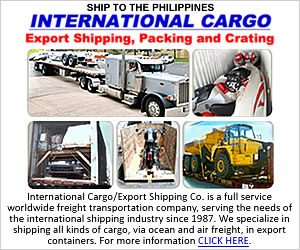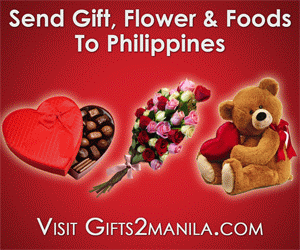 The BBL is Dead, It Died at Mamasapano Along with the PNP-SAF44 on January 2015



With great fanfare the Philippine Government and the Moro Islamic Liberation Front (MILF) signed a peace agreement on the 27th of March, 2014. Formally known as the Comprehensive Agreement on Bangsamoro (CAB), the government agreed to sweeping concessions including Muslim self-rule, in addition to pouring billions of pesos into a newly designated Bangsamoro Autonomous Region, all in exchange for the MILF disarming and making peace with the government. Published 1/30/2016
---
How Can Filipinos Vote for Grace Poe After She Turned Her Back on the Philippines in 2001



Grace Poe's presidential ambitions appears to be mired in muck—all of her own doing. During oral arguments at the Supreme Court yesterday, Associate Justice Mariano del Castillo asked Poe's counsel, Alexander Poblador, why his client gave up her Philippine citizenship and instead chose to become an American. Published 1/20/2016
---
Iglesia ni Cristo's In-fighting Reveals Our Undesirable Traits



Just six months shy of it's 102nd birthday Iglesia ni Cristo (INC), the Church that Felix Manalo cobbled together in 1914 appears to be in a deep ongoing crisis. The religion that claims to be the one true church of Jesus Christ on earth is now being torn by internal strife. In an ongoing saga that is unfolding publicly, Lottie Manalo-Hemedez this week claimed that she was being forced out of her home on No. 36 Tandang Sora Avenue in Quezon City. Published 1/16/2016
---
Hooray to Our Young Heroes Not Afraid to Stand Up to Communist China



As we noted in our previous editorial, the Aquino Administration ended 2015 with yet another characteristic whimper by joining China's Asian Infrastructure Investment Bank (AIIB). It made sure it joined at the very last minute. Reluctantly of course, but with its tail between its legs, it signed on the dotted line giving Beijing another feather on it's cap as that country endeavors to become the dominant financial powerhouse in the region. Published 1/11/2016
---
President Aquino's Big Blunder: Joining China's Asian Infrastructure Investment Bank



With the 2015 deadline just a day away, Philippine President Benigno Aquino III threw in the towel and announced that the Philippines would join the Beijing-sponsored Asian Infrastructure Investment Bank (AIIB) as its final founding member. Critics of the new international bank argue that it is China's way of grabbing some of the limelight away from the World Bank (WB) and the Asian Development Bank (ADB), both of which are already doing what the AIIB intends to do. Published 12/31/2015
---
The Hope for a Better Philippines This Holiday Season



Filipinos of today have become by necessity a hardy and resilient bunch. By necessity because we've been colonized for centuries by foreigners, tyrannized by a ruthless dictator, and to this day victimized by those who are supposed to lead us. Even nature at times seems to have it in for us, hurling one typhoon after another at the country. And through it all we Filipinos continue to carry on with a smile. Published 12/25/2015
---
The Philippines Can Never Move Ahead Because of the Catholic Church



These islands and its inhabitants seemed to have been doing fine up until the Spaniards arrived in 1521 and imposed Christianity on the subjugated natives. After which Filipinos became second-class citizens in their own country. Today, over a hundred years since those Spaniards departed, Filipinos still have been unable to rid themselves from the shackles Spain placed on them. The religion imposed on Filipinos has outlasted even the Spanish empire itself. Published 12/19/2015
---
Philippine Elections: Grace Poe Disqualified; Rodrigo Duterte Surging, Mar Roxas Also-ran



Well, it looks like the presidency won't happen for Grace Poe—at least not in 2016. And we're delighted. As far as we're concerned, the freshman senator who is only halfway through her first term in office is totally unqualified to be president for now. She lacks the experience, and because she's lived abroad for so long, still lacks a true "feel" for Philippine issues. If she had become president, she would have had to rely primarily on others for guidance—ala Cory Aquino. Published 12/14/2015
---
Global Warming: A Runaway Train Headed Straight at the Philippines



The time for finger pointing has passed. It no longer matters if other countries spew more greenhouse gases into the atmosphere than the Philippines does. We need to get our act together because we Filipinos have—to put it bluntly—destroyed this beautiful country of ours. From its denuded forests to its over-fished seas, from its overbuilt cities to its polluted rivers and streams, from the smog-choked air above cities to the depleted water tables beneath them, the Philippines today is a far cry from the land Jose Rizal once called his "Pear of the Orient." Published 12/05/2015
---
The Pros and Cons of Duterte for President



Davao Mayor Rodrigo Duterte has finally thrown his hat into the ring and run for president. Hi s loyal supporters plus many voters dissatisfied with the current crop of candidates are quite elated. Duterte's urong-sulong (on-again-off-again) presidential bid caused many to suspect that the Davao Mayor really didn't have his heart in the race. Some of his detractors on the other hand said he was hiding something that might be exposed if he ran ... Published 11/28/2015
---
Time to Move the Philippine Jeepney Off the Streets and Into the History Books



From its inception, the Philippine jeepney has been a symbol of Pinoy ingenuity. In the war-ravaged streets of newly liberated Manila in 1945, Filipinos were faced with huge public transportation problem. The tram system (tranvia) that used to serve major thoroughfares of the city was completely destroyed; its metal rails uprooted, and the overhead electric cables gone. It was going to take years to put the entire system back in place. However, quick-thinking Pinoys saw that the city had a surplus of U.S. Army jeeps ... Published 11/24/2015
---
Like the Marcos Days, Filipinos Treated as Second-class Citizens During the APEC Summit



Did Philippine President Benigno Aquino III ever consult his bosses (the Filipino people) instead of listening to the bad advice of his mostly clueless advisers. Even on the best of days, just getting from point-A to point-B in this smog-choked metropolis is already a herculean task. The well-off in their air-conditioned SUVs crawl at a snail's pace through narrow streets—their mostly diesel-powered behemoths spewing a deadly cocktail of pollutants into the atmosphere. Published 11/20/2015
---
The Philippines Should Stand by Obama and Talk About China's Bullying at the APEC Summit



While China seems to have intimidated most APEC participants into avoiding any mention of their illegal activities in the South China Sea (West Philippine Sea), American President Barack Obama seems to have finally found the nerve to speak out publicly against it and says he plans to do so at the upcoming APEC meeting. For the past year and a half, on the bad advice of his National Security Adviser Susan Rice, Obama kept silent about China's ongoing construction on shoals and reefs in the South China Sea. Published 11/16/2015
---




25 provinces expected to be hit by drought in February - Pagasa
MANILA, Philippines -- At least 25 provinces are likely to suffer drought and nine others to go through a dry spell this month because of the El Nino phenomenon, the Philippine Atmospheric, Geophysical and Astronomical Services Administration said.

PNoy to attend special ASEAN-US leaders' summit next week
MANILA, Feb. 12 -- President Benigno S. Aquino III will attend a special summit between the leaders of the Association of Southeast Asian Nations (ASEAN) and the United States (US) in Sunnylands, California next week, a Foreign Affairs official announced Thursday.

Foreign Affairs Sec. Del Rosario exits after 5 years of principled stewardship
MANILA - Secretary Albert F. del Rosario is leaving the Department of Foreign Affairs in early March after five years of service as a Cabinet member in the Aquino administration. "It has truly been a distinct honor and privilege to have fully dedicated myself to our country and the Filipino people ...
DOLE steps up operation of 'Assist WELL' Centers for returning OFWs
MANILA, Feb. 12 -- Labor and Employment Secretary Rosalinda Dimapilis-Baldoz recently announced the setting up of a more cohesive and synchronized 'Assist WELL' Processing Centers in three Department of Labor and Employment (DOLE) agencies and 17 regional offices in the country.

Slowdown in remittance growth not primarily due to oil prices - BSP exec
MANILA, Feb. 11 (PNA) -- Growth of remittances from Filipinos overseas slowed in 2015 but a ranking central bank official said this cannot be traced mainly to continued drop in oil prices. In a briefing Thursday, Bangko Sentral ng Pilipinas (BSP) Deputy Governor Diwa Guinigundo said a flat growth ...

Philippines keen on Hague final ruling on case vs China in May
MANILA, Philippines -- The Philippines is expecting a final ruling in May on its arbitration case questioning the legality of China's massive claim in the South China Sea, Foreign Affairs Secretary Albert del Rosario said on Wednesday.
Peace panels, partners meet anew to move Bangsamoro process forward
KUALA LUMPUR, Malaysia, Feb. 11 (PNA) -- The Government of the Philippines (GPH) and the Moro Islamic Liberation Front (MILF), together with the various peace structures working under the Bangsamoro peace process, are meeting here to reassess means of moving forward in light of the 16th Congress' failure ...

Mitsubishi to make the Philippines as new Mirage production hub via CARS Program
MANILA, Feb. 11 (PNA) -- Tokyo-based Mitsubishi Motors Corp. (MMC) will make the Philippines as new production hub for Mirage models as it will enroll the manufacturing of hatchback and sedan Mirage for the Comprehensive Automotive Resurgence Strategy (CARS) Program.
Philippine Voters: Poverty is biggest issue
POVERTY is the most pressing problem today, the latest The Standard Poll conducted by this newspaper's resident pollster Junie Laylo shows. In the survey conducted between Jan. 27 and Feb. 4, 23 percent of respondents nationwide rated poverty as the top concern, followed by corruption (20 percent) ...

And they're off! Cliffhanger presidential race begins
MANILA, Philippines – A cliffhanger of a race to lead the country began yesterday with five candidates claiming to have a genuine chance of succeeding President Aquino. Since emerging from dictatorship three decades ago, the Philippines ...
READ IT AT PHILIPPINES NEWS HEADLINES
Trillanes posts bail for libel case filed by Junjun
MANILA, Philippines – Sen. Antonio Trillanes IV posted P10,000 bail yesterday morning on the libel case that former Makati mayor Jejomar Erwin Binay Jr. filed against him. Shortly after arriving from the US, he went to Makati Regional Trial ...
READ IT AT PHILIPPINES NEWS HEADLINES
Miriam: Bongbong can take over 'if something happens to me'
BATAC, Ilocos Norte - While maintaining that she has already been cleared of lung cancer, presidential aspirant Sen. Miriam Defensor-Santiago on Tuesday said her running mate Sen. Ferdinand "Bongbong" Marcos Jr. ...
READ IT AT PHILIPPINES NEWS HEADLINES
LRTA officials face graft over maintenance, janitorial deals
The Office of the Ombudsman (OMB) has ordered the filing of graft and corruption charges against top officials of the Light Rail Transit Authority (LRTA) in connection with the alleged anomalous implementation of the maintenance & janitorial ...
READ IT AT PHILIPPINES NEWS HEADLINES
Palace to Alan: Why should Duterte free Arroyo when you were against her?
PERHAPS Sen. Alan Peter Cayetano should explain to the people why his running mate, Davao City Rodrigo Duterte, is keen on releasing former President Gloria Macapagal-Arroyo who is detained on plunder charges and was subject ...
READ IT AT PHILIPPINES NEWS HEADLINES
President Aquino endorses Roxas as only candidate with five 'Ks'
As the campaign season kicked off Tuesday, February 9, President Aquino endorsed Liberal Party (LP) presidential bet Mar Roxas as the only presidential candidate with five "Ks". In a meeting with local leaders and the community in Iloilo ...
READ IT AT PHILIPPINES NEWS HEADLINES
Binay hits Aquino over Mamasapano in proclamation speech
Vice President Jejomar Binay criticized President Benigno Aquino III for his failure to handle the Mamasapano crisis in his speech at his proclamation rally on Tuesday. Speaking before a crowd of slum-dwellers ...
READ IT AT PHILIPPINES NEWS HEADLINES
9.1 million Pinoys remain unemployed – SWS
MANILA, Philippines – With barely four months left for the Aquino administration, around 9.1 million Filipinos remain unemployed, according to the latest survey of the Social Weather Stations (SWS). The SWS poll, taken from Dec. 5 to 8, found 21.4 ...
READ IT AT PHILIPPINES NEWS HEADLINES
Pia Wurtzbach's red-hot looks for the Super Bowl parties
She will dance, she will cook, and she will fly—Miss Universe 2015 Pia Alonzo Wurtzbach is taking the special part of Inside Edition's Super Bowl "special correspondent" seriously. The beauty queen ....
READ IT AT PHILIPPINES NEWS HEADLINES
Cheaper air fares, more flight options soon – DOTC
Travelers in the Philippines will soon be able to access broader flight options with cheaper air fares, following the President's signing of certain protocols of the ASEAN Multilateral Agreement in Air Services (MAAS) last week. According to ...
READ IT AT PHILIPPINES NEWS HEADLINES