Rappler
Manila Standard
Manila Times
Asian Journal
Filipino Express
Malaya Online
Daily Tribune
CNN Philippines
Philippine News
Kababayan LA
MindanaoTimes
Sun Star
Negros Chronicle
Bohol Chronicle


Showbiz
Lazada
Phil. Senate
Phil Hse of Rep
Peso Exch Rate
Buy & Sell Online
Filipino Channel
Phil History
Phil Business
Phil Basketball
Make it Cebu
BuWorld Online

---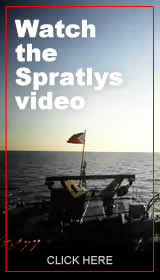 n general a son shouldn't be blamed for what his father did. The Holy Bible itself acknowledges this in Deuteronomy 24:16: "Fathers shall not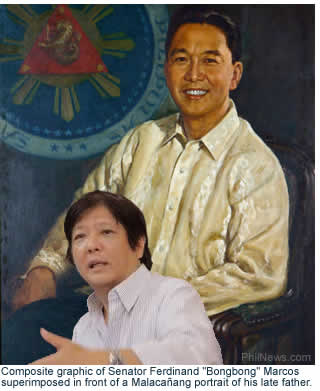 be put to death because of their children, nor shall children be put to death because of their fathers. Each one shall be put to death for his own sin. In the case of Senator Ferdinand "Bongbong" Marcos Jr. he has never been accused of active involvement in the abuses of his father, former President Ferdinand Edralin Marcos.

However, now that the good senator has announced he may be considering a run for the presidency, many Filipinos—especially those old enough to remember the Martial Law years—are gravely concerned by the prospect of yet another Marcos in Malacañang. And if he should win, the senator's mother Imelda (and the aging Marcos cronies who fled the Philippines after the EDSA Revolution) would see the victory as a vindication of her husband's despotic legacy.

Though the chance of Bongbong winning the presidency at this stage seems like a very long shot, the billions of dollars in stolen wealth the Marcos family is rumored to have stashed away in foreign banks could certainly be a game changer. With tens of millions of underprivileged voters ready to sell their votes for a handful of pesos, the candidate with the deepest pockets usually ends up the winner in Philippine elections.

The question for Senator Marcos will be whether he can overcome the negative legacy of his father. There are still large numbers of Filipinos who will never vote another Marcos for president. No amount of convincing or money thrown at this group can get them to change their minds.

So unless he can garner support from large numbers of voters who will give him the benefit of the doubt and not penalize him for his father's sins, Bongbong will never make president. And the only way he can get that support is by publicly admitting that what his father did was wrong.

In a recent ABS-CBN interview however, the senator was asked if he would apologize for the injustices during Martial Law. He replied that he personally had done nothing he should be sorry about and then went on to recite a litany of achievements attained during his father's rule. He conveniently dismissed the great many who suffered, characterizing them as the few who simply fell through the cracks.

The interview revealed the senator as being so out of step with mainstream thinking about his father and the Martial Law era. Bongbong Marcos appears to be in denial of the horrendous atrocities committed on thousands of Filipinos during Martial Law—not to mention the deliberate plundering of the Philippine treasury by his parents and their cronies. Even to this day Filipinos continue paying for the injustices incurred during that era.

The Marcoses it appears would want nothing better than to revise history and pretend that what happened during Martial Law was all good. Unfortunately, there's a mountain of evidence against it.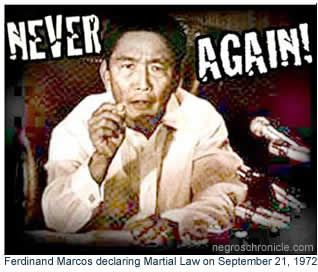 And to try to rehabilitate the image of Ferdinand Marcos would be like trying to rehabilitate that of Adolf Hitler or Judas. It would be next to impossible—at least in this millennium.
Therefore, to earn the respect (and votes) of the Filipino people (as well as the rest of the world) Senator Marcos must admit that what his father did was wrong and Martial Law was for the most part a great evil imposed on the country. Should he fail to do that, he can only be seen as someone out of touch with reality … and someone who can never become president. Published 8/30/2015



Philnews.com reserves the right to select and edit comments for publication.
---
You can also post your comments below
via DISQUS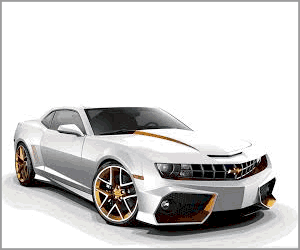 Traffic Will Eventually Choke Metro Manila to Death...If We Do Nothing About It Now



In an earlier editorial we highlighted the pollution problem created by diesel and 2-stroke engines in Philippine cities. Here we highlight the deleterious effects Metro Manila's horrendous traffic problem has on the country's economy. Traffic moves around Metro Manila in a god-awfully slow pace. And as people and vehicles in this mega-metropolis increase that pace slows down even further. Published 8/26/2015
---
Why is the Philippines Still Spending Billions Buying Chinese Goods?



Are you one of the many Filipinos who, in righteous indignation, swore not to buy China-made goods because of what that communist country is doing to Philippine possessions in the West Philippine Sea?  First of all—thank you. It is not everyday that one can find people who are willing to make some sacrifice in order to stop an aggressive "bully" nation ... Published 8/22/2015
---
Air Pollution is Destroying Metro Manila and Most Cities in the Philippines



During the time of Jose Rizal, the country was known as the "Pearl of the Orient." The Spaniards, despite all their faults, built some amazingly beautiful cities in these "Islas." Clear water ran through the Pasig river and life was wholesome for all who lived here. Published 8/16/2015
---
Chief Justice Sereno et al, Speed Up Philippine Courts or Resign



So I guess if you're a Filipino, you're used to waiting forever for everything...especially government services. Unfortunately, the bar is set so low when it comes to government performance, it is no wonder the Philippines lags behind most countries. Published 8/11/2015
---
Why is Gloria Arroyo Keeping so Silent?



Remember her? She was president for almost a decade. A year after leaving office in 2010 Gloria Macapagal-Arroyo was arrested and placed under "hospital arrest" where she remains to this date. Charged first with electoral sabotage, then the misuse of Philippine Charity Sweepstakes funds, Arroyo is currently confined at the Veterans' Memorial Medical Center awaiting her day in court. Published 8/04/2015
---
More Far Left than the Philippine Far Left



Just as global Filipinos alarmed by China's massive reclamations in the West Philippine Sea were preparing to hold their third annual Global Day of Protest against China's imperialism on July 24, a "preemptive counter demonstration" was held on July 19 in front of the Philippine Embassy in Washington DC by Filipino American militants protesting US imperialism in the Philippines. Published 7/31/2015
---
The Iglesia ni Cristo Religion Will Eventually Self-Destruct



It will only be a matter of time before the Iglesia ni Cristo (INC), founded by Felix Manalo over a hundred years ago eventually destroys itself. Like All organized religions, it stands on shaky ground depending solely on the faith of its followers to keep it going. And once that faith begins to waiver, it is the beginning of the end for that religion. Published 7/25/2015
---
Why Isn't the Makati business Community Rallying Behind Jejomar Binay?



Doesn't anyone find it a bit strange that the former mayor of Makati does not seem to have the backing of that city's business community? Makati after all is the country's premiere business district. Most major Philippine corporations are headquartered there. And for someone who has won election after election, whose wife also served as mayor, and whose son is the current mayor, the city's business community seems totally disengaged ... Published 7/22/2015
---
What the Heck is the Problem with Filipino Voters?



Mar Roxas, who gave up his presidential aspirations in 2010 to make way for then presidential aspirant Benigno Aquino Jr., says he might be willing to give way again for frontrunner Grace Poe. The question Pinoy voters should be asking is if Roxas is so willing to give way to others, maybe he's not that interested in running for president. At this time more than ever, the country needs ... Published 7/16/2015
---
Local Officials, You Are Only Temporary Stewards of the Lands You Govern



Interior Secretary Mar Roxas got it exactly right when he told Makati Mayor Junjun Binay, "you don't own Makati City." Roxas was referring to the mayor's initial refusal to accept the suspension order from the Office of the Ombudsman in connection the ongoing corruption investigation against the mayor. Justice Secretary Leila de Lima chimed in as well, pointing ..." Published 7/3/2015
---
Will Same-Sex Marriage Ever Happen in the Philippines?



The United States Supreme Court has finally put its stamp of approval on same-sex unions. This following similar actions by governments in many other first-world democracies around the globe. The high court agreed with the argument that marriage is a very important institution in society. And to deny it to a certain group simply because of their sexual ... Published 6/27/2015
---
Who Should be the Next President of the Philippines?

Make no mistake, the next elections will be one of the most important—if not the most important—elections the country will ever have. Never since the Philippines gained self-determination in 1946 has it faced such an existential threat from a hostile foreign country as it now faces from China. Published 6/23/2015
---
Pope's Encyclical May Finally Get Filipinos to Change their Evil Environmental Ways

Pope Francis is about to issue an encyclical on climate change. The 200-page papal letter to Catholic bishops worldwide warns of "unprecedented destruction of the ecosystem" by the end of this century unless drastic changes are made to avert it. This encyclical could not have come any sooner for the Philippines. Published 6/12/2015
---




Iglesia Ni Cristo officially ends protests as 'agreement reached'
MANILA – An Iglesia Ni Cristo (INC) official has announced the end of the nationwide protest actions of the indigenous Christian group. In a short announcement aired over INC-owned channel Net25, INC general evangelist Bienvenido Santiago said the church leadership has decided to end the protests ...

Philippine National Police names top 5 of cybercrime complaints
QUEZON CITY, Aug. 31 (PIA) – The Philippine National Police (PNP) has named the top 5 complaints received and recorded by authorities from 2013 to present. The PNP's Anti-Cybercrime Group (PNP-ACG) recorded a total of 1,211 cybercrime complaints with online scam on top of the list with 366 complaints ...

Bill mandating career assessment for HS students hurdles House 3rd reading
MANILA - The House of Representatives has passed on third and final reading a bill that would institutionalize the assessment examination for high school students to help them determine which field to pursue either in college or in technical-vocational education.
President Aquino leads commemoration of National Heroes Day
MANILA, Aug. 31 -- President Benigno Aquino III today will lead the commemoration of National Heroes Day at the Libingan ng mga Bayani in Taguig City. "Pangungunahan ni Pangulong Aquino bukas ang mga opisyal ng pamahalaan at kinatawan ng diplomatic corps sa pag-aalay ng bulaklak sa Libingan ng mga Bayani ...
Agreement to enhance overseas voting awareness signed
The Department of Foreign Affairs, Overseas Voting Secretariat (DFA-OVS) signed a Memorandum of Agreement (MOA) with ABS-CBN's The Filipino Channel (TFC) on August 27 at Eugenio Lopez Communications Center, Mother Ignacia Street, South Triangle, Quezon City to enhance overseas voting awareness ...

On birthday of slain journalist Gerry Ortega, petition demands capture of Reyes brothers
MANILA, Philippines -- The family of murdered Palawan journalist, environmentalist and good governance activist Gerry Ortega has mounted a petition urging the Supreme Court, Justice Secretary Leila de Lima and Interior Secretary Manuel Roxas II to make good on government's pledge to capture the alleged masterminds.
Palace continues to monitor Iglesia ni Cristo protest in EDSA; ensures safety, peace
MANILA, Aug. 31 -- The Palace continues to monitor the Iglesia ni Cristo (INC) protest in EDSA, said Presidential Communications Operations Office Secretary Herminio Coloma Jr. on Sunday. "Patuloy na sinusubaybayan ng ating mga awtoridad ang mga kaganapang Ito … para matiyak na mananatiling tahimik ...
Philippines sees trade with APEC member economies rising over 6.8% yearly
CEBU CITY, Aug. 31 -- The Philippines, which plays host to the Asia-Pacific Economic Cooperation (APEC) summit this year, sees its trade with 20 other APEC member economies increasing by over 6.8 percent annually, to about $109.62 billion in 2015.

Iglesia ni Cristo protesters intend to occupy EDSA until Monday
Protesters from the Iglesia ni Cristo that massed on EDSA on Friday afternoon intend to occupy the thoroughfare until Monday. GMA News' Mariz Umali reported this development on "Saksi" as members of the church ...
READ IT AT PHILIPPINES NEWS HEADLINES
'Zero Remittance Day' a success, says Migrante partylist
Migrante partylist, a group protecting the rights of overseas Filipino workers (OFW), declared the success of today's "Zero Remittance Day''. The group said the "Zero Remittance Day'' is a collective action of the OFWs, their families ...
READ IT AT PHILIPPINES NEWS HEADLINES
Mar Roxas to Iglesia Ni Cristo: We have rules to follow
MANILA, Philippines - Outgoing Interior and Local Government Secretary Mar Roxas on Saturday reminded the members of the Iglesia Ni Cristo (INC) who gathered on Edsa in Mandaluyong City that people have rules to obey ...
READ IT AT PHILIPPINES NEWS HEADLINES
Senate Electoral Tribunal seeks Grace's birth, travel records
MANILA, Philippines - As Sen. Grace Poe continues her soul searching amid calls for her to run for president next year, the Senate Electoral Tribunal (SET) has directed the Bureau of Immigration (BI) and the National Statistics Office to produce ...
READ IT AT PHILIPPINES NEWS HEADLINES
Good life under Marcos; you kidding, right?
"The gall of this douche bag. They emptied the coffers which we are still paying for," netizen rnoldrmada said, referring to the billions allegedly plundered by the senator's father, family and associates. Sen. Ferdinand ...
READ IT AT PHILIPPINES NEWS HEADLINES
Former mayor Latasa tagged source of threats by radioman
DIGOS CITY—A broadcaster here has claimed that former Mayor Arsenio Latasa was out to get him to stop him from exposing the official's alleged corrupt practices in his daily radio program. Arvin Malaza, known for his radio name Jun Blanco ...
READ IT AT PHILIPPINES NEWS HEADLINES
Customs chief Lina to OFWs: No additional taxes on balikbayan boxes
Customs Commissioner Alberto Lina on Friday assured overseas Filipino workers (OFWs) that no additional taxes will be imposed on balikbayan boxes to recover the government's P6 million daily losses due to smuggling. "Wala ...
READ IT AT PHILIPPINES NEWS HEADLINES
Sandigan subpoenas Jinggoy bank accounts
The Sandiganbayan Fifth Division has subpoenaed the documents under the China Bank accounts of detained Senator Jose "Jinggoy" Ejercito Estrada and two of his alleged conduits whom he used to receive kickbacks from his Priority Development ...
READ IT AT PHILIPPINES NEWS HEADLINES
Communist rebel leader pleads not guilty to murder charge
KALIBO, Aklan, Philippines — Detained communist rebel leader Maria Concepcion Araneta-Bocala pleaded not guilty during her arraignment for a 1981 murder case at the Aklan Regional Trial Court. Bocala entered her plea before the ...
READ IT AT PHILIPPINES NEWS HEADLINES
Asia's richest man poorer by $3.6-B after Chinese stocks tumble
Asia's richest person lost a total of US$3.6 in a blink of an eye, after Chinese stocks plunged yesterday, August 24. According to the South China Morning Post, Wang Jianlin — named by Forbes' as the richest person in Asia on May 2015 — saw his fortune decline at US$31.2 billion ...
READ IT AT PHILIPPINES NEWS HEADLINES