2013 Winning Senatorial Candidates

1 POE, GRACE
2 LEGARDA, LOREN
3 ESCUDERO, CHIZ
4 CAYETANO, ALAN P.
5 BINAY, NANCY
6 ANGARA, EDGARDO
7 AQUINO, BAM
8 PIMENTEL, KOKO
9 TRILLANES, ANTONIO
10 VILLAR, CYNTHIA
11 EJERCITO, JV
12 HONASAN, GRINGO


ith midterm elections just days away, it bears repeating that from our perspective, Philippine elected officials leave so much to be desired.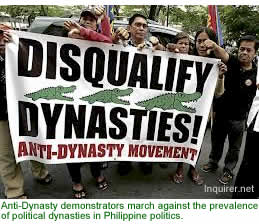 And one reason why we seem to have such a dearth of top-rate individuals is because political dynasties are pervasive throughout the archipelago.
Political dynasties from a Philippine context are in some ways akin to the fiefdoms that existed in Europe during the middle ages. Like the peasants of a fief, today's Filipino residents of a particular province, municipality or barangay remain fiercely loyal to their leader, electing and re-electing him and members of his family into political office. In a shameless disregard for the spirit of the 1987 Constitution regarding term limits, mayors and governors have their wives or children run in their stead after they have maxed-out their three-term limit—keeping the post 'in the family.' They sit out a term while the wife, son, or daughter serves as interim mayor or governor so they can again run for another three consecutive terms. This practice is so pervasive and widespread that it makes a mockery of the country's Constitution and further entrenches and perpetuates political dynasties throughout the archipelago.
Look at the Philippines today and you see the results of what happens to a country run by 'second-stringers.' The solutions they propose are mediocre; results they attain are mediocre; and even the people themselves end up with lowered expectations of what their elected officials can do for them.
Here is a crystal clear example of how all this plays out in real life. Our current president, Benigno Aquino III was elected into office in 2010. He won not because of what he did in Congress or the Senate. He in fact, led quite an undistinguished career all his life. Then his mother passed away August 2009 and that catapulted him to frontrunner status for the 2010 presidential elections. Make no mistake, President Aquino is a good man and may even become a great president. But the fact remains that he is untested, wet behind-the-ears, a greenhorn. All that is acceptable if you're only dealing with other Filipino politicians, since they are all of similar caliber. The problem arises when you have to deal with leaders from other countries like say China. Unlike the Philippines, in China (and most other well-run countries) aspiring leaders have to fight their way to the top. Only those who have the drive, the ambition, the talent, and stamina ever make it to the very top. It takes years to build a track-record of solid achievements, while fending off equally strong and ambitious opponents who have their eye on the same goal. By the time one becomes a country's head, that person is a battle-hardened gladiator who has vanquished every other aspirant for the post.
Case in point: The standoff in Panatag or Scarborough Shoal that occurred in mid-2012. Panatag shoal is a triangular-shaped reef formation with an area of roughly 120 square kilometers, just 124 nautical miles from the province of Zambales. The ships in the area at the beginning of the standoff were the BRP Gregorio del Pilar the county's biggest and newest naval vessel and eight Chinese fishing boats. Two Chinese Marine Surveillance ships were later sent by China to block the del Pilar from getting at and arresting the Chinese fishermen who were illegally poaching in the shoal. President Aquino in a misguided show or chivalry ordered the larger and more powerful del Pilar out of the area and replaced it with two smaller, less threatening Coast Guard and Bureau of Fisheries ships to face down the Chinese intruders. Then on June 16 Aquino ordered the remaining ships out as well because an incoming typhoon locally code-named "Butchoy" was forecasted to hit the area. the Department of Foreign Affairs (DFA) supposedly received assurances from minor Chinese officials that they were prepared to leave as well. But while our ships scampered off to safety from the typhoon, the Chinese vessels rode out the storm remaining in Panatag Shoal. It is evident that under direct instructions from its inexperienced president, the Philippines gave up its upper hand, first by disengaging its newest and most powerful frigate from the standoff, and then shortly thereafter by ordering the remaining Philippine ships to high-tail it out of the area using the looming typhoon as its excuse for leaving.
The Chinese never left Panatag Shoal. In fact Chinese Vice Foreign Minister Fu Ying has told Philippine Foreign Affairs officials that they have no plans of ever leaving. The area is now swarming with Chinese vessels. They have it cordoned off to prevent Filipinos from entering a shoal that lies well within Philippine territorial waters per the United Nations Convention on the Law of the Sea (UNCLOS)—a convention that both countries are signatories to. In the stare-down our novice president quickly blinked.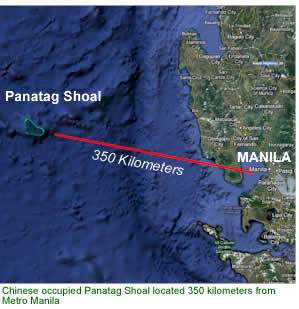 If the Philippines eventually loses Panatag Shoal, studies indicate that it could also say goodbye to 38% of its territorial waters in the increasingly strategic West Philippine Sea. It would also lose all mineral rights to the seabed surrounding the shoal. Even more disturbing is the fact that China would in effect become the country's next door neighbor. Chinese naval vessels would be anchored less than 350 kilometers from Manila, the seat of power. The country would be at the mercy of the Chinese Navy which could pounce on the capital at a moment's notice—a truly dire scenario for the Philippines.

The point we are making is this: If the Philippines had a seasoned president with years of experience under his belt, who like other world leaders had battled and triumphed over adversity many times before becoming president, he most certainly would never allowed himself to be bamboozled the way our current president was. When you're a seasoned leader, not only do you surround yourself with top-caliber advisers, you're not likely to be as naïve or as trusting as a neophyte would be.

Bad decisions like the one described above happen all the time all over the Philippines because those in positions of power were elected not because of their knowledge, experience or expertise; they were elected simply because they belonged to a powerful family. These dynastic families know they can easily get their kin voted into office regardless of whether they are qualified or not for the job. In this year's senatorial election alone you have an Aquino, an Enrile, a Binay, a Poe, an Ejercito, to name just a few, who are likely to get elected to the Senate just because they have the right last name. And their victory will likely push the country even further behind the rest of Southeast Asia. Think about it. Those of us who know better must to put an end to political dynasties before it is too late. Published 5/12/2013



Philippine NewsLink reserves the right to select and edit comments for publication.

Comments from Our Readers
Name: HMS
City/State/Country: new York, ny
IP Address: 108.183.75.178

Comments
Where else can you find this dysfunction. Estrada was thrown out of power then charged and convicted of Plunder. Instead of jail a more corrupt President, Gloria Arroyo exercised her prerogative, ignored justice and pardoned Estrada. Now Estrada is back on top as Mayor of manila. And possibly President in 2016. Nakaka-iyak. I sure hope that Gloria Arroyo suffers for the rest of her days. Thinking back how can a Kanto-boy type movie actor be this politically powerful in a country where the inhabitants are supposed to be literate? What kind of a nightmare is this?
---
Name: Billy
City/State/Country: Lorenzo Village
IP Address: 14.201.66.31

Comments
What I don't like with our President is that he seems to "panic" with regards to diplomatic situations such as the China tourist bus situation, Sabah and now Taiwan. He always has a delayed reaction. The shooting of the fisherman from Taiwan occurred last Thursday and he only apologized 2 days ago. Of course, it doesn't seem sincere and now the Philippines are begging to stop sanctions. This could have been avoided. Also our coast guard are "trigger happy". They should be made aware of the consequences.
---
Name: deo
City/State/Country: flour-flower city
IP Address: 74.65.4.116

Comments
Family dynasties in the political life of the Philippines has nothing to do with the failing of the government in all its functions. The bottom line of this PNL's editorial, particularly the Panatag shoal issue, is the government, then and present doesn't have courageous and knowledgeable enough international experts to tackle this problem head on. And the same is true in other fields. The people (staff) surrounding these member of family political dynasties are incompetent. These family members are only as good as their advisers.



Philippine NewsLink reserves the right to select and edit comments for publication.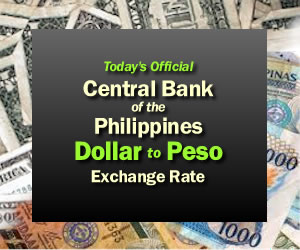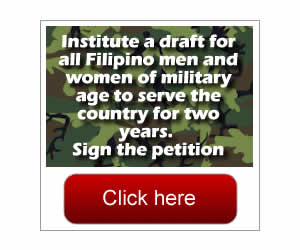 PREVIOUS EDITORIALS
Voting Wisely Is So Important for the Philippines



With elections a little over a week away, Filipinos need to take a long and hard look at who they are choosing to lead them for the next three to six years—for the Philippines is a country sorely lacking in leadership. For decades we have been electing celebrities, entertainers, and relatives of past and present politicians who are totally unfit for public service. They have neither the training, the experience, nor the intellect needed to properly do the job voters elected them to do. Published 05/03/2013
---
Swift Justice in Boston, Something You Hardly Ever See in the Philippines

You have to give it to American law enforcement; they really seem to have their act together. When the horrific explosions occurred during the Boston Marathon it appeared almost impossible that whoever did it would be apprehended. But just a few days after that bombing incident, authorities seem to have cracked the case. One suspect is dead and another is now apprehended. Large swaths of the greater Boston area were on lockdown and door-to-door searches were conducted in the suburb of Watertown. Published 04/20/2013
---
Will the PCGG go after Imee Marcos's Offshore Trust Account?

The Philippine Center for Investigative Journalism (PCIJ), cooperating with Washington DC-based International Consortium of Investigative Journalists (ICIJ) recently published a two-part report that revealed that Ilocos Norte Gov. Imee Marcos Manotoc, eldest daughter of the late dictator Ferdinand E. Marcos is the beneficiary of a secret trust account held in the British Virgin Islands. Published 03/25/2013
---
Crucifixions, They're More Fun in the Philippines

During this Holy Week like others in the past, for as long as this author can remember, a small minority of Filipinos have been whipping themselves raw or nailing themselves to crosses in a supposed show of atonement and piety. This odd spectacle now draws worldwide interest with curious tourists flying in from all over to witness firsthand flagellants who whip themselves to down to raw flesh or penitents who are nailed to wooden crosses on Good Friday. Published 3/30/2013
---
With a Simple and Humble New Pope, What Should Happen to the Philippine Catholic Hierarchy?

Celebrating his first mass as Pontiff a day after being elected, 76-year-old Pope Francis told the assembled cardinals to guard against "the worldliness of the Devil." Here was a man who made it an annual practice to celebrate Holy Thursday by washing the feet of the poor, and the downtrodden of his native Argentina. Here too was a man who took the bus to and from his work despite having chauffeured vehicles available to him. He preferred living in a modest apartment, cooking his own meals despite access to the well staffed bishop's mansion in the ritzy the suburb of Olivos where no less than the Argentine president has his summer residence. Published 03/25/2013
---
Will We Ever See a Filipino Pope? Not with the Way the Philippine Catholic Church is Run Today

Reeling from the resounding victory of the Reproductive Health (RH) Bill, the Philippine Catholic Church has decidedly jumped in the electoral fray (despite the constitutional separation of church and state) to influence the outcome of the country's 2013 elections. The church recently launched a "Team Buhay/Team Patay" (Team Life/Team Death) campaign that identifies legislators running for re-election who voted against or for the RH Bill. Those who voted against the bill are part of Team Life, while those who voted for the bill are part of Team Death—at least as far as the Church is concerned. Published 03/13/2013
---
Does the Philippines Really Have a Legitimate Claim to Parts of Sabah?

We Filipinos have again learned the hard way that we can't put things off indefinitely because at some point those things will come back around and bite us. Such is the Sabah issue. For decades we were told that a portion of what was then called North Borneo belongs to the Sultanate of Sulu. The land in question it appears was awarded by the Sultan of Brunei to the Sultan of Sulu for the latter's help during the Brunei Civil War (1660 to 1673). That would clearly indicate that the Sulu Sultanate is the rightful owner of vast tracts of land in the northeastern part of what we now call Sabah. Published 03/05/2013
---