[ads/468x60_02.htm]


t an Aquino family reunion just before the 2004 presidential elections, the Ninoy Aquino sister who actively campaigned for the incumbent, Gloria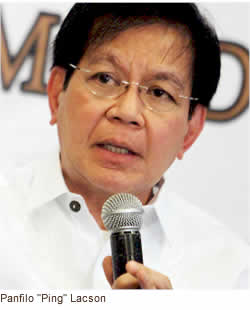 Macapagal-Arroyo (GMA), chided her brother for supporting a "killer" - Sen. Panfilo "Ping" Lacson. The brother snapped back, "Doesn't matter if he's a killer, at least he's not a thief."
However warped his moral compass may be, the Aquino brother is not alone in his belief that violating the Eight Commandment ("Thou shalt not commit Pork Barrel") is worse than breaking the Sixth "Thou shalt not salvage"). Last week, his nephew, Pres. PNoy Aquino, appointed the "killer" Lacson to the powerful post of "Rehabilitation Czar" in charge of overseeing the reconstruction of the islands devastated by Super Typhoon Yolanda.

Many fear that by this appointment, PNoy has rehabilitated Lacson's "killer" image and has set the stage for Lacson to run for president in 2016.
Surprisingly, the appointment of Lacson as "Rehab Czar" has received the support of the political establishment and the press. Even Inquirer columnist Conrado de Quiros gave his blessings. "It helps even more that Lacson is seen as decisive and efficient," de Quiros wrote. "A friend puts it this way: He may be a murderous crusader but he is not a crusading crook. He gets the job done."
That's right. If the goal is simply to get the trains to run on time and Adolf Hitler has a proven track record that he can do it, then he should be hired because no one ever accused Hitler of being a "crusading crook". A murderous crusader for Aryan supremacy yes, but hell, "He gets the job done."
Even the Philippine Daily Inquirer editorial board agreed: "We realize that naming Lacson to the rehabilitation initiative is not without controversy. The grisliest joke about his appointment that is circulating in social media is a reference to his reputation, back when he was in the police force, of being a man with an iron fist. Lacson is the right man for the job, so the joke goes, because he will make all the bodies disappear."
This sick joke is not funny to the relatives of the "desparacidos" - the disappeared ones. For those with short memories or those in denial about the ugly past, let us review Lacson's well-earned reputation for "being a man with an iron fist."
In his TV program "Isumbong mo kay Tulfo", Inquirer columnist Ramon Tulfo aired the deathbed confession of Lacson "hitman" Kit Mateo who recounted in vivid detail all the people he killed on the orders of Lacson. The entire Mateo confession to an ABS-CBN reporter is available on YouTube in 5 parts ("Interview with Kit Mateo") including Mateo's shocking account of the incident when he was with Gen. Lacson in a helicopter over Manila Bay interrogating a woman and her eight year old niece about the whereabouts of their relative, Joey de Leon, the Red Scorpion Gang chief. When they refused to squeal, Lacson ordered the aunt and niece pushed out of the helicopter. Their bodies have yet to be found.
Before the Mateo interview could be aired on ABS-CBN, however, Mateo contacted the network to read out a short prepared recantation of his confession. This was all Lacson needed to discredit Kit Mateo and to cause ABS-CBN not to air the explosive interview. But there are just too many specifics in Mateo's confession to be easily discounted by a mere statement of recantation. How did Mateo know all the individuals who were killed and the circumstances in which they were killed? Watch the Mateo interview and find out just exactly how someone made "all the bodies disappear." LINK
Lacson's road to this "killer" reputation began at the onset of the Marcos Dictatorship.
MISG TERROR
In his lecture on "Human Rights under the Marcos Regime" delivered at the Ateneo de Manila University on September 20, 1999, University of Wisconsin History Prof. Alfred McCoy described the Marcos Dictatorship as "exceptional for both the quantity and quality of its violence." Under Marcos, "military murder was the apex of a pyramid of terror—3,257 killed, 35,000 tortured, and 70,000 incarcerated."
In imposing military terror, Marcos utilized the Gestapo-like services of the Metrocom Intelligence Security Group (MISG). "The MISG's commander for twelve years, Colonel Rolando Abadilla (PMA '65), in the words of his obituary, towered over other heavies in that closed, tight-knit, psychotic club of martial-law enforcers," McCoy said.
In his book, Closer Than Brothers: Manhood at the Philippine Military Academy (Yale University Press 2000), Prof. McCoy noted: "Then Lieutenant, now General, Panfilo Lacson, for example, joined the MISG right after graduation and spent the next 15 years in this elite torture unit, rising to deputy commander under his mentor Colonel Abadilla." LINK
According to the families of the victims, Lacson is responsible for the disappearance of Capt. Jimmy Victorino (mentioned in the Mateo confession) and Redemptorist priest Fr. Rudy Romano, among many others, and the torture of activists Marco Palo, Joseph Olayer, Manuel Mario Guzman, Rolando Salutin and Rodolfo Benosa in 1983.
Lacson and the other military torturers of the Marcos Dictatorship were never prosecuted for any of their heinous activities in the dreaded MISG after People Power overthrew Marcos in 1986. Instead, for the next six years, Lacson served as Philippine Constabulary provincial commander in Isabela, Cebu and Laguna.

In 1992, when Fidel Ramos was elected president, Lacson was appointed Chief of Task Force Habagat in the Presidential Anti-Crime Commission (PACC) where he then appointed young Michael Ray Aquino as his Chief Intelligence Officer.
Flash forward to 15 years later.
New Jersey Gov. Christopher J. Christie, the likely Republican presidential nominee in 2016, was the US Attorney for New Jersey on April 16, 2007 when he filed a memo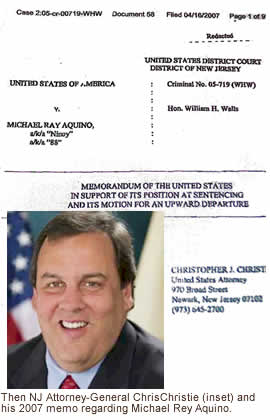 in the federal court in New Jersey (Criminal Case #05-719) opposing the reduction in the sentence of Michael Ray Aquino who was sentenced to five years in US federal prison for "spying" against the US government and for "acting as an illegal foreign agent…to subvert, destabilize and remove the current, duly-elected president…and replace her with a member of an opposition faction headed by Aquino's patron, godfather, mentor and friend, Senator Panfilo M. Lacson" (page 1).
Christie described a series of events which started when Leandro Aragoncillo, a Filipino American FBI agent who previously worked at the White House, contacted Michael Ray Aquino in 2005 "about supplying him and Lacson with classified information about the Philippines that could prove useful in removing GMA as president of the Philippines. As Christie explained in his memo, "Aquino reported Aragoncillo's offer to Lacson and…transmitted to Lacson classified information provided by Aragoncillo…With the receipt of those documents, Aquino and Lacson joined a conspiracy that had begun some four years earlier when Aragoncillo worked in the Office of the Vice President" (Christie Memo page 3).
In his memo to the federal court, Christie provided background information on other crimes committed in the Philippines by Aquino and Lacson.
KURATONG BALELENG
The Christie memo on page 14 described this infamous incident. "On the evening of May 17, 1995, 11 members of a Philippine crime syndicate known as the Kuratong Baleleng were arrested by members of a special task force within the PNP…which included Aquino…and operated under the direction of Lacson."
"According to witnesses, after the gang members were handcuffed and secured in two vans, they were transported to PNP headquarters. The vans were later driven to Quezon City. At approximately 4:30 a.m., on May 18, 1995, all 11 prisoners were shot to death while seated in the vans."
"Witnesses had reported that the vans stopped in the street, a man exited the vehicle from the front seat passenger area of the first van and several men exited the second van. The men then opened each vehicle's side doors exposing the passenger compartments of the vans, and began shooting in rapid succession at the passengers (the gang members). Witnesses also described the shooters as wearing either police uniforms or vests emblazoned with the acronym for the Presidential Anti-crime Commission – "PACC".
"Autopsies were conducted on all of the deceased gang members; they showed that the gang members' hands lacked powder burns, indicating they had not fired guns prior to their deaths. On June 1, 1995, multiple murder charges were filed against Lacson, Aquino, Mancao and approximately 30 other members of the PACC." (page 15 of the Christie memo).
After the Kuratong Baleleng incident, the Philippine Center for Investigative Journalism (PCIJ) reviewed the case records and investigation reports of the PACC and found an "eerily" similar pattern: "suspected criminals were shot either in their homes or hideouts, or while they were in the custody of the police or the PACC. Later, "encounters" were announced in the press to justify the corpses."
The PCIJ report added: "Our investigation shows that in the last three years, at least 40 people have been killed under questionable circumstances in the course of PACC operations...In all of them, these agencies have found strong evidence that the killings were unlawful and unnecessary." LINK
In 1995, the Senate Committee of Justice and Human Rights chaired by the late Sen. Raul Roco and the Senate Committee on National Defense and Security chaired by Sen. Orlando Mercado conducted a joint investigation of the Kuratong-Baleleng massacre. Eyewitnesses at the senate hearing testified that there were only 8 members of the gang who were brought to Camp Crame but that three minors and two vacationists from Dipolog who were already at Camp Crame were ordered by Lacson to be included along with the Kuratong members who were arrested.
SP02 Eduardo de los Reyes testified that he personally saw Gen. Lacson and other PNP officers monitoring the massacre operations through their radios. After the shooting ended, de los Reyes said that he entered one van to take photos when he noticed that the "the slain persons were all handcuffed with their hands behind their backs."

Former Cory Aquino Press Secretary Teddy Benigno reported in his "Here's the Score" column in the Philippine Star that on the same day as the massacre, "Kuratong Baleleng Gang Chief Wilson Soronda was killed in his hideout, his three or four duffel bags emptied of their contents, reportedly containing P30 to P50 million pesos in bank loot. The killers and loot takers were identified as Lacson's men by the media and nobody until today knows where the money went."
The joint Senate committees recommended that appropriate charges of murder be filed against Gen. Panfilo Lacson and his co-accused. The committee report, which was signed by 12 senators who were members of the joint committees, stated: "it is bad enough to disregard the right that no man shall be deprived of life without due process. It is a cynical abuse of law to manipulate the investigative powers within the PNP to result in a cover-up instead of a revelation."
Despite the Senate recommendation, as US Attorney Christie noted in his memo, the murder charges against Lacson and his men "were not actively pursued under the former presidencies of Fidel Ramos and Joseph Estrada." The criminal charges were eventually dismissed because some of the witnesses had immigrated to Canada and because the statute of limitations had run.
Upon his election as president in 1998, Estrada created a special unit composed of elite members of the PNP called the Presidential Anti-Organized Crime Task Force (PAOCTF) with Lacson as its "Chief". Lacson then appointed Aquino as "Chief, Operations Division", a post which Aquino himself described as "assisting the Chief (Lacson) in planning, organizing, controlling, directing, supervising and coordinating the operations of the unit."
Lacson was eager to be promoted Chief of the Philippine National Police (PNP) but he encountered strong opposition to his appointment. One of the most prominent was public relations practitioner Salvador "Bubby" Dacer, who had worked on Estrada's 1998 presidential campaign. On October 8, 1999, Dacer wrote Pres. Estrada:
"I, too, have direct experience with Gen. Lacson's willingness to use any means, including foul, to advance his interests. I set great faith in your excellency's wisdom and ability to defeat threats against our civil society. But I, too, realize that having to control the potential damage Gen. Lacson is capable of sowing could divert much-needed attention from other pressing matters of the state. Alang-alang po sa inyong kabutihan, Mr. President, at sa kabutihan ng buong sambayanan, I vehemently oppose Gen. Lacson for the Chief PNP post."
Despite Dacer's objections, Estrada appointed Lacson as Director-General of the PNP in May of 2000. And then once again, Lacson appointed Aquino as his Deputy Director. The PAOCTF was still headed by Gen. Lacson and it would be put to good use.
According to the information in a criminal complaint filed in the Makati Regional Trial Court by a panel of prosecutors on May 11, 2001, this is what the PAOCTF did: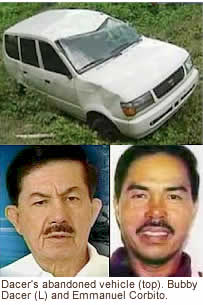 That on or about November 24, 2000 in Manila, Philippines and within the jurisdiction of this Honorable Court, the above-named accused, some of whom are public officers, being then members of the Philippine National Police (PNP) Force assigned at Presidential Anti-Organized Crime Task Force, Camp Crame, Quezon City…. with evident premeditation, treachery, abuse of superior strength, nighttime and remoteness of the place and with deliberate intent to kill, conspiring, confabulating and confederating with one another, the accused police officers using their offices in committing the offense, did then and there, willfully, unlawfully and feloniously kill SALVADOR (Bubby) DACER and EMMANUEL CORBITO by strangulation, which was the immediate cause of their death, and thereafter dispose of their body (sic) by incineration, to the damage and prejudice of the latter's respective heirs.
Who ordered Dacer's murder? In a hearing in a Manila courtroom on July 11, 2008 in the criminal case against Michael Ray Aquino, Dacer's daughter, Ms. Sabina Dacer Reyes, testified:
"I remembered, as I said, I had flashbacks in my mind and I was scared and I remembered in two or more of our Sunday brunches with my dad in his house he would tell us, "if anything happens to me mga anak, walang ibang may kagagawan kung di si Ping Lacson." ("If anything happens to me, my children, no other person is responsible than Ping Lacson").
Five years later, after the Philippine Court of Appeals not unexpectedly quashed the criminal cases against Lacson and Aquino, another daughter of Bubby Dacer, Carina Dacer, testified in a San Francisco courtroom in the federal civil lawsuit they filed against Lacson and Aquino. After the hearing, on November 7, 2013, Federal Judge William Alsup ruled:
"The complaint alleges that (Defendant Michael Ray) Aquino was the deputy director of the Philippine counter-intelligence agency in 2000. He was ordered by Gen. Panfilo Lacson to organize a group of Philippine government agents to abduct, interrogate, and kill Salvador Dacer. The government agents carried out Aquino's instructions. Following the interrogation, they strangled Salvador Dacer with a wire and burned his body in a dry creek (Comp. ¶¶ 41-58). These facts establish that Aquino authorized and directed the extrajudicial killing of Salvador Dacer. These facts further establish that governmental actors carried out the alleged extrajudicial killing under "actual or apparent authority, or color of law."
Conrado de Quiros, in a recent column, wondered if the appointment of Lacson as Rehab Czar was "inspired or mad". How can there be any doubt? Pres. Aquino's appointment of Ping Lacson as Rehab Czar is total madness and inspires nothing but contempt.
It only shows that even an honest president can make a cold-blooded, politically calculated, morally bankrupt appointment, one which threatens to forever stain his legacy. Published 12/16/2013
The author is the pro bono attorney of the four US-based daughters of Salvador "Bubby" Dacer who filed the civil lawsuit against Lacson and Aquino in San Francisco federal district court. He is also the president of US Pinoys for Good Governance. Send comments to Rodel50@gmail.com or mail them to the Law Offices of Rodel Rodis at 2429 Ocean Avenue, San Francisco, CA 94127 or call 415.334.7800.