n general a son shouldn't be blamed for what his father did. The Holy Bible itself acknowledges this in Deuteronomy 24:16: "Fathers shall not be put to death because of their children, nor shall children be put to death because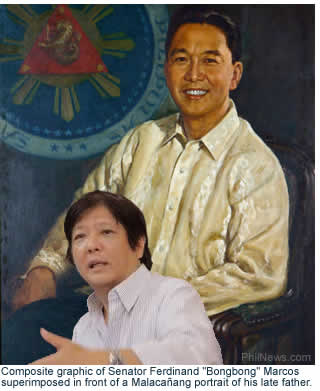 of their fathers. Each one shall be put to death for his own sin." In the case of Senator Ferdinand "Bongbong" Marcos Jr. he has never been accused of active involvement in the abuses of his father, former President Ferdinand Edralin Marcos.

However, now that the good senator has announced he may be considering a run for the presidency, many Filipinos—especially those old enough to remember the Martial Law years—are gravely concerned by the prospect of yet another Marcos in Malacañang. And if he should win, the senator's mother Imelda (and the aging Marcos cronies who fled the Philippines after the EDSA Revolution) would see the victory as a vindication of her husband's despotic legacy.

Though the chance of Bongbong winning the presidency at this stage seems like a very long shot, the billions of dollars in stolen wealth the Marcos family is rumored to have stashed away in foreign banks could certainly be a game changer. With tens of millions of underprivileged voters ready to sell their votes for a handful of pesos, the candidate with the deepest pockets usually ends up the winner in Philippine elections.

The question for Senator Marcos will be whether he can overcome the negative legacy of his father. There are still large numbers of Filipinos who will never vote another Marcos for president. No amount of convincing or money thrown at this group can get them to change their minds.

So unless he can garner support from large numbers of voters who will give him the benefit of the doubt and not penalize him for his father's sins, Bongbong will never make president. And the only way he can get that support is by publicly admitting that what his father did was wrong.

In a recent ABS-CBN interview however, the senator was asked if he would apologize for the injustices during Martial Law. He replied that he personally had done nothing he should be sorry about and then went on to recite a litany of achievements attained during his father's rule. He conveniently dismissed the great many who suffered, characterizing them as the few who simply fell through the cracks.

The interview revealed the senator as being so out of step with mainstream thinking about his father and the Martial Law era. Bongbong Marcos appears to be in denial of the horrendous atrocities committed on thousands of Filipinos during Martial Law—not to mention the deliberate plundering of the Philippine treasury by his parents and their cronies.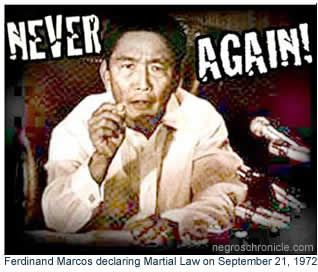 Even to this day Filipinos continue paying for the injustices incurred during that era.
The Marcoses it appears would want nothing better than to revise history and pretend that what happened during Martial Law was all good. Unfortunately, there's a mountain of evidence against it. And to try to rehabilitate the image of Ferdinand Marcos would be like trying to rehabilitate that of Adolf Hitler or Judas. It would be next to impossible—at least in this millennium.
Therefore, to earn the respect (and votes) of the Filipino people (as well as the rest of the world) Senator Marcos must admit that what his father did was wrong and Martial Law was for the most part a great evil imposed on the country. Should he fail to do that, he can only be seen as someone out of touch with reality … and someone who can never become president. Published 8/30/2015