Philippines, Japan ink agreements on rail project, social security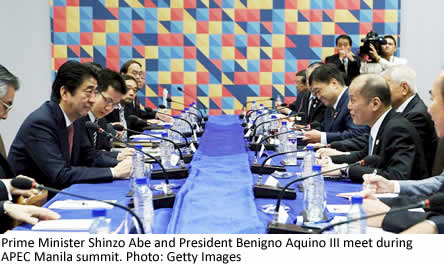 MANILA, Nov. 21 -- The Philippines and Japan signed two agreements following the bilateral meeting between President Benigno S. Aquino III and Prime Minister Shinzo Abe on Thursday.

The first agreement was on social security, which aims to coordinate pension programs for people who live and work in the Philippines and Japan.

Under the agreement, signed by Foreign Affairs Secretary Albert del Rosario and Japanese Ambassador to the Philippines Kazuhide Ishikawa, those covered by social security systems will continue to receive benefit, whether they are residing in the Philippines, Japan or even in other countries. The agreement also targets to solve the problem of double payments and further facilitate people-to-people exchanges and economic cooperation between the two countries.

Meanwhile, the two governments then exchanged notes on the North-South Commuter Railway Project from Malolos, Bulacan to Tutuban, Manila.

The railway project, worth approximately USD 2 billion, aims to improve land transportation capacity in Metro Manila and provide a more environmentally sustainable mode of transport from Malolos to Tutuban.