Bicolana teen brings 'cacao' to UN Assemby
By Ana-Liza S. Macatangay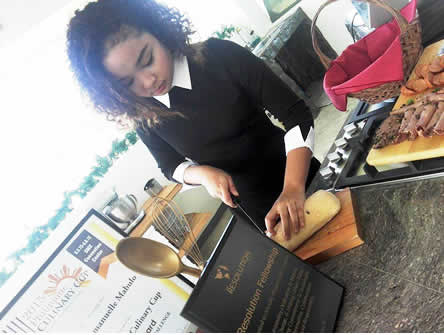 Internationally-acclaimed Bicolana Teen Chef Louise Mabolo, after discussing the social relevance of cacao to the lives of Filipino farmers before the tight scrutiny of the panel of judges at the United Nations headquarters in New York was awarded with the earned her a Lifetime Fellowship offer from the Resolution Project.
SAN FERNANDO, CAMARINES SUR, Feb.17 (PIA) -- The lowly cacao took center stage and stood out as one of the best social ventures for young entrepreneurs in a youth assembly at the United Nations headquarters in New York.

Louise Mabolo, an 18-year old Bicolana, presented before an elect panel of judges the relevance of cacao to the lives of Filipino farmers, earning for her a spot in the five outstanding social venture presenter during the Resolution Project Social Venture Challenge (SVC) at the UN Youth Assembly held from February 1 to 3 in New York.

"I was teary-eyed , because I didn't expect that they will like it. I came forward with the humble plan and there were people from all over the world coming with ways to solve health, promote women empowerment and I came with agriculture. Surprisingly, they picked me as one of the top five outstanding social venture presenter and I completely didn't expect that," Louise said.

The Cacao project, according to Louise aims to provide local farmers with short and long term forms of income, educate the local growers how to farm sustainably, supply for the global deficit of cacao, reforest barren plots of land, create an awareness about the need to add diversity to their crops, and increase the purchasing power of indigenous farmers, among others.

Louise said that she got the cacao inspiration from his father, San Fernando, Camarines Sur Mayor Fermin Mabolo who introduced cacao farming to empower indigenous farmers in the municipality. This pioneering venture has earned positive response from the agriculture stakeholders.

Louise's presentation earned her a Lifetime Fellowship offer from the Resolution Project where she will receive funding, mentorship and will be provided with global ecosystem of resources that she needs to implement her proposal.

SVC is a business-plan-style competition with an objective to inspire the youth, particularly university students to come up with solutions concerning pressing issues around the globe.

Resolution selects finalists with the best proposals and most compelling personal leadership characteristics to become resolution fellows.

Louise who is also young master chef was chosen from among the 300 participants coming from 69 countries to present their social venture project.

UK-raised home schooled, Louise at the age of 12 was a finalist in a local TV show's Junior Master Chef cooking competition and reality TV show.

She has since earned recognition in the culinary world. She garnered the Best Dessert Award at the Disciples des Escoffier Young Talent Trophy Asia at Hong Kong in 2015; Bronze Medal for the Creative Breakfast Challenge at the Philippine Culinary Cup; the youngest person to be awarded a National Certificate in Cookery by the Technical Education and Skills Development Administration (TESDA) and was a Philippine delegate to The Asian Student Leadership Conference.

Currently, she is serving as Ambassador of Operation Smile and Breville Philippines and a UN Youth Ambassador for Disaster and Risk Reduction Management.

As an only child, she's living with her supportive Dad, and Mom Michelle in San Fernando. Louise is also good in archery, loves to write and blog and does charity works during her spare time.

This young lady is indeed a pride, not only of the Bicolanos but also of the Filipinos. Truly a Bicolano Oragon!