he Philippines has experienced tremendous growth in both its Gross Domestic Product (GDP) and Foreign Reserves over the past decades.
Quarter after quarter, year after year remittances from Overseas Filipino Workers (OFW) have been steadily increasing, so much so that those remittances have almost singlehandedly turned the Philippines into one of the fastest growing economies in the world. For the first time ever, rating agencies such as Fitch, Standard and Poor, and most recently the Japan Credit Rating Agency have raised the country's sovereign rating to "investment grade." This action is expected to further boost the country's already spectacular rise by bringing in more foreign investment as well as reducing the cost of borrowing.
With the Philippines now awash in good fortune, now might be the perfect time to begin the next phase of the country's continuing plan to lift its people out of poverty. This new phase should be the creation of good-paying, permanent jobs in the country so no Filipino need go abroad just to find work. For too long the Philippines has relied on other countries to provide what it has been unable or unwilling to give its people—jobs! And now that Filipinos are working all over the world, the Philippines seems to owe the whole world a favor. Sure, you can say our OFWs do great work and earn every cent of their pay—and then some, but the sad truth of the matter is the Philippines is now at the mercy of every foreign government that allows Filipinos to work in their country.
As it stands today, the Aquino administration can stand up to no foreign government for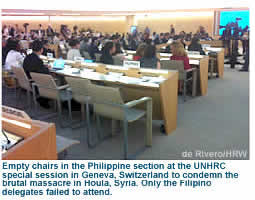 fear of retaliation against its OFWs. President Aquino dare not act or speak too forcefully with Hong Kong, or China, or Malaysia, or even Taiwan lest those countries send our OFWs packing. When the United Nations Human Rights Council voted to condemn Syria's massacre of 108 people, including 49 children, in the village of Houla in 2012, Aquino sheepishly ordered the entire Philippine contingent to absent itself, fearful that Syrian President Hafez el Assad would retaliate against Filipinos working in Syria if the Philippines voted along with the rest of the council in condemning his brutal regime.
The dispersing of our youth to the four corners of the globe to look for work must come to an end. Unfortunately we Filipinos seem to always try to get by on the cheap: why create jobs when it is easier to send our people abroad; why repair and expand our crumbling infrastructure in order to create development throughout the land, when other countries are already doing that, and therefore it is easier and quicker to simply send our folks over there to work. Immediate gratification at the expense of real progress!
But with each passing day we are beginning to clearly see, the actual price we have to pay. Do we want to be known as the country that the rest of the world can easily kick around? Or do we want to remain true to our proud heritage and stand shoulder-to-shoulder with the rest of the global community? If we choose the latter, then we must roll up our sleeves and start finding ways to create more jobs…right here, right now. There is no other way. Published 5/20/2013



Philippine NewsLink reserves the right to select and edit comments for publication.

Comments from Our Readers
Name: HMS
City/State/Country: new York, NY
IP Address: 108.183.75.178

Comments
It's heartbreaking but this PNL editorial is so true. The Philippines is between a rock and a hard place and it has no one to blame but itself. A simple matter of standing up and fighting any affront from other countries has become a very complicated and humiliating tiptoe-around-it affair. It's as if accepting the humiliation is easier than enforcing the laws and dealing with the local crooks. So here we are, the evil plunderers that brought the country to its present condition relaxing with their ill-gotten wealth in luxurious splendor while the Filipino nation grins and bears it, hat in hand like a pathetic weakling.
---
Name: JRH
City/State/Country: mtl can
IP Address: 70.83.179.172

Comments
If this new editorial is suggesting that we can actually create jobs & employment on a large scale comparable with other host countries where our hungry OFWs go, then, it will be good & dandy..but as long as we can't create or produce the same 'Pay Scale' that all these hard-working OFWs are getting, this good suggestion is just another dream & will stay the same. Agree, it sounds nationalistic, noble, & about time..but can we really achieve it? Any further improvement must first come from within the system. First, rectify now this bad 'contractual system' of hiring people cuz our workers have no job security, benefits, or a slim chance to improve their lot. This is the open & dark secret why we have all sorts of problems in the Phils.
---
Name: Dragonslayer
City/State/Country: Kingsbridge
IP Address: 216.52.207.121

Comments
Filipino foreign workers are standing on shaky ground. Our government had long encouraged this type of work not because of any other reason/s but only to mitigate its inability to improve and remake itself into a competitive and bustling economy it its own right. What we have now is a "beggar economy"--our people employed by more progressive, and wealthier nationalities who, by virtue of their affluence can kick around, maltreat and even frame with criminal intent our poor people who cannot fight back or assert their rights due to their precarious situation. Shame that this economy is leaning on and is, in major term, dependent on the blood, sweat, and tears of the innocents. Can we give our worker and their families even a slight semblance of dignity in labor by improving on our own?



Philippine NewsLink reserves the right to select and edit comments for publication.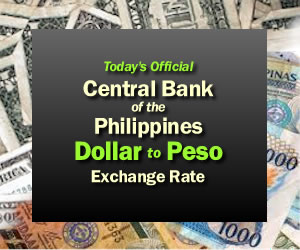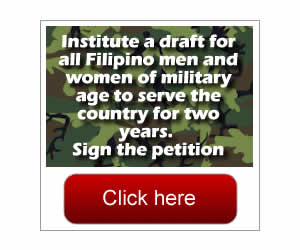 PREVIOUS EDITORIALS
Political Dynasties Are Destroying the Philippines



With midterm elections just days away, it bears repeating that from our perspective, Philippine elected officials leave so much to be desired. And one reason why we seem to have such a dearth of top-rate individuals is because political dynasties are pervasive throughout the archipelago. Political dynasties from a Philippine context are in some ways akin to the fiefdoms that existed in Europe during the middle ages. Published 05/12/2013
---
Voting Wisely Is So Important for the Philippines

With elections a little over a week away, Filipinos need to take a long and hard look at who they are choosing to lead them for the next three to six years—for the Philippines is a country sorely lacking in leadership. For decades we have been electing celebrities, entertainers, and relatives of past and present politicians who are totally unfit for public service. They have neither the training, the experience, nor the intellect needed to properly do the job voters elected them to do. Published 05/03/2013
---
Swift Justice in Boston, Something You Hardly Ever See in the Philippines

You have to give it to American law enforcement; they really seem to have their act together. When the horrific explosions occurred during the Boston Marathon it appeared almost impossible that whoever did it would be apprehended. But just a few days after that bombing incident, authorities seem to have cracked the case. One suspect is dead and another is now apprehended. Large swaths of the greater Boston area were on lockdown and door-to-door searches were conducted in the suburb of Watertown. Published 04/20/2013
---
Will the PCGG go after Imee Marcos's Offshore Trust Account?

The Philippine Center for Investigative Journalism (PCIJ), cooperating with Washington DC-based International Consortium of Investigative Journalists (ICIJ) recently published a two-part report that revealed that Ilocos Norte Gov. Imee Marcos Manotoc, eldest daughter of the late dictator Ferdinand E. Marcos is the beneficiary of a secret trust account held in the British Virgin Islands. Published 03/25/2013
---
Crucifixions, They're More Fun in the Philippines

During this Holy Week like others in the past, for as long as this author can remember, a small minority of Filipinos have been whipping themselves raw or nailing themselves to crosses in a supposed show of atonement and piety. This odd spectacle now draws worldwide interest with curious tourists flying in from all over to witness firsthand flagellants who whip themselves to down to raw flesh or penitents who are nailed to wooden crosses on Good Friday. Published 3/30/2013
---
With a Simple and Humble New Pope, What Should Happen to the Philippine Catholic Hierarchy?

Celebrating his first mass as Pontiff a day after being elected, 76-year-old Pope Francis told the assembled cardinals to guard against "the worldliness of the Devil." Here was a man who made it an annual practice to celebrate Holy Thursday by washing the feet of the poor, and the downtrodden of his native Argentina. Here too was a man who took the bus to and from his work despite having chauffeured vehicles available to him. He preferred living in a modest apartment, cooking his own meals despite access to the well staffed bishop's mansion in the ritzy the suburb of Olivos where no less than the Argentine president has his summer residence. Published 03/25/2013
---
Will We Ever See a Filipino Pope? Not with the Way the Philippine Catholic Church is Run Today

Reeling from the resounding victory of the Reproductive Health (RH) Bill, the Philippine Catholic Church has decidedly jumped in the electoral fray (despite the constitutional separation of church and state) to influence the outcome of the country's 2013 elections. The church recently launched a "Team Buhay/Team Patay" (Team Life/Team Death) campaign that identifies legislators running for re-election who voted against or for the RH Bill. Those who voted against the bill are part of Team Life, while those who voted for the bill are part of Team Death—at least as far as the Church is concerned. Published 03/13/2013
---