We revisit an editorial we wrote in 2004. Since its writing, traffic in the metropolis has not improved and in many ways seems to have gotten much worse.

ourists and balikbayans in Metro Manila are confronted with the dilemma of whether to get behind the wheel and drive themselves around the metropolis or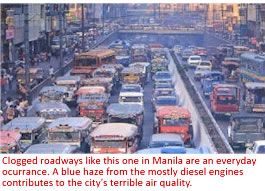 get someone else to do it for them. For those visiting from countries such as the US and Canada, driving in Manila can be quite an unnerving experience. It quickly becomes apparent that motoring in Manila operates on a significantly different paradigm.
Two elements combine to make driving a decidedly tourist-unfriendly experience: first is the Filipino driver. Make no mistake, Filipinos have excellent driving skills. They maneuver their vehicles to within inches of one another without hesitation. Filipino Driving habits are another thing altogether. They break almost every driving rule in the book: they make sudden left turns from the far right lane; they straddle lanes; they cut into freeway traffic; they stop wherever they feel like; they jump red lights; they drive with their headlights off at night; and they use their horns incessantly.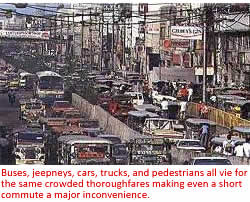 The second element are the roads in the Metropolis. There is an appalling lack of roadway signage. Many street signs are missing. Over the past decades numerous fly-overs and skyways were built, but signage on them are for the most part dismal. Some highway turnoffs have their their signs posted only on the turnoff themselves, leaving the uninitiated driver little time to prepare for it. A far cry from the driver-friendly freeways of the West. There is also a lack of consistency in signage making some signs hard to read when cruising at highway speeds. Add to this the lack of lane delineations on many roads and highways. Even more egregious are lanes that suddenly disappear without warning, forcing drivers to suddenly merge to adjacent lanes. The litany of faults can go on and on.
But rather than simply complain about this sad state of affairs, here's what we feel should be done:
1. Driving education should be a required course in high schools all over the country. The reason Filipinos drive the way they do is because no one taught them otherwise. With traffic growing significantly worse in and around Metro Manila, proper driving techniques will go a long way in alleviating some of the congestion and traffic jams that plague the daily commute.
2. The National government should step in and correct the many shortcomings found in the country's roadways. It can start by demanding consistency in signage; making sure highways have clearly delineated lanes; and making sure warning signs or roadway markings are present to alert drivers of potential hazards ahead.
Making Philippine roads driver-friendly will go a long way in making them Tourist and Balikbayan-friendly. If the only way visitors can get around is to have someone drive for them, their mobility becomes somewhat diminished. And let us not forget that their overall experience in the country inevitably includes traveling from one place to another.
We'll have more to say on this issue in the near future, so "stay tuned."
Link reserves the right to select and edit comments for publication.


[../_private/comments_three.htm]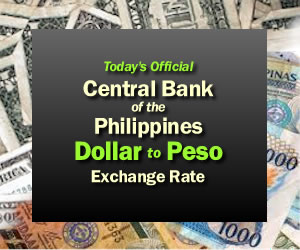 RECENT EDITORIALS
Jejomar Binay Should Never Become President of the Philippines



n our July 25th editorial we asked if Vice President Jejomar Binay should be the next president of the Philippines. In this editorial we arrive at the definitive conclusion that that Binay should not be elected president. Since our last editorial, more witnesses have come forward with more allegations against the embattled Vice President. But our decision not to support Binay's presidential bid is based on irrefutable public acts that in our opinion disqualify him from the presidency. Published 09/16/2014
---
Will Pacman be China's Pitchman?

The news was officially announced by China Central Television (CCTV) in Beijing on August 25: Manny "Pacman" Pacquiao, the "national fist" of the Philippines and the winner of eight world boxing titles, signed an agreement with the Chinese government "to establish a string of boxing academies" all over China with the aim of helping to "grow the sport in China and provide opportunities for young people to take part." Published 09/07/2014
---
Napoles Prays 2,000 Rosaries a Day, So Does She Get a Free Pass to Heaven?

After leaving her August 15th bail hearing at the Sandiganbayan, Janet Lim Napoles showed the media the marble rosary she personally received from recently canonized Saint Pope John Paul II. Her lawyer Stephen David later disclosed to media that Napoles prays 2,000 rosaries a day. Given that a day has only 24 hours or 1,440 minutes, Napoles would have to complete an entire rosary in less than a minute praying non-stop for an entire day…every day. Atty. David also pointed out that Napoles paid for the schooling of at least 200 priests and helped construct many Catholic churches. Published 08/30/2014
---
Should President Aquino Get a Second Term as President?

Many Filipinos today are realizing that the single, six-year presidential term as prescribed in the 1987 Constitution is woefully inadequate for a good president like Benigno S. Aquino III. The delegates who wrote that provision in the Constitution must have still been reeling from the almost 20 years of "kleptocratic" rule of strongman Ferdinand Marcos when they decided that one term was enough for any future Philippine president. Four years—the presidential term at the time—would be too short; eight too long. Published 08/23/2014
---
China Owns the Entire South China Sea? What are They Smoking—Opium?

The arrogance of China is becoming readily apparent with each passing day. With their newly acquired economic and military power the Chinese appear unrestrained in their assertiveness towards their neighbors. China, instead of positioning itself as a 21st century superpower appears to be turning back the clock resembling more and more the 12th century empire of Genghis Khan and the Mongol hordes who conquered most of Eurasia...just because they could. Published 08/12/2014
---
On Her 5th Death Anniversary, We Say 'Thanks for Nothing Cory Aquino'

The passage of time has a way of distilling reality and bringing out truths that are sometimes hidden or lost by present circumstances. Case in point is the overwhelming level of admiration many Filipinos have for former President Corazon Aquino. When she passed away in 2009, the entire nation seemed beside itself in grief. Her casket was mobbed by thousands of mourners as it slowly made its way through the streets of Metro Manila to its final resting place at the Manila Memorial Park in Parañaque. Published 08/02/2014
---
The Failure of Philippine Education Is Now Staring Us in the Face

Will the Philippines Ever Become a Developed Country? The short answer to that is no—at least not in our lifetime. While the country has of late improved it credit ratings as evidenced by upgrades from Moody's, Fitch, and Standard & Poor's all that perceived progress is illusory. In the Fifties and Sixties, when the Philippines was undeniably the country at the top of the heap in Southeast Asia, people said it would always be the most industrialized country in the region. Published 08/02/2014
---