We revisit an editorial we wrote in 2004. Since its writing, traffic in the metropolis has not improved and in many ways seems to have gotten much worse.

ourists and balikbayans in Metro Manila are confronted with the dilemma of whether to get behind the wheel and drive themselves around the metropolis or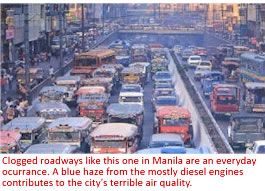 get someone else to do it for them. For those visiting from countries such as the US and Canada, driving in Manila can be quite an unnerving experience. It quickly becomes apparent that motoring in Manila operates on a significantly different paradigm.
Two elements combine to make driving a decidedly tourist-unfriendly experience: first is the Filipino driver. Make no mistake, Filipinos have excellent driving skills. They maneuver their vehicles to within inches of one another without hesitation. Filipino Driving habits are another thing altogether. They break almost every driving rule in the book: they make sudden left turns from the far right lane; they straddle lanes; they cut into freeway traffic; they stop wherever they feel like; they jump red lights; they drive with their headlights off at night; and they use their horns incessantly.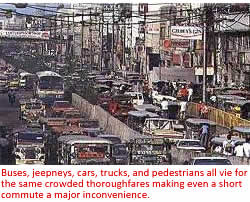 The second element are the roads in the Metropolis. There is an appalling lack of roadway signage. Many street signs are missing. Over the past decades numerous fly-overs and skyways were built, but signage on them are for the most part dismal. Some highway turnoffs have their their signs posted only on the turnoff themselves, leaving the uninitiated driver little time to prepare for it. A far cry from the driver-friendly freeways of the West. There is also a lack of consistency in signage making some signs hard to read when cruising at highway speeds. Add to this the lack of lane delineations on many roads and highways. Even more egregious are lanes that suddenly disappear without warning, forcing drivers to suddenly merge to adjacent lanes. The litany of faults can go on and on.
But rather than simply complain about this sad state of affairs, here's what we feel should be done:
1. Driving education should be a required course in high schools all over the country. The reason Filipinos drive the way they do is because no one taught them otherwise. With traffic growing significantly worse in and around Metro Manila, proper driving techniques will go a long way in alleviating some of the congestion and traffic jams that plague the daily commute.
2. The National government should step in and correct the many shortcomings found in the country's roadways. It can start by demanding consistency in signage; making sure highways have clearly delineated lanes; and making sure warning signs or roadway markings are present to alert drivers of potential hazards ahead.
Making Philippine roads driver-friendly will go a long way in making them Tourist and Balikbayan-friendly. If the only way visitors can get around is to have someone drive for them, their mobility becomes somewhat diminished. And let us not forget that their overall experience in the country inevitably includes traveling from one place to another.
We'll have more to say on this issue in the near future, so "stay tuned."
Link reserves the right to select and edit comments for publication.


[../_private/comments_three.htm]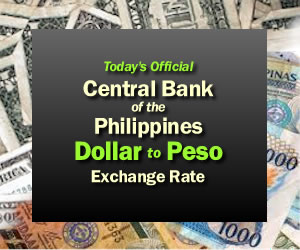 RECENT EDITORIALS
President Aquino Should Fly to Saudi Arabia and Pay His Last Respects to King Abdullah



Presidents and prime ministers, kings and queens; from Prince Charles and Prime Minister David Cameron of Britain, President Francois Hollande of France, President Abdel Fattah el-Sissi of Egypt, President Recep Tayyip Erdogan of Turkey and many other heads of state from all corners of the globe have gone or are headed to Riyadh to pay their respects to the late King Abdullah. Even U.S. President Barack Obama cut short his state visit to India to fly to Saudi Arabia. Published 1/27/2015
---
After the Pope's Visit: What We Filipinos Now Must Do
We put on a good show for Pope Francis. He loved it; we loved it; the world loved it. Now the long and painful task of bringing about the changes the pope asked for begins. Start with the Philippine Catholic Church. It should refocus its efforts towards the poor. As we wrote in previous editorials, many priests and bishops see themselves as members of the rich and privileged class. They feel more at home in country clubs and dining in expensive restaurants, than they do helping the poor who live in the squatter communities that dot most cities in the Philippines. Published 1/22/2015
---
Pope Francis Admonishes Pinoys to End Scandalous Inequalities

We had a feeling this was coming. In his first major speech in the Philippines, Pope Francis called for an end to 'scandalous inequalities' in the country. And what better example of a scandalous inequality is there than that a preposterously ridiculous wedding of Dingdong Dantes and Marian Rivera which was officiated by 8 bishops and 7 priests. In addition, this crass wedding featured a 12-foot high wedding cake, a 2-million-peso wedding gown with an exaggeratedly long train that seemed to go on forever...you get the picture. Published 1/16/2015
---
An Open Letter to Pope Francis; Please Read It Before Coming to the Philippines

Dear Pope Francis, your much anticipated visit to the Philippines is just a few days away. We expect that you will have been adequately briefed about the Philippines by the time you arrive. However, there might be a few things your Vatican handlers might have missed—or intentionally "forgot" to mention to you so we hope this letter reaches you in time for your historic visit. Before anything else, welcome! Published 1/9/2015
---
A Dingdong Fancy Wedding for a Third World Country

What is it with us Filipinos? We are a country of "all flash and no substance." Case in point: This ridiculously lavish wedding between two so-so movie stars that sought to outdo even the most "royal" of royal weddings. What was the whole point of this crassly extravagant display? Lest anyone forget, the Philippines is still a Third World country. And many, many squatter's homes (if you can call them "homes") do not have running water or even a toilet! Published 1/4/2015
---
Vice President Jejomar Binay's Aguinaldo

Money received from benefactors during Christmas in the Philippines is called "aguinaldo", a term and practice imported from Mexico during the Spanish colonial period where it now refers to the annual Christmas bonus given to employees. In the Philippines, it is now generally used to describe monetary gifts given by all benefactors, including godparents and employers. Published 12/25/2014
---
Do Filipinos Want America on Their Side or Not?

Given the Filipino penchant for "dramatics," not to mention the circus atmosphere that inevitably encompasses any event of even minor significance, one can hardly blame American government officials for refusing to hand over US Marine Lance Corporal Joseph Scott Pemberton over to Philippine authorities. The intriguing question in all this however is why some Filipinos are so insistent on having custody over the accused. Published 12/19/2014
---