We revisit an editorial we wrote in 2004. Since its writing, traffic in the metropolis has not improved and in many ways seems to have gotten much worse.

ourists and balikbayans in Metro Manila are confronted with the dilemma of whether to get behind the wheel and drive themselves around the metropolis or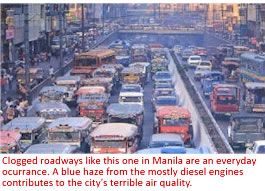 get someone else to do it for them. For those visiting from countries such as the US and Canada, driving in Manila can be quite an unnerving experience. It quickly becomes apparent that motoring in Manila operates on a significantly different paradigm.
Two elements combine to make driving a decidedly tourist-unfriendly experience: first is the Filipino driver. Make no mistake, Filipinos have excellent driving skills. They maneuver their vehicles to within inches of one another without hesitation. Filipino Driving habits are another thing altogether. They break almost every driving rule in the book: they make sudden left turns from the far right lane; they straddle lanes; they cut into freeway traffic; they stop wherever they feel like; they jump red lights; they drive with their headlights off at night; and they use their horns incessantly.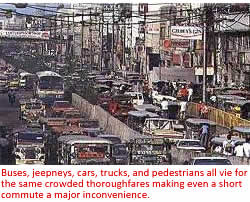 The second element are the roads in the Metropolis. There is an appalling lack of roadway signage. Many street signs are missing. Over the past decades numerous fly-overs and skyways were built, but signage on them are for the most part dismal. Some highway turnoffs have their their signs posted only on the turnoff themselves, leaving the uninitiated driver little time to prepare for it. A far cry from the driver-friendly freeways of the West. There is also a lack of consistency in signage making some signs hard to read when cruising at highway speeds. Add to this the lack of lane delineations on many roads and highways. Even more egregious are lanes that suddenly disappear without warning, forcing drivers to suddenly merge to adjacent lanes. The litany of faults can go on and on.
But rather than simply complain about this sad state of affairs, here's what we feel should be done:
1. Driving education should be a required course in high schools all over the country. The reason Filipinos drive the way they do is because no one taught them otherwise. With traffic growing significantly worse in and around Metro Manila, proper driving techniques will go a long way in alleviating some of the congestion and traffic jams that plague the daily commute.
2. The National government should step in and correct the many shortcomings found in the country's roadways. It can start by demanding consistency in signage; making sure highways have clearly delineated lanes; and making sure warning signs or roadway markings are present to alert drivers of potential hazards ahead.
Making Philippine roads driver-friendly will go a long way in making them Tourist and Balikbayan-friendly. If the only way visitors can get around is to have someone drive for them, their mobility becomes somewhat diminished. And let us not forget that their overall experience in the country inevitably includes traveling from one place to another.
We'll have more to say on this issue in the near future, so "stay tuned."
Link reserves the right to select and edit comments for publication.


[../_private/comments_three.htm]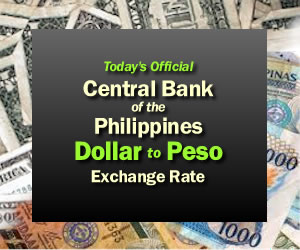 RECENT EDITORIALS
Is Manny Pacquiao Giving Floyd Mayweather an Unfair Advantage?



Doctor Expedito Castillo, a retired internist with training in sports medicine thinks so. Castillo who lives in New York points out that Los Angeles—where Manny Pacquiao now trains for his May 2nd fight, and Las Vegas—where Floyd Mayweather trains and where the boxing match will take place, have enormous differences in terms of elevation. Los Angeles is just 233 feet above sea-level, while Las Vegas is a whopping 2,000 feet above sea-level. 33. Published 4/11/2015
---
Just When You Thought Filipino Cops Were the Worst, Here Come US Cops

What in the world has happened to cops in the United States? It seems that today only psychotic, unstable, individuals are joining the U.S. police force this days. People from all across the globe were more than willing to give American cops the benefit of the doubt, at first. But in instance after instance, from Ferguson, MS and the killing of Michael Brown, a young black man who witnesses say was unarmed and posed no threat at all to police; to today's cold-blooded murder of Walter F. Scott, 50 by South Carolina police officer Michael T. Slager, 33. Published 4/7/2015
---
NPA Celebrates 46 Years of Destroying the Philippines

Founded by Bernabe Buscayno, or "Kumander Dante" as he was more commonly known, the New People's Army established on March 29, 1969 marks its 46th year of existence. From less than 40 founding members and a handful of firearms, the NPA grew to over 26,000 members in the 1980s. Today however the Armed Forces of the Philippines (AFP) places NPA membership at less than 5,000 nationwide. That number is expected to dwindle even further as progress and education creep in to the far-flung towns and barrios that were once breeding grounds for recruits. Published 3/30/2015
---
Lee Kuan Yew and Ferdinand Marcos, What a Difference!

An Australian living in the Philippines published a book titled: "The Unlucky Country. The Republic of the Philippines in the 21st Century." The author Duncan McKenzie came up with the title as the counterpoint to "The Lucky Country" a book written in the mid-sixties that refers to Australia. In his book McKenzie explains that the Philippines is unlucky because, for starters, it is an archipelago and therefore naturally fragmented. Published 3/17/2015
---
Will the Philippines Ever Speed Up Its Glacially-Slow Justice System?

We've all heard the saying "justice delayed is justice denied." That maxim has been around since time immemorial. In fact the Pirkei Avot (Hebrew for "Ethics of the Fathers") which dates back to the 1st century B.C. mentions an old rabbi saying that goes: "the sword comes into the world, because of justice delayed and justice denied." In 1215 A.D. a clause from the Magna Carta similarly declares that "to no one will we refuse or delay, right or justice." Published 3/17/2015
---
Amal Alamuddin Clooney Wants to Defend Gloria Macapagal-Arroyo ...Why?

Okay so she's George Clooney's wife, she's got great looks, a law degree and ambitious enough to make a name for herself apart from that of her superstar husband. Fair enough. So Amal Alamuddin Clooney decides to take on high profile cases of injustice around the world. Even better. But filing a complaint with the United Nations Human Rights Council on behalf of former President Gloria Macapagal-Arroyo? What's up with that? Better do your homework Mrs. Clooney. It won't take long for you to realize that Arroyo is getting exactly what she deserves. Published 3/12/2015
---
Manny Pacquiao Should Not Be Given a Tax Exemption

Senator Aquilino "Koko" Pimentel III has proposed a bill to grant Manny Pacquiao a special tax exemption for the income he will earn from his May 2nd boxing match with Floyd Mayweather Jr. Pimentel justifies his bill as a "fitting tribute" to the Filipino eight-division world champion adding that "Manny is now part of our history and of world sports history. Let's give him this tax incentive in recognition to his invaluable efforts to promote boxing and the country around the world." Published 3/4/2015
---
With Negotiators Like These on Our Team, Who Needs an Opposing Side?

What on earth happened to these two women—supposedly  handpicked by the president himself to argue on behalf of the Philippine government in peace negotiations with the Moro Islamic Liberation Front—who now seem to be mouthpieces for the Moros? Have Secretary Teresita Deles, Presidential Adviser on the Peace Process and Professor Miriam Coronel-Ferrer, chair of the negotiating panel become mesmerized by the tough "macho" image the rebels project? Published 2/27/2015
---
Why is the NBI Going After Those Who Uploaded the Sagonoy Video?

According to NBI Director Virgilio Mendez, they have identified the individuals who uploaded the video showing the coldblooded killing of PO2 Joseph Sagonoy. The cellphone video was purportedly taken by Muslim rebels during the Jan. 25, 2014 encounter between the Philippine National Police-Special Action Force and the Moro Islamic Liberation Front rebel group. The video shows a wounded Sagonoy who is shot twice in the head at close range. Published 2/21/2015
---
Read more articles from our archives