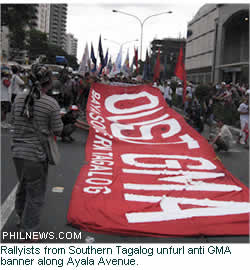 he rally along Ayala Avenue on Friday, February 29th, brought together a wide spectrum of Philippine society reminiscent of the EDSA I people power revolution. Interspersed among the mostly "masa" crowd were students from exclusive schools like the Ateneo and La Salle. And if one looked hard enough they might be able to pick out a few well dressed business executives, talking amongst themselves in English or even the occasional Spanish.
Though the mood seemed festive on the surface, one could feel the sense the frustration people have with their leaders who seem to lie or obfuscate the truth at every turn.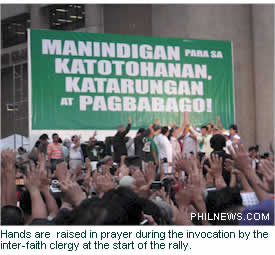 People are fed up with government officials who steal from them, then feed them shallow made-up stories once they are caught.
The late Ferdinand Marcos seems to have written the book on how to hoodwink the Filipino masses and get away with it. And he thought he had the scam perfected until the people threw him out on his fat behind during EDSA I. Now Gloria Arroyo and her damage control team think they can do Marcos one better, by making blanket denials, weaving half-truths and assailing the character of whoever speaks-out against them--and still remain in power.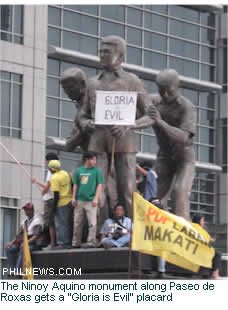 Sadly, Malacañang's troubleshooters have moved from one blunder to another; digging themselves and their president deeper into a hole. Newspaperman Ramon Tulfo in his column points out that Malacañang's next strategy is to paint Lozada as a womanizer. Unfortunately, it turns out that the Cabinet Secretary who conceived of this latest offensive keeps several young women himself and is a moral and ethical cripple. All this just makes it so much more difficult for people to stay neutral and give Gloria the benefit of the doubt. Level-headed Filipinos are running out of reasons as to why they should support Gloria.