he Pageant's title says it all: Binibining Pilipinas. At some point in its past, people used to refer to it as the Miss Philippines Beauty Contest.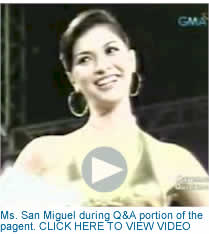 Yet despite its distinctly Pilipino title, English is the language used in the pageant; by its organizers, by the host of the show, and whether they like it or not by the pretty Filipina contestants.
The use of English is not an issue for some contestants who can speak it fluently. There are a few young girls however, who did not have the luxury of attending an expensive private school where English is taught, or who do not belong to that social strata of Philippine society where proficiency in English is the norm.
It is important however that one step back and ask themselves: what title was Janina San Miguel vying for? Was it for the title of Miss America, or Miss UK? No, she was vying for the title of Binibining Pilipinas. And if that was what she competing for, why was she forced to answer in a language she had difficulty expressing herself in? Filipinos love beauty pageants and we've all watched international pageants like Miss Universe and Miss World, where interpreters are called in during the Question and Answer portion of the contest for contestants who do not speak English. At the very least such should have been accorded to Miss San Miguel. And at best, the Binibining Pilipinas pageant should have been conducted entirely in Pilipino.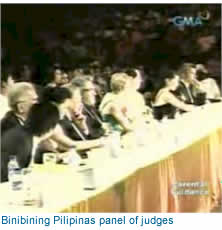 Instead of watching her squirm in front of the live audience and millions of TV viewers, one of the judges or someone from the pageant could have uttered three simple words: tagalugin mo hija (say it in Tagalog young lady). And we would have all—Miss San Miguel, the judges, and the nation—been better off for it.
As a society, Filipinos suffer from what seems like a national psychosis with regards to the English language: tune in to most radio stations in Metro Manila and you'll hear Filipino DJ's straining to sound like Americans; sit-in on corporate meetings in boardrooms along Ayala Avenue and you will notice that greater deference is given to those who can say what they have to say in English. Say the same thing in Tagalog and it somehow carries a lot less weight or importance.
While proficiency in a foreign language is commendable, especially in this era of globalization, the value of a foreign language should not be gained by denigrating our national language. Tagalog or Pilipino should be given the respect it deserves and be allowed to coexist alongside all other languages...only then will be begin to appreciate and respect who we really are as a people.