here is growing trepidation amongst balikbayans and to some extent, the local expatriate community regarding the deteriorating level of congeniality in the country.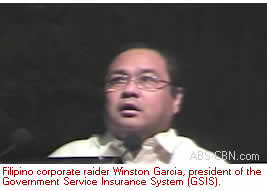 Most noticeable are the lack of common courtesy and the increasing level of squabbling amongst Filipinos. There are times it seems when you can't even get two individuals to cooperate or work together! These negative attitudes become readily apparent when you watch the way Filipinos in Metro Manila drive, the way they avoid eye-contact with one another, and the way they refrain from offering strangers even the simplest of salutations—good day" or "magandang araw" in Tagalog. Indeed, a far cry from the friendly folks in say...downtown Vancouver, BC or Madrid, Spain.
Look around you and you'll soon notice that squabbling has become a national pastime. Family members fight amongst themselves in public with brothers suing brothers, children battling parents, and cousins charging other cousins will all manner of wrongdoings.
Try looking at this problem from a national level and the picture becomes even more bleak. The Philippines is a country where literally billions are lost each year because of internal squabbling between business owners, between corporations, and between the government and private sectors.
"Only in the Philippines" do you pour billions into an airport terminal that never opens; or high-rise buildings that are never completed; or nuclear power plants that never ever go on line.
Now, the government, thru the GSIS, wants to forcibly take over Meralco, the largest power utility in the country. And still fresh in the minds of foreign investors is the well-publicized fight between the Arroyo Administration and Fraport AG (the German construction firm that built the new multi-billion peso airport terminal); a squabble that has kept it from opening and thus causing the terminal to slowly deteriorate. In April of this year, two large multi-storey buildings being constructed for the employees of the Hanjin Corporation of Korea were in danger of being halted after environmentalists contended that their location in a protected watershed area of the former US Subic Bay Naval Base was illegal. How Hanjin got those building permits issued is a separate matter altogether, but one that calls for a thorough investigation.
But this constant bickering amongst ourselves, and changing the rules in midstream, as well as governance based on what public sentiment is in vogue at the time, is clearly taking its toll. Already the Philippines lags behind most of its Asian neighbors with many multinational businesses leaving for more hospitable environments abroad. For example Federal Express, which opened its Asian hub in the Philippines with much fanfare only a few years back is now relocating to Guangzhou, China. UPS,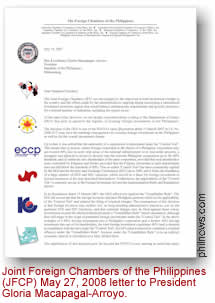 another global courier will follow suit within three years. Even Intel, a company that over the years pumped over $1.5 Billion into the Philippines with its Pentium chip manufacturing facility is rumored to be considering pulling out of the country.
And these are only the big players we're talking about. Thousands of small and medium-sized industries have left leaving a slew of empty warehouses in their wake, some of which have now been converted into makeshift badminton courts.
In a related occurrence, the Joint Foreign Chambers of the Philippines (JFCP) weighed-in on the Meralco-GSIS controversy mentioned earlier in this article, by sending President Gloria Macapagal Arroyo, a letter on May 27, 2008, reminding the government of JFCP's position on deregulation and privatization. The letter states in part: "We would like to reiterate our long-standing position not to amend RA 9136, the Electric Power Industry Reform Act (EPIRA). We appeal to the Executive and Legislative branches of government to instead focus its effort on implementing EPIRA in a timely fashion."
Unfortunately, many Filipino legislators went ballistic when they got wind of that letter. Fuming with righteous indignation, Sen. Juan Ponce Enrile told the JFCP that they could "get out of this country." Sen. Chiz Escudero speaking in Tagalog stated that "they have no right to tell us what to do," while Sen. Miriam Defensor Santiago argued that "no group of Americans, even if they are investors, can tell the Philippine Congress—DO NOT TOUCH THAT BILL." That typical onion-skinned overreaction by Filipinos to an honest recommendation, made by non-Filipinos is one of the causes that gives many foreign investors pause. Global Business players, instead of trying to deal with such Filipino insecurity, find it much easier (and probably more financially rewarding) to simply look elsewhere. And thus, the Philippines gets left further and further behind. Filipinos can continue to fight amongst themselves, but soon it will be just for the scraps that neighboring countries throw their way.