unday morning, June 22, 2008, Metro Manilans awoke to the devastation wrought by Typhoon Frank's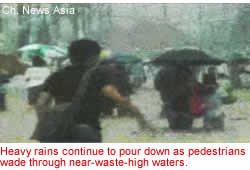 (international name: Fengshen) strong winds and heavy rain. Many parts of Luzon and the Visayas were under water with initial reports from the National Disaster Coordinating Council (NDCC) listing 54 persons dead in its wake. The President and most of her more senior staff were out of the country on a junket to the United States and crisis management was being conducted via "remote control" through video conferencing, text, and long distance phone calls.
To make a bad situation much worse, by mid morning, news that an inter-island ferry bound for Cebu sank off the coast of Romblon, had hit the airwaves. The inter-island vessel owned by the Sulpicio Lines named "Princess of the Stars" had capsized with over 700 passengers unaccounted for.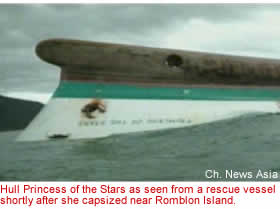 Those with friends and loved ones missing, and asking why the ship left port despite the approaching typhoon. According to PAGASA, Typhoon Frank is the most powerful typhoon to hit the Philippines so far this year.
A thorough investigation is definitely, in order. However, it is unlikely there will be any real change until every Filipino sees all other Filipinos as his or her equal. Not the way things stand today, where rust buckets, floating coffins and sub-standard procedures are seen as "good enough" for the Filipino masses by those who have the power to make meaningful changes.