atters seem to have gone from bad to worse for Sulpicio Lines, owner of the stricken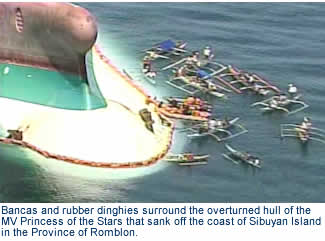 ferry Princess of the Stars. On Friday, June 27, Sulpicio Lines acknowledged that the ship was carrying 10 metric tons of endosulfan, a dangerous neurotoxin in its cargo hold. With this revelation, the Coast Guard immediately suspended its ongoing rescue operation and sent its divers to the National Poison Control Center for toxicology tests. In addition Vice Admiral Tamayo of the Philippine Coast Guard noted that the ship did not have the proper documentation needed to transport the deadly chemical.
Until search and rescue teams are given the green light by the medical authorities, retrieval of bodies from the stricken vessel will have to wait. This delay has made it so much more difficult for the families and relatives of those still missing. The Go family which owns Sulpicio Lines has promised to compensate the families of all those who perished with P200,00 in cash and would like to have those funds disbursed as early as possible.
With many towns and barrios in the Philippines still inundated from typhoon Frank, and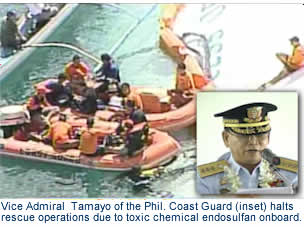 with the sinking of the Princess of the Stars on top of that, many Filipinos are questioning the wisdom of President Arroyo and her entourage of legislators and cabinet secretaries who are continuing with their state visit in the United States. Local pundits say the visit was timed to coincide with the Manny Paquiao vs David Diaz, WBC Lightweight Championship title fight taking place in Las Vegas on Sunday (Manila Time). While Filipinos normally tolerate such shenanigans from their government officials, typhoon Frank has changed the equation this time. With all the hardship and heartbreak, coupled with sky-high gasoline and food prices, many are asking what their leaders are still doing abroad. And while Paquiao is still the odds-on favorite in the casinos of Las Vegas, there are those in the streets of Manila who hope Gloria Arroyo steers clear of the Mandalay Bay Hotel/Casino or for that matter, the city of Las Vegas, least some of her bad luck rubs off on the Philippine Champ.