t has been close to a month since President Arroyo ordered the military and police forces of the country to "wipe out the Abu Sayyaf once and for all."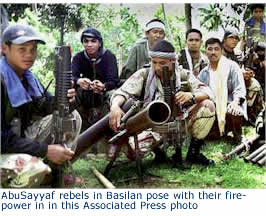 This occurred shortly after ABS-CBN news reporter Ces Drilon was released by her Abu Sayyaf captors. Previously, in January 2007, President Arroyo indicated—in more flowery terms—that the bandit group's end was at hand stating: ''This government is determined to finish the job with a hand of steel against evil.''
Going back still further, in reaction to the Feb 14, 2005 bombings in three cities, Gloria Arroyo vowed to "wipe out" the Abu Sayyaf for the dastardly "valentine's gift" they gave her. And let us not forget that the president imposed a 90-day deadline on her military to crush the Abu Sayyaf after it attacked a power transmission tower in Mindanao in February 2003.
To paraphrase Mark Twain: "news of the the Abu Sayyaf's pending demise has been greatly exaggerated" by Gloria Arroyo for all these years. With the 2010 elections fast approaching, it becomes ever more likely that Gloria Arroyo will leave office without accomplishing much in the way of ridding the country of terrorist groups like the Abu Sayyaf.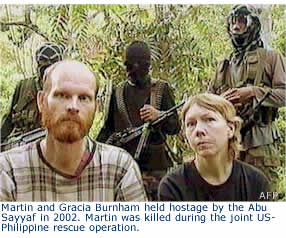 It is true that it is at times difficult to delineate exactly where the terrorist group ends and where the rest of society begins. Borders are porous in the jungles of Mindanao and folks from either side move back and forth with ease. In the 2002 hostage negotiations to free the American missionary couple Martin and Gracia Burnham, as well as in the recent Drilon abduction, government officials who were supposed to be working for the release of the hostages were accused of receiving a cut of the ransom money paid to the abductors.

It seems that the task of finally eliminating the Abu Sayyaf will have to fall on the next commander-in-chief. Unlike Gloria Arroyo, the next president will need a firm hand, and leave no quarter to the terrorists. A concerted military offensive, coupled with generous amounts of economic aid for the poorest regions of Mindanao, should go a long way in ending the Abu Sayyaf's stranglehold on the region.
As Malaysia, Indonesia and Singapore develop into highly prosperous economies, Mindanao can become the Philippine's gateway to those countries, as well as to Australia and New Zealand. The region has much potential that can only be realized once the insurgents, rebels, terrorists, and bandits are gone for good.