s far as the Catholic Church is concerned, the Philippine population is exploding and there isn't a thing that Filipinos can do about except pray.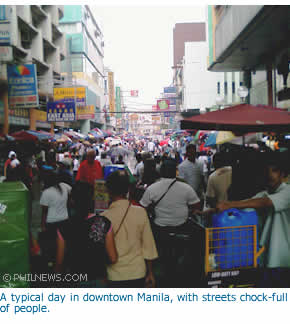 This was evidenced recently when no less than the president of the Catholic Bishops' Conference of the Philippines (CBCP), Archbishop Angel Lagdameo gave his personal nod of approval to the suggestion of Ozamiz Archbishop Jesus Dosado that politicians who favor birth control means other than those approved by the Church not be allowed to receive the sacrament of Holy Communion.
The Philippine population is growing at an alarmingly fast clip. According to the Philippine Government's own Census Bureau, the population of the Philippines is expected to reach 100 million by the year 2014. Based on the bureau's year 2000 census, the poorest sectors in society registered the fastest growth rates.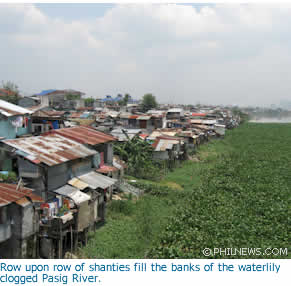 By region, Mindanao's Autonomous region trumped the rest of the country, becoming the "fastest of the fast" with a growth rate of 3.86 percent.
With soaring energy costs and shortages of food staples, life for the average Filipino has grown more bleak than ever. And any gains in food production and economic efficiency that the Philippines manages to eek out, are quickly neutralized by the country's exploding population. The church in turn can offer nothing concrete to help solve this problem other than their usual platitudes and a heavenly reward for those who choose to ignore the problem.
Amidst this dire scenario, the Arroyo administration has shown no will to stand up to the Catholic church and push for more effective population control measures.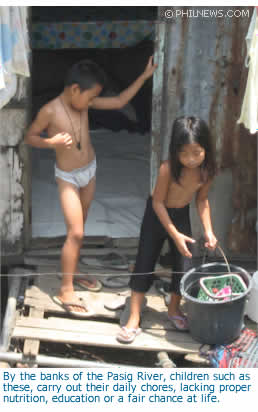 At a time when strong and decisive leadership is needed, this administration has shown its characteristic timidity when confronted by any of the country's powerbrokers, be they the church, the military, or the entrenched oligarchy.
Sadly, unless today's Filipinos stand up and take a lead on this issue despite this government's unwillingness to do so, they will simply be passing on this growing problem to their children and grandchildren to solve. And those future generations may or may not be up to the task, depending on how dire the situation will have gotten. By that time, it is likely that most of today's Bishops and Cardinals—including members of this administration, would already be six feet under, and blissful to their last moments with the thought that they did their best to pack their churches with congregants and fill those collection plates to the brim.