h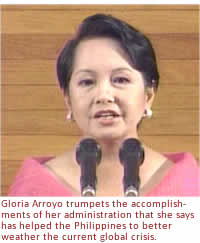 e Batasan Pambansa as the House of Representatives is called in the Philippines has not just received a new coat of paint, it has undergone extensive refurbishing. 200 Million pesos worth, to be exact, so President Gloria Macapagal Arroyo can deliver her State of the Nation Address (SONA) in style. Never mind that the country has been through one calamity after another this year and that money could have been put to better use helping those in dire need; never mind that the many foreign donations the country thankfully received this year amounted to a lot less than what was spent refurbishing; never mind that Arroyo's approval rating has been stuck at subterranean levels for some time and not many will even bother listening to the president's SONA; so long as the it makes her look good, it's money well spent.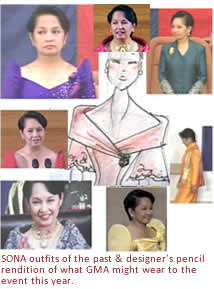 And in getting the president to look good, Filipino couturiers are falling over one another to design the president's SONA outfit. In what has become a GMA tradition that leaves many foreigners as well as overseas Filipinos aghast, the president delivers her State of the Nation Address before congress dressed in a new and 'stunning' gown that Filipinos are supposed to admire, or at the very least take notice of.
And that in a nutshell is what is wrong with the country! When a simple and straightforward exercise in governance cannot be accepted at face value and instead must be embellished by the kitschy and tacky before the public takes notice, then something is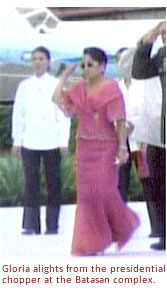 very wrong. Imelda Marcos must have instinctively known this several decades earlier when she amassed warehouses full of expensive and sometimes tasteless luxury items to showoff 'for public consumption.' It is a sad indictment of Filipinos that even today, in the 21st century, it is still 'flash' and not substance that gets their attention. Many eagerly await Gloria Arroyo's State of the Nation Address, not because of what she has to say, but because of what she will be wearing.
SONA Update: As expected, the president touted her administration's successes. In the areas of agrarian reform, infrastructure projects, business development, and political reform, Gloria Arroyo gave her administration passing marks, highlighting significant progress year-upon-year since her first SONA in 2001. She made it clear that value-added taxes (EVAT) on oil are here to stay, and that the Catholic bishops have won the day as she only plans to endorse church-approved family-planning methods.