sk anyone in the Philippines what is keeping their economy afloat—especially during these difficult economic times, and they will tell you that it is the OFWs,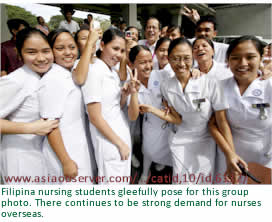 and their billion-dollar remittances. No one will deny that sending millions of educated and trained workers abroad had been anything but a unqualified success for the country...so far.
Ironically it is the masses, the countless numbers of ordinary Filipinos who's parents must have jumped through hoops and struggled to put them through school, who are now the ones who have answered the call and are the ones who are singlehandedly keeping the Philippine economy from crumbling into nothingness.
By comparison the wealthy, privileged class, the captains of Philippine commerce and industry have never figured out how to compete globally in enough numbers so as to make any meaningful impact on the economy. Instead they are generally perceived as get-rich-quick "wheelers and dealers." And even those who actually produce real products and services, produce inferior products and services that are unable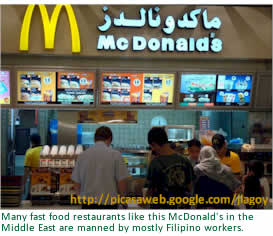 to hold their own when measured against their foreign competitors. Every Filipino knows that if you want good quality, then it has to be imported!
So if the Philippines is to rely on the export of its most precious commodity—its people—on an ongoing basis, the question arises: would there ever come a time when the country will be completely drained of the smarts it needs to continue functioning? If the country's sky high birthrate remains high, then maybe that day of reckoning can be pushed back, or may never come. But if the rate of OFW departures outstrips the birthrate, then the Philippines would have been educating and molding its people so that other countries can benefit from them. And if that goes on long enough, the country might just run out of 'air' and quietly choke itself to death. What do you think?