n the 29th of July, 2008, a day after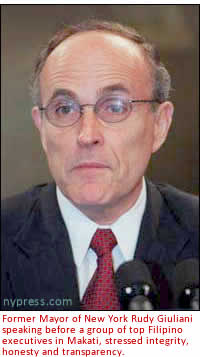 Gloria Arroyo's State of the Nation Address (SONA), Rudy Giuliani the former Mayor of New York City, flew to Manila to speak before enthralled Filipinos about 'Leadership in Times of Crisis.' At a steep 22,000 pesos for a seat at the back of the room, Giuliani did nonetheless earn his keep that day by making two salient points: First, "people are in great need of honesty and integrity in government," and; Second, people need transparency in government. "The more they can see how [it] operates, the more they feel that they are operating in the open, the more confidence a government can be able to develop."
Coming a day after the president's SONA, Giuliani's speech only helped to highlight Gloria Arroyo's dismal poll numbers, precisely because a vast majority of Filipinos have now started to question her honesty and integrity, and the fact that nothing about her administration seems transparent any longer.
Taking her cues from another American politician, it seems that Gloria Arroyo goes out of her way to 'ape' US president George W Bush in the way his administration tests the constitutional limits on presidential power. Arroyo's stubborn refusal to consult with the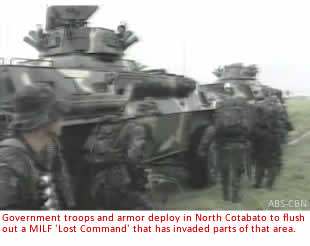 Senate on matters of any consequence and its constant invoking of 'executive privilege' has turned this Philippine president into a veritable 'Mini Me' of George W. Bush.
Because of years of obfuscation and lack of transparency, things are now starting to unravel for the Arroyo administration. What started with the Hello Garci election scandal, later turned into the ZTE, Northrail, Joint Seismic Undertaking, and JEPEPA agreements, all transacted in utmost secrecy so that Filipinos—the ones who will be paying for all those agreements for decades to come—don't even know what has been agreed to on their behalf. Now comes the secret Memorandum of Agreement (MOA) with the Moro Islamic Liberation Front (MILF) that, based on documents so far made public, violates the Philippine Constitution...unless that constitution can somehow be amended.
Today the Senators, the High Court, the Clergy, and the local officials in Mindanao are all asking why an agreement with such far-reaching implications, as the creation of a Bangsamoro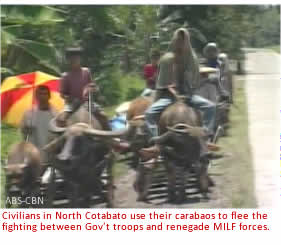 Juridical Entity (a state-within-a-state) was never opened to public discussion or scrutiny. And in an unusual turn of events, even Mohaqher Iqbal, the chief peace negotiator for the MILF, now wonders why the Arroyo Administration did not consult with Congress and the courts before it negotiated the deal.
When all is said and done, Filipinos need to know exactly what their government is doing. It is part of the democratic process that they be kept fully informed. A government that hides the truth from the public, violates the public trust and does not deserve to remain in office.