e've all heard the old adage 'leave well enough alone.'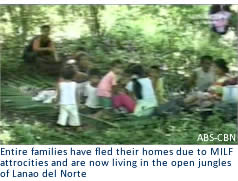 Now allow us to add the phrase 'especially when you don't know what you're doing.' Because (as the old cliché admonishes) you end up doing more harm than good.
Sadly, that aptly describes what the Arroyo Administration has done in Mindanao. It has taken what admittedly has been a long-standing problem and turned it into a national crisis that could conceivably rip the country apart.
This news website has in the past been characterized as a pro-Arroyo publication, and while we reluctantly admit to indeed having had a pro-administration slant in the past, this administration has shown us that it is not worthy of our trust or respect—or for that matter, the trust and respect of any Filipino.
The crisis now unfolding in Mindanao shows us how this undemocratic administration headed by intellectual 'midgets,' promised in secret what it lawfully could not deliver, then it put the cart before the horse by agreeing to sign a Memorandum of Agreement with the MILF first,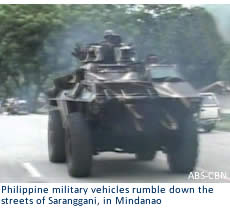 before addressing that agreement's legality, and finally when this caustic brew blew up in this administration's face, they appeared befuddled, confused and now try to pin blame on everyone other than themselves.
This whole episode would have been laughable, had the consequences not been so dire. In the first place, you do not promise a long-struggling people (the Muslims in Mindanao) what you know is beyond your ability to give, and then expect them to quietly return home to their villages after the deal is suddenly halted by the courts. GMA and her lackeys could not have found a quicker, more sure-fire way of inflaming the Muslim radicals than by doing what they bumblingly did: dangle the possibility of a Bangsamoro Juridical Entity in front of the MILF, then have that snatched away at the very last minute.
The Philippines is already beset with seemingly intractable problems like poverty, pollution, and a rapidly growing population—over-and-above the the current global crises of high fuel prices, climate change and a worldwide economic slowdown. The last thing we need is a bloody rebellion in the South...or a president who does nothing but create more problems for the Filipino.