ow we can say it's official.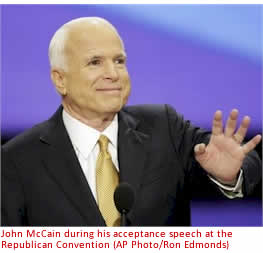 Both John McCain and Barak Obama have accepted their respective party's presidential nominations and the race to the White House begins in earnest.
Compared to the Democratic convention a week ago, the Republican convention was slightly more subdued due both to McCain's less flamboyant nature as well as the aftereffects of hurricane Gustav on the Gulf Coast.
But the party faithful rallied around their standard-bearer and his newly chosen running mate, forty-four year old Governor of Alaska, Sarah Palin. In her acceptance speech on Wednesday, showed one and all that she has the wherewithal to stand up to and slug it out with the best of them.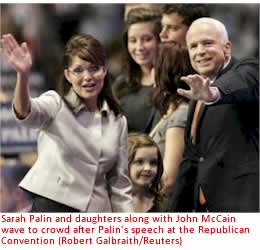 While some Republicans (as well as non-Republicans) had initially questioned the wisdom of McCain's choice for vice president, the party seems to have gathered the flock and rallied behind their 'maverick' leader, in time to show the nation a united front during his acceptance speech.
Unlike the other speakers during the convention—including Governor Palin—who bashed the Democrats, McCain held out his hand in reconciliation saying "We are fellow Americans, an association that means more to me than any other."
In the weeks and months ahead, American's will be deciding who should lead America back to its esteemed place in the family of nations. Obama or McCain, at this point in time either one appears well qualified for that job.