his week we'll let the US presidential race simmer in the background for awhile to discuss the Philippine Reproductive Health bill now in the Batasan Pambansa (Philippine House of Representatives).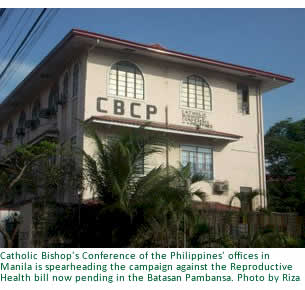 The legislation authored Albay Rep. Edcel Lagman almost didn't make it to the floor of the Batasan as legislators sympathetic to the stand of the Catholic Church tried to block its introduction.
House Bill 5043, or the Reproductive Health, Responsible Parenthood and Population Development Act of 2008 is being painted as a 'pro-abortion' bill by the Catholic clergy who see any population control measure as being squarely against Church doctrine. On the opposite side of the issue is the Iglesia ni Christo (INC) a Philippine-based religious sect that has close to two million members of voting age.
The bill's co-author, Iloilo Rep. Janette Garin, an OB-GYN (obstetrician-gynecologist) by profession, says the INC's endorsement of the bill could determine whether it passes the House vote or not. INC members always vote as a 'block' following the dictates of their church elders because those who vote otherwise face expulsion from the Church. Thus the INC has over the years, also become a powerful political force capable of delivering millions of votes to whoever they support. In its statement of support for the Reproductive Health bill, INC took a jab at the Catholic Church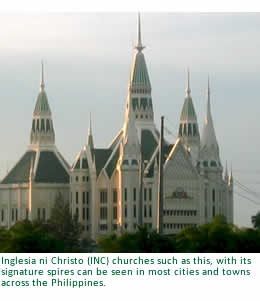 by characterizing their 'natural' family planning method (also called the 'rhythm method') as unnatural or 'contrary to nature.'
Allied with the INC against the Catholic Church is a conglomeration of civic groups and NGO's who see the Philippine's unchecked population growth as a ticking time-bomb waiting to explode in the very near future. These groups are also quick to point out that the country can no longer provide proper pre or post-natal care its exploding indigent population. The United Nations Children's Fund (UNICEF) reports that about 4,500 Filipino women die from complications related to pregnancy and childbirth every year 'because public reproductive health service is not comprehensive enough.' The UNICEF report also points out that only 60 percent of babies are delivered with properly trained skilled birth attendants and less than 40 percent are delivered in either a public or private health facility.
With food shortages on the rise and more and more Filipinos slipping into extreme poverty, the Catholic Church is at a loss justifying its stand against the Reproductive Health bill and instead can only offer well-worn platitudes that it is God's will and loyal followers will get their just reward in the 'next life.'
In the mean time, Metro Manila's rivers remain clogged with refuse and human waste, the skies above major Philippine cites remain blackened by pollution, and young women continue to die from back-alley abortions—even as the Catholic Church's Sunday Mass collections fill-up to the brim thanks to her many loyal and seemingly clueless followers.