he Catholic Bishops' Conference of the Philippines (CBCP) called a press conference late October to decry the endemic corruption that seems to have almost completely enveloped the Philippines these past few years. CBCP President, Archbishop Angel Lagdameo likened corruption to a 'social and moral cancer' that has spread to all levels of society and that it was high time Filipinos put an end to it.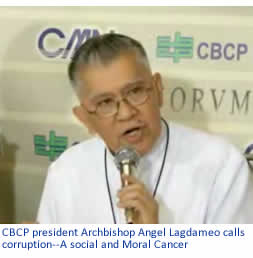 Obliquely pointing a finger at the Arroyo administration by enumerating the various scandals that have plagued Malacañang recently, Archbishop Lagdameo called for radical reforms and a change of leadership stating that 'the time to prepare a new government is now.'
Archbishop Oscar Cruz in turn made an impassioned plea to end corruption which he said was 'a crime that cries to heaven for vengeance.' Stating that the billions of pesos lost through corruption could have fed millions of hungry children and put them to school; paid for the healthcare of the elderly; and created jobs here so more Filipinos would not have to leave family and loved ones to work abroad, oftentimes under pitiful conditions.
What the bishops pointed out in their press conference is indeed an honest assessment of the country's present situation. Corruption in the Philippines has indeed become 'systemic and endemic, from top to bottom' as Archbishop Cruz stated. But what the bishops conveniently failed to mention was the Church's share of culpability in all this.
Most if not all of the leaders now in government are products of Catholic schools. Gloria Arroyo whom they say has given the Philippines the ignoble distinction of being the most corrupt country in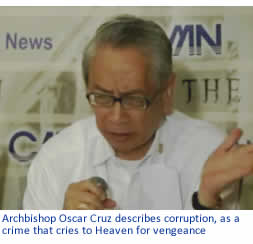 Southeast Asia and the 11th most corrupt worldwide is a product of their schools. The public officials who have been accused of stealing millions—even billions of—pesos are all products of a Catholic education system that has essentially failed to instill the virtues of honesty, decency, and love-of-country, in its students.
We have turned into a country populated mostly by Christians who think only of themselves first and foremost; who bend the rules whenever it suits them; who believe that it's okay to steal as long as you don't get caught—and if you do get caught, it is okay to payoff everyone you can to 'get off the hook.'
So, Most Reverend Bishops and Archbishops of the CBCP, when you rail against the rampant corruption you see all around you, you might also want to have a little chat with the Sisters, the Brothers, the priests. and the nuns who run your 'Catholic' schools to find out what exactly they are doing wrong!