he Manila masses are once again riled-up as trial balloons of 'Cha-Cha' or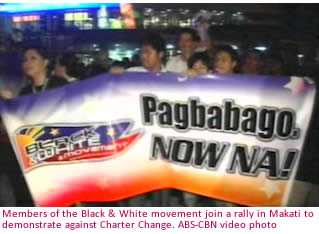 charter change are being floated by those who want to see a parliamentary form of government replace the current presidential form. Back in early 2006 the group called Sigaw ng Bayan gathered the necessary number of signatures required by the Initiative and Referendum Act to call for a plebiscite on charter change. Unfortunately, their hopes were dashed when the Supreme Court in a split decision on October of that year voted 8 to 7 against using the initiative method to amend the Philippine Constitution.
What a difference two years makes! While the Arroyo administration was widely believed to be behind the 2006 Cha-Cha movement, Gloria Arroyo's ratings then were highly favorable compared to the Senate which under the leadership of then Senate President Franklin Drillon, was seen as a do-nothing institution that could pass all but a handful of bills a year.
This time around, the Arroyo administration is extremely unpopular and seen by many as overtly opportunistic, seeking all ways and means to perpetuate itself in power.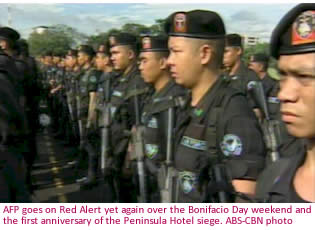 Gloria Arroyo, once the heroine of Filipino democracy, who jailed a former president is herself now seen as lacking in fortitude and completely beholden to the many power brokers that surround her.
In this present state of affairs, it is doubtful Gloria Arroyo can muster the support for Cha-Cha she had just two years ago. Many of her supporters both in and out of government are no longer on her side, and even those who still are like Senator Enrile have said they will oppose any move for charter change. It is time for Gloria Arroyo to simply accept the fact that she is coming to the end of her term as president. When 2010 rolls around, she will simply have to give up the power, the trappings, pack up her belongings and leave Malacanang for good. Her father did it and so can she.