n Sunday, December 7, 2008 the day Manny Paquiao battled Oscar dela Hoya in Las Vegas,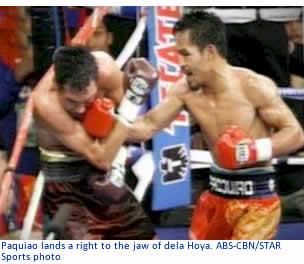 the crime rate in the Philippines dropped to zero between the hours of 11 AM and 2 PM. Philippine National Police (PNP) spokesman Nicanor Bartolome noted that only 11 incidents were reported nationwide during the entire day of the fight. Bartolome added that this has usually been the case during previous Paquiao fights as Filipinos from all walks of life 'drop everything' to watch their hero demolish yet another foreign contender.
Deep down Filipinos know this winning streak cannot last forever but for now it will have to do. For a country that constantly finds itself 'in the dumps' compared to its Southeast Asian neighbors, the Philippines has little else to boast about this days.
Corruption it seems has permeated the country's socio-political structure—from top to bottom.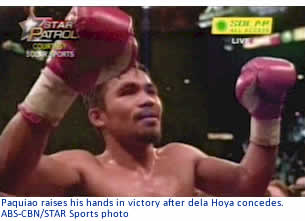 Inept politicians squander, while corrupt politicians plunder billions of pesos from government coffers year after year. With minimal funds left over for education, infrastructure projects, healthcare, law and order, etc., the average Filipino now has come to expect mediocrity as the norm. The most that someone of modest means can expect is to find menial work abroad, or if one is privileged enough to have graduated from an exclusive Catholic school, a job at a call center fielding calls from irritated first-world customers who can't get their toasters to work right.
Behind this backdrop of diminished expectations, Manny Paquiao has blazed a shining path that Filipinos everywhere can point point to with pride. Decisively defeating one opponent after another, Paquiao has given Filipinos a taste of what it is like to be world class. For this we are grateful and wish him many more victories to come.