s we head towards the end of 2008, we look back on a tumultuous year that rocked financial institutions worldwide and threw thousands of overseas Filipino workers out of work.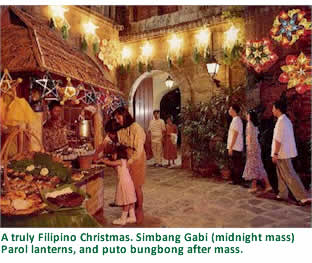 In the US, scores of Filipino-Americans have already lost their homes and scores more are in danger of losing their jobs. In Manila, hundreds of laid-off overseas workers (OFWs) are returning home from abroad, with hundreds more expected next year.
Amid all this gloom however the Holiday spirit seems undefeatable no matter what the economy, the government, even the terrorist insurgents throw at it. The Christmas spirit will not be stifled in the Filipino!
Therefore, with the soothing harmonies of Christmas carols wafting through the air, and malls and bazaars brimming with holiday shoppers rushing to and through under the gaze of bright and colorful lanterns, we at PHILNEWS.COM like to wish you one and all "Maligayang Pasko" (Merry Christmas).