t happened the day after Christmas. What was supposed to be a relaxing, enjoyable round of golf by a father, together with his eighteen year-old daughter and fourteen year-old son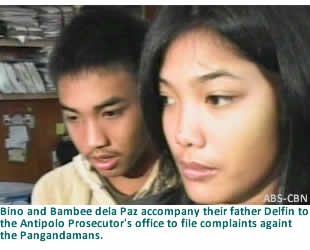 turned into a fairway nightmare that seems to have permanently scarred both adolescents, as well as their fifty-six year old father.
This is what is alleged to have happened: While playing the third hole at Valley Golf and Country Club's South course, a couple of golf carts full of grown men cut into their flight and were setting up to tee off at hole #4. When Delfin dela Paz walked up to confront them he was assaulted. Seeing what had just happened to his father, Bino tried to protect his father and was himself assaulted. The entire brawl has been narrated in bone-chilling detail by Bambee dela Paz, the eighteen year-old daughter who like many young girls her age happens to be internet-savvy and has her own blog.
It turns out that the group that Delfin dela Paz confronted included two high-ranking Philippine government officials: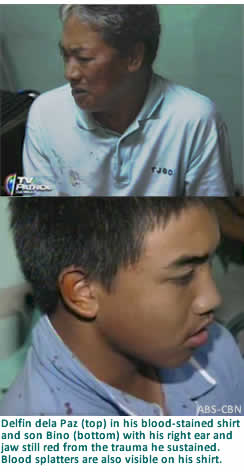 Nasser Pangandaman Jr., the incumbent Mayor of Masiu City, Lanao del Sur, in the southern Philippines and his father, Nasser Pangandaman who is a cabinet secretary of the Philippine Department of Agrarian Reform. It seems that the Pangandamans along with their armed bodyguards where in a mad rush to finish their round of golf in order to catch a commercial flight and were in no mood to be held back by either golf etiquette, or anyone ahead of them—who had less power or authority than they did.
And therein lies the problem the Philippines has been grappling with ever since Bingbong Crisologo was convicted of burning down the towns of Ora Este and Ora Centro on May 22, 1970. Government officials and the sons of government officials more often than not, feel that they are above the law and can thus bully their way to get what they want. The Pangandamans are thus the norm rather than the exception as over the decades since independence, there have been far too many Philippine politicians and their children who have trampled on the rights of anyone who happened to be in their way.
Now nine years into this new millennium, it is high time ordinary Filipinos put an end to this seemingly feudalistic state of affairs and insist that public servants behave like...public servants! The Pangandamans should be made an example to show one and all—in no uncertain terms—that their actions will no longer be tolerated by the Filipino masses.