fter last week's editorial, bashing the Pangandamans, we now try to understand—as best we can—why the whole sad affair happened in the first place.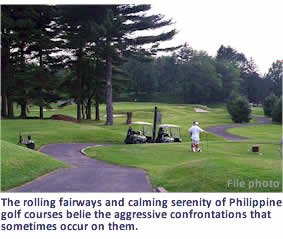 The confrontation that occurred on December 26th of last year is an all-too-common occurrence in the Philippines. Not that similar things don't happen in other countries, but they seem to occur with greater frequency in the Philippines. And here's why: aside from 'discipline' which Ferdinand Marcos' martial Law slogan said we needed, we Filipinos also lack respect for one another! Blame it on the Spanish colonizers, or on our stratified society, or blame it on our insular or parochial ways of thinking; the fact is we Filipinos do not respect or for that matter, trust anyone outside our small circle of influence.
Rumor has it that caddies and other Valley Golf employees have described Delfin dela Paz as a one with a somewhat headstrong personality who happens to live near-by and played the course often. He may have felt that Valley Golf was his 'territory" and one can assume he was not going to take anyone cutting into his flight sitting down. Based on the testimonies of some resort personnel, dela Paz instigated the brawl by poking one of the Pangandamans with his golf umbrella.
For the Pangandamans, on the other hand, their actions were typical of Filipinos in power and authority. They have their bodyguards with their automatic weapons and they honestly feel they have the right to special treatment simply because of who they are.
Because both sides were 'typical' Filipinos and lacked respect for one another, a clash was all but inevitable.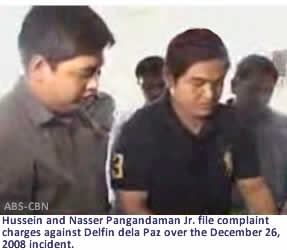 From the moment the Pangandaman's golf carts passed Delfin dela Paz on the third hole, it was no longer a question of IF, but a question of WHEN and how violent the confrontation would be.
Now here's what we think would have happened in an alternate universe where Filipinos respected one another: The del Pazes would be playing their third hole when a couple of golf carts would come towards them, slowdown and stop. The Pangandamans would greet them good morning and explain that they are part of the flight playing ahead of them and they would like the dela Paz's permission to play ahead. Delfin dela Paz in this alternate world would likewise respect their request and trust that these nice folks were not simply trying to pull a fast one on him and his kids but were indeed part of the flight ahead of them. He would wave them on and bid them a good day. And everyone would have ended the day after Christmas happy and in good cheer.
Sadly that is not the kind of Philippines we have or expect to see in our lifetimes. Only when we learn to respect and trust our fellow Filipinos will we become a cohesive society and start moving forward as one nation.




Philippine NewsLink reserves the right to select and edit comments for publication.