t started as a curious sideshow, grew into a gigantic three-ring circus, and might just end without so much as a whimper.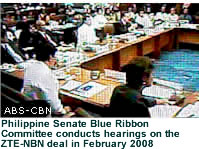 The ZTE-NBN Senate hearings really hit paydirt when former NEDA head Romulo Neri admitted under oath that former COMELEC commissioner Benjamin Abalos offered him a bribe in exchange for his help in getting the National Broadband Network (NBN) deal approved. Joey de Venecia, the son of then House Speaker Jose de Venecia had already told the Senate that Abalos stood to receive millions of pesos in kickbacks from the Chinese telecommunications company ZTE. His testimony was later corroborated by Jun Lozada, a witness who feared he would never make it to the senate hearings after he was picked-up by security personnel upon his arrival from Hong Kong.
And the gem in all this—as if what they already had wasn't enough— was the allegation that President Gloria Arroyo and her husband Mike Arroyo were aware, if not actually complicit in all that had gone on.
But what was riveting political drama, played-out live on national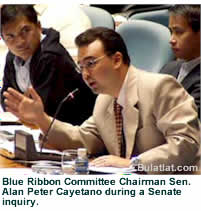 television, a year ago is now about to be flushed down the toilet, along with all the time and effort expended by the Senate, the media, and the Filipino people in trying to ferret out the truth. Senator Alan Peter Cayetano who headed the Senate's Blue Ribbon Committee during the hearings is refusing to make the final report on the investigation saying, "Since I am no longer the chairman, then the drafting of the committee report should be done by Senator Gordon."
However, Senator Richard Gordon the current committee chairman is saying that he knows nothing about the ZTE-
NBN
hearings, and thus cannot draft the report.
So for now, the final committee report on the investigation is in limbo. Filipinos who thought that they could depend on the one institution that remains un-beholden to Malacañang to arrive at the truth and hold corrupt officials accountable are about to have their hopes dashed...yet again. And it is clear warning to those who may want to testify against corruption—don't. It also gives a green light to those who may wish to plunder the public coffers—as long as you can outlast an investigation—go ahead!