aught in between two nations—one the Goliath and the world's only remaining superpower,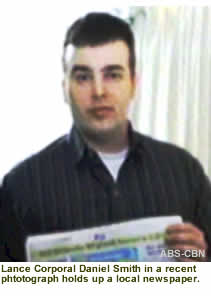 the other a former colony driven by insecurities and still learning to assert itself as a bona fide member of the community of nations.
The case of Daniel Smith, at first glance seems pretty straightforward. The 21 year old Marine was on liberty along with three of his buddies on the night of November 1, 2005 when he met a 23 year old Filipina in a bar at the Subic Bay Freeport (formerly the US Naval base in Olongapo). Nicole (not her real name) had already been drinking and by her own account was intoxicated when Smith asked her to dance. She continued drinking that night and several witnesses testified that she finally left the bar riding piggyback on Smith's back. They boarded a van where she claims Smith raped her, while he claims the had consensual sex.
In a hurry to be back on base before their shore leave expired, Nicole was unceremoniously dropped off at the hotel parking lot as the Marines sped back to their barracks. Nicole then decided to file rape charges against the Marines. After an Olongapo judge threw out her complaint, she went to Manila where she found Judge Benjamin Pozon of the Makati City Regional Trial Court (MCRTC). Judge Pozon appears to be the judge of choice among some left leaning, anti-government organizations who complain that the odds are usually stacked against them in court. According to an online blog "Pozon convicted Smith of rape for one reason only: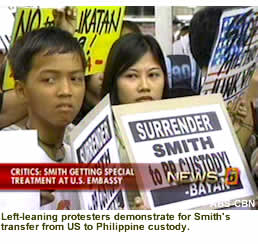 That Nicole was not physically able to give her consent to have sex due to heavy intoxication. He gave the maximum time sentence based on his own personal feelings and stated such." On December 4th, 2006 Judge Pozon sentenced Smith to 40 years in prison.
Two years has passed since that conviction and Daniel Smith is still waiting on his appeal. He is confined to a makeshift trailer-home parked inside the US Embassy compound. Now the Philippine Supreme Court wants him transferred back into the custody of Philippine officials, even as an odd assortment of radical groups call for his incarceration in the local jail. These groups also call for the abrogation of the Visiting Forces Agreement (VFA) to rid the Philippines once-and-for-all of American military forces.
How the Philippines handles Corporal Daniel Smith's case could well determine whether US military forces continue in the Philippines or not. With the global financial crisis it now faces, the United States could put the money it spends for the VFA to better use back home. The Philippines, it must be emphasized, no longer provides the strategic military advantage it did during the Korean and Vietnam conflicts. The only reason the U.S. still has a military presence in the islands is to help the Filipinos both militarily and through humanitarian endeavors.