t started with an unreturned phone call.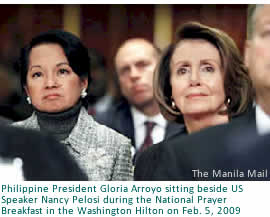 Gloria Arroyo excitedly stayed up till two or three in the morning to congratulate Barak Obama on his election victory, but he couldn't take her call. When Obama finally got around to returning the calls of world leaders, Gloria Arroyo's name wasn't on that initial round. Neither was she on the second round of calls Obama made. Gloria Arroyo finally received that long-awaited call from Obama on the 18th of November, a full two-weeks after his election.
That of course didn't deter Gloria Arroyo who like past Philippine presidents believes her closeness to the powerful United States somehow enhances her political stature domestically and silences her critics. So off to Washington she went for the 57th Annual Prayer Breakfast to meet Barack Obama. Attended mostly by members of the US political establishment along with a sprinkling of foreign dignitaries, Gloria Arroyo sat at "Table 1″ alongside US House Speaker Nancy Pelosi and the other world leaders in attendance: Haitian President Rene Preval and the prime ministers of Albania, Macedonia, and Mauritius. Unfortunately, Gloria Arroyo's hopes were dashed once again due to Obama's tight schedule and her photo-op with the US President never materialized.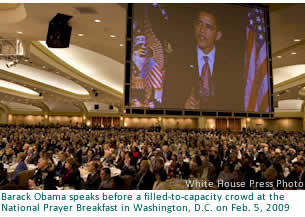 So as not to let this Washington side-trip go completely to waste, President Arroyo met instead with the newly-appointed Secretary of State, Hillary Clinton as well with Senators Daniel K. Inouye and Daniel Akaka to thank them for their untiring efforts on behalf of aging Filipino veterans of WWII. In retrospect her meeting with the two Senators from Hawaii appears to have been the only bright spot of her entire Washington side-trip as even the hoped-for Clinton stop-over in the Philippines during Secretary's trip to Asia never materialized either.
To try to understand President Obama's lack of enthusiasm for meeting the Philippine President, let us go back to what Obama said at his inaugural address. Speaking about foreign leaders he said: "To those who cling to power through corruption and deceit and the silencing of dissent, know that you are on the wrong side of history..." Then Obama's very own State Department released two reports that place the Philippine government, including its judiciary, in a very negative light.
The first report criticizes President Arroyo's administration for its lack of political will to resolve the problem of corruption and its almost total absence of transparency.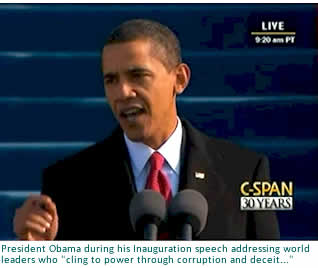 The second report released two days after the first lists the Philippines as a major money laundering haven, adding that a lot of those laundered funds stem from the corrupt activities by Philippine government officials.
With these two reports alone—emanating from no less than Hillary Clinton's Department—one can begin to understand why President Obama would rather not be seen anywhere near Gloria Arroyo. And if Obama stands his ground and sticks to his principles, it seems unlikely that we will ever see a Gloria-Barack meeting. The era when a Philippine despot like Ferdinand Marcos could brutalize his people with impunity and then stand smiling beside an American president in order to somehow legitimize his actions is long gone. Arroyo no longer has the strategically important US bases with which to arm-twist the Americans like Marcos had. So as far as the United States is concerned, Philippine presidents now stand or fall on their own merits; and if Gloria Arroyo fails to make the cut, she'll be on the wrong side of history...as far as the United States and the rest of the world is concerned.