ost reasonable individuals suspected that it would end with a reversal by the appellate court,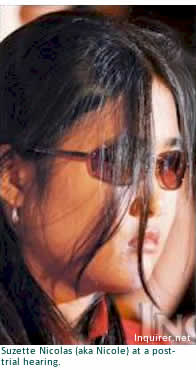 but no one expected the reversal to come from the accuser herself. Suzette Nicolas (aka Nicole), in a sworn affidavit to the Makati Court essentially admitted what we at PHILNEWS.COM had suspected all alongóshe had made it all up! There was no rape; there was no coercion. What there was, in abundance were lies and deceit. Lies and deceit to marshal the gullible and the paranoid to rise up in righteous indignation for what a young and sadly 'clueless' American serviceman had supposedly done to all of Philippine womanhood.
But if there is anyone who has dragged the character of the Filipina through the dirt, it is Nicole. She has shown the world that there are Filipinas out there who will stoop down to any level for a free ticket out of the country. This womanówho riled up the nationalists, the feminists, and the ever-ready rabble-rousers who are prepared yell and scream for whatever cause is presented to themódoes not give a 'hoot' about the Philippines or the Filipina! Suzette Nicolas conveniently used both of them to further her own selfish ends. And now that she got what she wanted, she has dumped them all and has scurried off to the 'good ole US of A.'
Sadly, what the Suzette Nicolas and those like her fail to realize is that events such as these do not begin and end in the Philippines. The world was watching.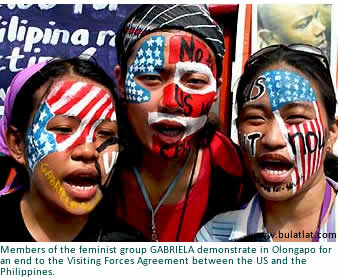 And with today's 24-hour news cycle and the myriad of news mediums presently available, the world has seen the callousness and treachery some Filipinas are capable of.
As it is, things are already tough enough for the beleaguered Filipina image; From the global perception of the Filipina as a domestic helper, to the Filipina as a cheap one-night-stand, the image of the Filipina is in dire need of a major overhaul. Yet despite the commendable efforts of the few who are doing their best to improve that image, those efforts are overwhelmed by a sea of domestic helpers and GROs (guest relations Officersóa euphemism for 'hookers') and those like Suzette Nicolas (or Nicole) who show the world the 'evil' side of the Filipina.