epending on who you ask, Joseph Estrada is either a shoo-in for the presidency in 2010,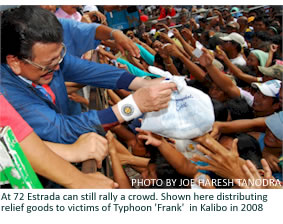 or is legally barred from seeking the office. According to Justice Secretary Raul Gonzalez, he can't run because one of the provisions of his pardon clearly states "Whereas Joseph Estrada has publicly committed to no longer seek any elective position or office." As far as Gonzalez is concerned, you can take that to the bank...or the Supreme Court who might have to affirm his ineligibility for elected office.
On the other hand, former Associate Supreme Court Justice Serafin Cuevas who also served as Estrada's Justice Secretary sees nothing to stop the ex-president from running again. While the Philippine constitution states that "no president shall be eligible for any reelection," that provision refers to the incumbent president, and that's Gloria Arroyo, not Joseph Estrada.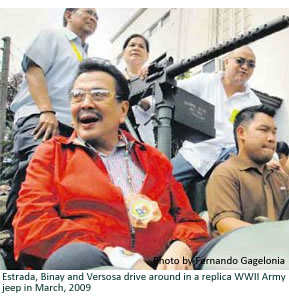 With regards to that provision of his pardon stated above, Cuevas points out that Estrada received an absolute pardon, which means there can be no restrictions attached.
Assuming for the sake of argument that Estrada successfully tackles these legal hurdles and is allowed to run, it will still be up to the Filipino electorate to vote him into office. After having been convicted of plunder, and after showing the country what an Estrada administration is like, will the Filipinos vote him into office again? It has been eight years since EDSA Dos and, the blatant corruption, the fancy mansions, the jueteng scandals, the kitchen cabinet made up of scheming operators, and the kept women, have all faded into the distant past. What remains succinctly clear to the astute voter is that Estrada, like Marcos before him was a big mistake. The question is: are there enough smart voters out there to keep him out of Malacanang?