n 2008 American Tim Bauer received the prestigious Rolex Award for his efforts to reduce the air pollution that envelopes major cities in the Philippines as well as in other Asian countries.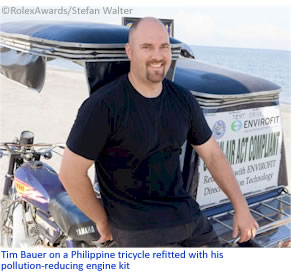 For Filipinos returning to Manila from first-world countries in Europe or North America, the grime that envelopes buildings, and structures along the roadway are immediately apparent and stand as a silent yet irrefutable testament as to how polluted this metropolis has become.
Enter Tim Bauer a 32-year-old with a mechanical engineering degree from Colorado State University who along with his colleague Nathan Lorenz, set up shop in Vigan, Ilocos Sur to develop and market a kit that reduces the particulate emissions of two-stroke tricycle engines by roughly 70 percent; carbon monoxide (CO) emissions by 76 per cent; hydrocarbons emissions by 89 per cent; and carbon dioxide (CO2) emissions by 35 per cent.
Bauer, Lorenz and their Filipino counterparts have refitted over 250 tricycles in Vigan and Puerto Princesa, Palawan and now plan to expand to other cities of the archipelago.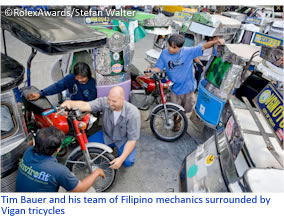 Roughly 30 percent of the parts used in the kit are produced in the Philippines.
With its exploding population growth and the widespread use of Diesel and two-stroke engines, Bauer and his device couldn't have come at a more opportune time. The World Bank estimates that each year air pollution in the Philippines causes at least 15,000 deaths with related health costs and loss of earnings amounting to US$19 million and $134 million respectively.
We salute Mr. Bauer and his team for helping cleanup our environment so future generations of Filipinos can lead healthier, happier, and more fulfilled lives than today's generation.
To read more about Tim Bauer and the Rolex Awards click here.