hat would Southeast Asia in 2109 look like? What countries would make up the region? Who would be the major players? What countries might no longer be around?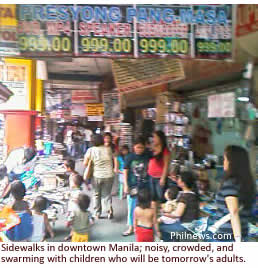 The Philippines as we know it might no longer exist a hundred years from now. I could end up a 'failed state' 'absorbed' by one or more of its powerful neighbors. Below are a few disturbing trends we see today that cause us to arrive at such a dire conclusion:
● Rice production in the Philippines may fall by 50 to 70 percent by the year 2020 according to Oxfam International due to global warming. Hardest hit will be countries near the equator like the Philippines where hot temperatures will get even hotter. A one degree rise in temperature causes a 10 percent drop in rice yield per hectare according to the Oxfam study which was prepared for the recently concluded G8 summit.
● The recently released 2009 World Competitiveness Yearbook places the Philippines dead last among the countries in the Asia-Pacific region. The country ranked poorly in economic performance, government efficiency, business efficiency, and infrastructure. The study also noted that the Philippines has the highest pupil-teacher ratio in secondary education among 57 countries.
● Filipinos lag behind their Asian neighbors in science, technology and Innovation STI). Philippine Senator Edgardo Angara points out that the Philippines only produces 12 scientists and engineers per one million population. According to Angara that number is not even half of the United Nation's requirement for the sustainable development of a country.
● The Philippines has for the past decade ranked among the most corrupt countries in the world. This perception is not only prevalent among foreigners who have worked in the Philippines, but also among Filipinos who now live or work in other countries. Transparency International and Political and Economic Risk Consultancy are just two of the many organizations that have consistently rated the Philippines as highly corrupt.
● The Philippine Military is generally perceived as corrupt and disorganized, with poorly trained and ill-equipped men and women. The Armed Forces of the Philippines (AFP) has only one vintage destroyer and no jet fighter aircraft to speak of. The AFP is even unable to decisively eliminate the Abu Sayyaf bandits from Southern Mindanao.
● Already one of the world's most populous countries, the population of the Philippines is estimated to balloon to 101 million by 2015 according to the World Bank.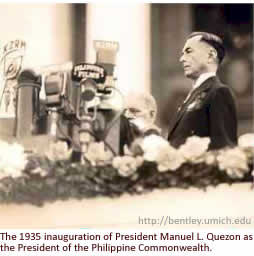 Thus any incremental gains made in economic development, food production, climate control. and energy conservation are sadly offset by its exploding population.
At this juncture, the Philippines has a lot more going against it than for it. It is headed down a path of self-destruction that will inevitably transform it into something radically different—the nightmarish reality of that brash remark by a well-intentioned Manuel L. Quezon who proclaimed during the commonwealth period "I prefer a government run like hell by Filipinos to a government run like heaven by Americans..." Unfortunately (or fortunately) Quezon did not live long enough to see his words become reality.
Unless fundamental changes are implemented, the Philippines will continue its downward spiral to self-destruction. Will another country step in to pick up the pieces of a shattered Philippines, or is it still salvageable...by Filipinos themselves? Next week we'll look at what some of those fundamental changes might be.