It is raining yellow confetti in the streets and the famed Cory Magic is everywhere once again. A simple housewife, Cory Aquino never planned on leading a revolution, never planned on becoming president, never planned to being the symbol of defiance and freedom that toppled a tyrant.
Ironically, the high points of Cory Aquino's political career seems to have occurred before she took the oath of office as president; she vanquished a corrupt and dictator through the world's first peaceful revolution now known as People Power. And again when her presidency was about to end; she made sure a peaceful transition of power took place.
So what the Cory Aquino administration lacked in performance, it more than made up for in terms of honesty and integrity.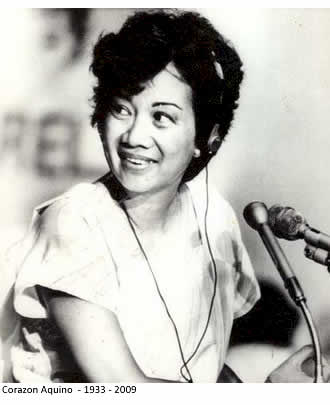 And that we believe is why Cory is so loved by the Filipino people. For once they had a leader who did not lie to them, who treated them with respect, and who went into public office, not to enrich herself or lord-over the Filipino people but to serve them and try to better their lives.
Is it therefore any wonder why we now have this genuine outpouring of love by the Filipino people? They know when they are being lied to or taken advantage of. And they know just as well when someone is sincere and deserving of their adulation. Cory Aquino was that someone. And because leaders like her are so few and far between she will be sorely missed.