ith major frontrunners Mar Roxas and Ed Panlillo bowing out of the Philippine presidential race,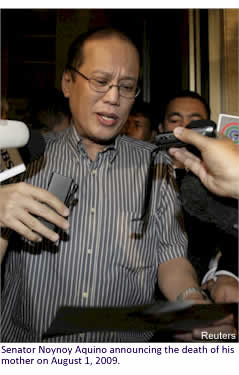 it appears that the political opposition is coalescing under a Liberal Party ticket of Noynoy Aquino and Mar Roxas, for president and vice president respectively.
Barring any unforseen mess-ups, the Aquino-Roxas ticket looks like a sure bet to win the 2010 presidential race at this point. Thus it is but prudent to try and divine what a Noynoy Aquino administration might be like.
For starters, we see Noynoy as more his mother's son than his father's. The late Ninoy Aquino we believe would never have vacillated or asked for more time to 'think it over' but instead would have immediately embraced the challenge and made it his own. However, this 'reluctant warrior' image might simply be a political act as Filipino culture seems to favor the modest and the unassuming over the brash and determined. We hope this is the case because with the myriad problems facing the Philippines, what it does not need is a reluctant president.
With regards to lineage—for lack or a better word—both Aquino and his likely running mate Roxas belong to old and well-respected political clans who seem less inclined to flaunt their power and wealth the way up-and-comers do. Unfortunately, lineage is not always an accurate gauge of moral and ethical performance in office. Case in point is the current president Gloria Arroyo, daughter of the late president Diosdado Macapagal. Because of the numerous allegations of graft and corruption, and an almost complete lack of transparency in her administration, many sectors see her as coming up short, despite that lineage.
In Noynoy Aquino, we see a potential leader pure in heart and spirit, like his mother, former president Cory Aquino.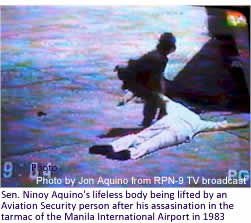 Having that, we would also like to see him harness the qualities his father had: resoluteness, sharpness of focus, and an overriding sense of justice for his fellow man.
Finally we like to see a President Noynoy achieve something his mother never did, which is get to the bottom of who killed his father. Ninoy Aquino did not just suddenly collapse and die on the airport tarmac in 1983, he was assassinated in what must have been a well-planned, well thought-out operation. That dark chapter in our collective history needs to be given proper closure so that our nation can finally move on.