uper typhoons, flashfloods, and landslides—catastrophes that have befallen the Philippines all within a span of a few weeks could be nature's way of telling Filipinos that time is running out.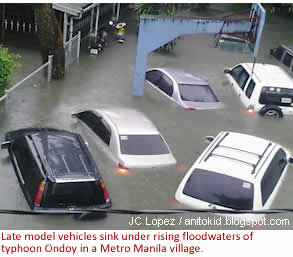 The problems that our fathers and forefathers have ignored for all these years can no longer be ignored by us. If we do not solve them within our lifetime, we will be passing on to our children a even larger problem that they might no longer be able to handle.
Though we find it abhorrent to lay blame, or point fingers at our elders, it is nonetheless a fact that since the end of World War II, succeeding generations of Filipinos have done precious little to pass on a better Philippines to the succeeding generation. There are exceptions of course but those exceptions are few and far between.
The country's population that was around fifty million in the Nineteen Sixties has close to doubled in the intervening years to where one of our readers described it as "wall to wall people" in the streets of Metro Manila. A concerted effort to keep our population under control would have been so much easier forty or fifty years ago. Thailand's population was similar to ours in the Sixties, but today there are a third less Thais than there are Filipinos. They did it, we could have easily done it too back then.
Seoul, Korea boasts of one of Asia's best and most modern traffic management system. Korean leaders understood that unless radical changes were implemented, vehicular traffic in Seoul would become unmanageable. Within a span of a few decades, the Koreans now have one of the best systems in the world.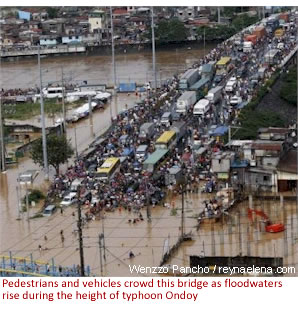 In their high-tech environment, even bus schedules are available via SMS text messaging and all public buses are tracked via a global positioning system. Compare that to the chaos of Metro Manila streets during rush hour—where it can sometimes take an hour to get to a destination just five kilometers away—and you easily see where our leaders have failed us.
Now look at the devastation wrought by Typhoons Ondoy (Ketsana) and Pepeng (Parma) and you again you see where no urban planning, inadequate zoning, overwhelmed sewage treatment facilities, and incomplete or non-existent flood control systems, have turned the once proud metropolis of Metro Manila into a soggy stinking mess. It is going to cost our generation a lot more just to clean up this mess than it would have cost our parents' generation to build and maintain a proper flood control system. A system that could have spared countless lives and misery over the years.
We raise our voice and point fingers because previous generations of Filipinos should have tackled these problems back when they were not as large and as costly to fix. Instead they chose not to! Now it is our turn. Sure the problems are now larger and more expensive to fix, but if we do not address them today, if do not roll up our sleeves and endure whatever hardship fixing them entails, rest assured that the next generation of Filipinos will be pointing their fingers at us and asking us how we could have been so 'inutile' and heartless.