S Secretary of State Hillary Clinton flew-in a few days ago;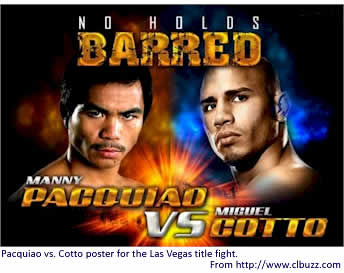 President Barack Obama was in Japan and Singapore for the APEC Summit; Philippine President Gloria Arroyo will soon fly to China as part of Obama's 'advance team' but all anyone can talk about in these islands is Manny Pacquiao! At present, he's likely the only 'kabayan' Filipinos everywhere can point to with pride.
Not just fame, and a disarmingly charming personality, the 'Pacman' also has skill and talent to boot. If he wins his latest fight against Miguel Cotto, he would become the first boxer ever to win seven boxing titles in seven weight divisions.
And while some of his fans have gotten used to their 'Pacman' flooring his opponents one after the other, there still is a nationwide angst before a title fight.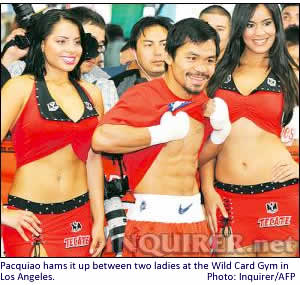 And why shouldn't there be—national heroes like Manny Pacquiao are a rarity these days. All we read about in the papers or see on the evening news are corrupt politicians, crooked public servants, 'kotong' cops on the take, the list goes on and on. Like Efren Peñaflorida (whom we featured in our previous editorial), 'kabayans' that Filipinos can proudly look up to have grown scarcer over the years. Thus when a Manny Pacquiao, an Arnel Pineda, or a Charice Pempengco attain global fame, it is a time of great rejoicing. Their contributions may not be advancements in science and technology—decades of corruption plus an inferior education system has placed such achievements out of our reach—but they are significant achievements none-the-less. Should Manny defeat his opponent, he will attain what no other boxer has has attained. And in case he doesn't, he will still be the hero of Filipinos everywhere.