here is a price to be paid when one makes a "deal with the devil."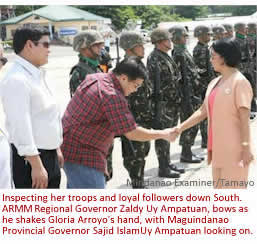 Western folklore is replete with stories of ignoble characters who trade their soul in exchange for talent, wealth, youth or power. And, in the context of Philippine politics, such a Faustian bargain can readily be made with local warlords to give a political candidate or party a sure win in their regions of the country.
In the 2004 presidential elections, President Gloria Arroyo's Lakas-Kampi party won a clean sweep in the Maguindanao region. Her opponent, the popular movie actor Fernando Poe Jr. surprisingly managed to get not a single vote in a couple of its towns. Revelations of a rigged election became front-page news the following year with the "Hello Garci" Scandal and Arroyo's subsequent admission to certain improprieties during that election.
It is said that the Ampatuans who run Maguindanao with an iron fist and a brigade of heavily armed followers were perfectly capable of delivering the election outcome that the president and her party so desperately desired. And so it was, Gloria handily won her re-election and another six years at the helm. But Faustian bargains don't usually end on a happy note—at least not for the mortal bargainer.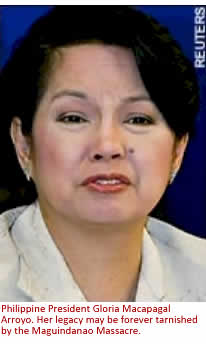 Sweet dreams quickly turn into nightmares as must have been the case for Arroyo on the 23rd of November when Andal Ampatuan Jr., a local mayor and son of Andal Sr., the family patriarch and governor of Maguindanao, allegedly slaughtered 57 defenseless civilians in what is now being called the Maguindanao Massacre.
The government's glacially slow reaction in the immediate aftermath of the massacre was proof to many that the president was trying to shield the Ampatuans who helped deliver Maguindanao during her 2004 reelection. International condemnation however forced Arroyo's hand and Andal Jr. was subsequently arrested. A few days after his arrest, the president declared Martial Law in Maguindanao. Arroyo's detractors and many skeptics say the imposition of martial law in the region was not so much to completely neutralize all the Ampatuan's army of loyalists, but to destroy any evidence of vote rigging that could implicate the president or that the Ampatuans could use to blackmail Malacañang into going easy on them.
Whatever the outcome of this sordid event, it is clear to most that the Ampatuans and other political warlords who rule vast regions of the country through terror can only do so with the implicit approval of the national government. Gloria Arroyo's coddling of the Ampatuans for all these years has now blown-up in her face. A hundred years hence, history will likely see Gloria Arroyo as the enabler of the butcher of Maguindanao and judge her just as guilty.
If you make a pact with the devil, tread with caution because you usually end up losing your soul in the end.