he Pacman does it again. The Philippine's favorite boxer Manny Pacquiao clobbered Ghanaian Joshua Clottey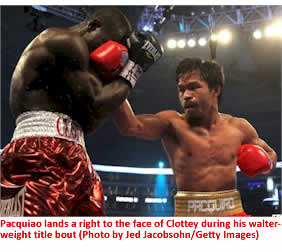 in a twelve-round match before fifty thousand boxing fans who filled the Dallas Cowboys stadium. With Pacquiao the odds on favorite, many had hoped for a sixth or seventh round victory, that did not happen as Clottey was just too tough an opponent to stop that quickly.
Freddy Roach, Pacquiao's trainer said that Manny is so fit that if he wanted to, he could easily fight for another three years—but quickly added that he'd like the Filipino great to take on a couple of more fighters and then retire. Roach then hurled the challenge to Mayweather that he be one of those Pacquiao faced off before retiring.
In the Pacquiao home in General Santos, his mother Aling Dionisia said she also would insist that Manny give up boxing for good. And as Roach puts it, Manny no longer needs to fight. With politics, and show business alone Pacquiao will have enough on his hands to keep him busy for a lifetime.
With Manny Pacquiao's imminent retirement, the Philippines will need a new sports hero Filipinos can rally around. Amid the disappointment two-faced politicians, and corrupt business and government leaders, the country will need someone like the Pacman, a Filipino who can stand toe-to-toe with the best the world has to offer. The search is on!