ith the Pacquiao Clottey fight over, we turn our attention back to Philippine politics.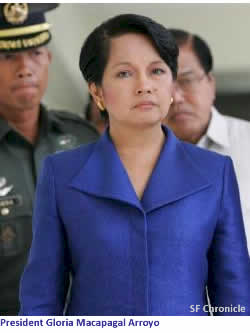 This past Monday the 15th of March, leading presidential candidate Benigno "Noynoy" Aquino said on Philippine television that he would set up a commission to investigate the various "issues" surrounding Gloria Arroyo. Some of the issues he was referring to were the "Hello Garci" cheating scandal, the Jocjoc Bolante fertilizer fund scam, and NBN-ZTE deal, all of which allege corruption and impropriety goes all the way to the office of the president.
Administration candidate Gilbert Teodoro has already gone on record that he would leave Gloria Arroyo alone if ever he becomes president. Gloria was after all his boss when he served as Secretary of Defense and she is currently the head of his political party. Unfortunately for Malacañang, Teodoro's poll numbers are stuck in the single digits, which makes his bid for the presidency highly improbable at this point.
Unlike Teodoro, a third candidate, Manuel 'Manny" Villar stands a better than even chance of winning. He has so far does not weighed-in on this issue but rumors abound that he might have struck a secret deal with Gloria Arroyo, promising to protect her and her family from future investigations if she uses the vast resources of her office to help him win.
To the many Arroyo detractors who want to make Gloria answer for all her alleged crimes, the choice is clear: a vote for Noynoy will be a vote to put Arroyo and her cronies on the dock and ask her some very tough questions. Arroyo seems to have arrived at the same conclusion because the day after Noynoy Aquino made known his intentions, Malacañang spokesman Prospero Pichay told voters to "say no to Noynoy" because according to Pichay, Noynoy would be a weak president just like his mother, Cory Aquino.
So tell us what you think. Should Gloria Arroyo be charged with corruption after she leaves office? CLICK HERE TO VOTE ON OUR POLL then send us your comments.