Elections results listed below
Partylist Groups results

ith the country's first-ever automated election behind them, Filipinos have started patting themselves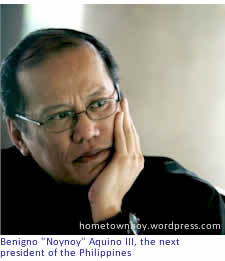 on the back for a job well done. For the most part, congratulations are in order; the recently held elections were relatively honest, relatively peaceful, and the results were made known relatively quickly.
This election has given the country what could be it's first truly honest chief executive in over a dozen years. And Filipinos who have had nothing but disappointment from the last two administrations cannot wait to see what that will like. But while the country seems to have gotten its sheen back, scratch the surface and and you will see that there are festering problems that need to be treated before the country can really move forward as a nation.
For instance, while the majority of the electorate may have chosen Noynoy Aquino, a convicted plunderer Joseph Estrada managed to place second besting seemingly more qualified candidates.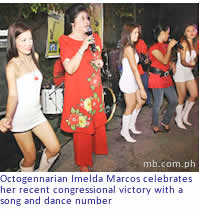 In Ilocos Norte, Imelda Marcos handily won the congressional seat in her district. Even some foreign observers were witness to the violence and intimidation that seems to have become a way of life for ordinary citizens in the far-flung regions of the country. The future president himself had to endure a four-hour wait in a scorching hot and overcrowded precinct before he could cast his vote.
In the end, this entire generation of Filipinos—whether at home or abroad—must be willing to change. We as a people must be willing to shed those traits that hold us back; those bad habits that keep us down, those dark thoughts that keep us from seeing the light.
With an great leader at the helm, Filipinos will be able to bring about that change, real change that we can be proud of passing on to our children.
Presidential Election Results*
Aquino
14,011,275
Estrada
8,858,900
Villar
5,073,546
Teodoro
3,709,571
Villanueva
1,029,368
Gordon
470,121
Perlas
49,358
Madrigal
42,655
De los Reyes
40,430

Vice Presidential Election Results*

Binay
13,652,421
Roxas
12,822,304
Legarda
3,856,671
Fernando
944,562
Manzano
712,962
Yasay
327,491

Senatorial Election Results*

1

Revilla
18,064,856
2
Estrada
17,646,265
3
Santiago
16,118,967
4
Drillon
14,759,103
5
Enrile
14,592,736
6
Cayetano
12,765,863
7
Marcos
12,323,528
8
Recto
11,529,294
9
Sotto
11,107,895
10
Osmena
10,807,988
11
Lapid
10,217,702
12
Guingona
9,578,265
13
Hontiveros-Baraquel
8,507,137
14
Biazon
8,047,374
15
De Venecia
7,826,848
16
Remulla
6,965,229
17
Lim
6,830,491
18
Roco
6,290,925
*Latest COMELEC election results as of 8:50 a.m. PhT, May 16, 2010

1

Ako Bicol Partylist
1,393,050
2
Coalition of Association of Senior Citizens
1,159,810
3
Buhay Hayaan Yumabong
1,136,935
4
Akbayan
946,328
5
Gabriela Women's Party
910,602
6
Cooperative NATCCO Network Party
878,768
7
ABONO
739,463
8
An-waray
701,443
9
1st Consumers Alliance for Rural Energy
689,528
10
Bayan Muna
670,334
11
Citizens Battle Against Corruption
594,203
12
Advocacy for Teachers' Empowerment
556,823
13
Agricultural Sector Alliance of the Phil.
501,473
14
Alliance for Barangay Concern's Party
422,390
15
Butil Farmers Party
416,934
16
Anakpawis
399,625
17
LPG Marketers Association Inc.
393,103
18
Kabataan Partylist
376,220
19
Abante Mindanao Inc.
339,407
20
Act Teachers
330,324
**Latest COMELEC election results as of 7:04 p.m. PhT, May 14, 2010