ith the end of June fast approaching, Gloria Arroyo's Malacañang tenure will soon come to an end.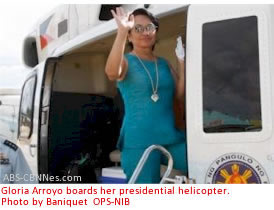 It seems hard to believe that almost ten years have passed since the then demure, and seemingly charming Philippine Vice President was thrust into the top office by the People Power revolt known as EDSA Dos.
Back then the people saw Gloria Arroyo as the proper replacement for Joseph Estrada, a president who seemed to embody all that was wrong in Philippine politics: He wasn't very smart; he was a movie actor-turned politician; he openly flaunted his promiscuity, building very expensive mansions for his numerous mistresses; he surrounded himself with incompetents; and he along with his minions tended to bully their way through anything or anyone who stood in the way.
During EDSA Dos, former Presidents Cory Aquino and Fidel Ramos supported Arroyo. The influential Makati Business Club backed her. And the vast majority of middle-class Filipinos rallied to her side and forced Estrada to step down.
Now nearly a decade later, her popular support has all but vanished—most polls give her a dismally negative rating. Her reputation is tarnished beyond repair according to her many detractors.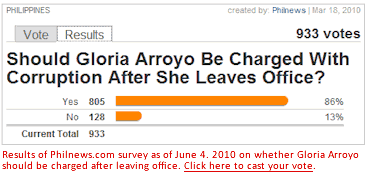 And the legions of Filipinos who couldn't wait to put her in office during the EDSA Dos revolution, now can't wait to see her out of office.
All in all, Gloria Arroyo has been a significant learning experience for the Filipino people. Her ten years as president has taught Filipinos that some politicians are not what they appear to be. The election cheating scandals, the bribery scandals, the NBN-ZTE deal scandal, the fertilizer pricing scandal, and so on, have so tarnished Arroyo's image that most of those she backed during last month's elections lost.
The Philippines has fallen so far behind some of its neighbors, that most Filipinos (educated or otherwise) have finally come to realize that it is not how good a candidate looks, or how well they can sing or dance the Boogie that qualifies them for public office. The overwhelming victory of Noynoy Aquino could be seen as proof that Filipinos are finally turning the corner and electing the right people into office. We'll know for sure six years from now.