trange as it may seem today, there was a time almost a decade ago when most Filipinos were celebrating the ascension to the presidency of Gloria Macapagal-Arroyo (GMA).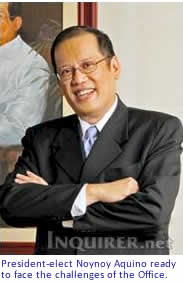 The country at the time had been embroiled in impeachment proceedings leveled against the sitting president Erap Estrada, people then started massing in the streets in a still controversial uprising we now call "EDSA Dos," and four days later Estrada boarded a boat and left Malacañang Palace via the Pasig River.
After being sworn in by then-Chief Justice Hilario Davide, Jr., Arroyo became the fourteenth president of the Philippines. Although not everyone wanted Arroyo as president, the country nonetheless came together in support of their new president who not only had an economics degree, but seemed to have the smarts and the pedigree that Estrada lacked.
Now nine-and-a-half years later, Arroyo is leaving office with a dismally low approval rating; her tenure in office rocked by one corruption scandal after another. Philnews.com's own online survey shows that almost nine out of ten respondents want to see Arroyo charged with corruption after she leaves office. The question we now must answer is whether Gloria Arroyo was already corrupt going into office? Or was it the office that eventually corrupted her.
It is important that we answer this question now as a new president steps into office. Will our high hopes and expectations for President-elect Noynoy Aquino turn into despair and disenchantment at the end of his term as it has with GMA? In the highly patriarchal Philippine society, where power is concentrated on the Office of the President, should there be additional safeguards put in place to prevent any incumbent from straying from the straight and narrow?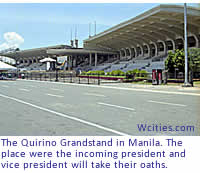 Should we as a society—often-described as disinterested or uninvolved—make the extra effort this time to ensure that this new president remains true to his lofty goals?
If Noynoy Aquino is to succeed in stamping out corruption and engaging this country again in the global arena—not as a has-been but as a rising star with its best days still ahead—then we all need to roll up our sleeves and do the heavy lifting. Noynoy cannot do it alone! Each and every one of us, in the country or living in the farthest reaches of the globe, must join together and work for a brighter future for the Philippines.