he inauguration ceremony went slightly off kilter from the start. By accident or by design, the presidential entourage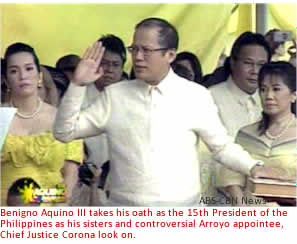 arrived at the Quirino Grandstand a bit too early. This caused Vice President-elect Jejomar Binay in his electric jeepney to arrive in the midst of outgoing President Gloria Arroyo's review of the military honor guard. And that was followed by Arroyo twice failing to acknowledge President-elect Benigno Aquino's outstretched hand to help her on or off the raised platform.
Likely thankful that she would shortly be leaving the booing and hissing crowds at the Quirino Grandstand for her adoring constituents in Lubao, Pampanga where she would be sworn in as their new Congressional Representative, Arroyo quickly departed. Events continued their snappy pace such that all "pre-oath-taking parts of the inaugural were completed before 11:30 a.m.
This created a dilemma for those managing the event because the Constitution states that the swearing-in shall take place around noontime.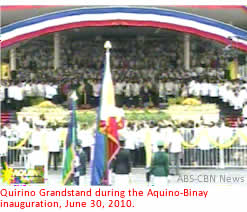 Several unscheduled musical numbers were quickly added making the supposedly solemn event appear more like an entertainment show. Boredom and confusion could be seen on the faces of many foreign dignitaries who where unaware of what was happening but felt the ceremony was going on too long.
But in spite of it all, the new Philippine President came through unscathed and looking more presidential than ever. Aquino it seems will be hitting the ground running and, as United States Ambassador Harry K. Thomas, Jr. had suggested he do, he will most likely end his first hundred days in office with a significant number of far-reaching and meaningful changes in place. There is a "new day" in the Philippines. Not since Ferdinand Marcos was unceremoniously driven out of Malacañang have Filipinos felt this good about themselves.