s New York Yankees legend Yogi Berra might ask: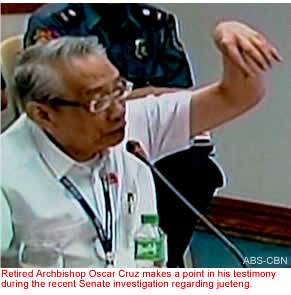 Will this be déjà vu all over again? The Philippine Senate is once again investigating the involvement of high-ranking government officials in the illegal numbers game known as jueteng. In 2005 the Senate set out to investigate allegations that family members of then President Gloria Arroyo were somehow involved in it. During that inquiry two witnesses, Sandra Cam and Wilfredo "Boy" Mayor, confessed under oath that the Arroyo's son Mikey Arroyo and her brother in-law Iggy Arroyo were receiving regular payoffs from Jueteng operators. The inquiry unfortunately went nowhere after its two key witnesses Richard Garcia and Demosthenes Abraham Riva retracted their testimonies.
In Late February of this year Wilfredo Mayor was ambushed and killed by still unknown assailants; and Sandra Cam is refusing to testify this time around fearing for her life, as well as frustrated that nothing ever came of the 2005 Senate investigation.
Despite the tireless efforts of retired Lingayen-Dagupan Archbishop Oscar Cruz, a staunch anti-gambling advocate, eradicating this decades-old numbers game seems next to impossible. The Philippine Charity Sweepstake Office (PCSO), the government agency tasked with running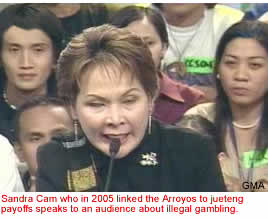 the Lotto, created a legal variant of jueteng called the Small Town Lottery or STL in the hopes that it would eventually eradicate the illegal game. Unfortunately, that has not happened. To make matters worse, STL is sometimes used as a front by jueteng operators to continue and even expand their illegal game.
So where does the country go from here? Some say that gambling is engrained in our culture, and jueteng is so lucrative that it would be impossible to completely eradicate it. So the government might as well legalize jueteng and masiao, and similar illegal number games so that it can at least derive some revenue from them.
Others say that the PCSO's Small Town Lottery (STL) holds the key. Promoted and managed properly, it can eventually wipe-out its illegal cousins and the gambling lords behind them.
Still others like Archbishop Cruz see such accommodations as defeatist, and give gambling operators—illegal or otherwise, the victory. This camp believes that gambling can be stamped out if enough Filipinos will unite against it.
Given jueteng's stubborn ability to survive all previous attempts to eradicate it, the odds are in its favor for now. But don't bet on it yet; a determined old prelate and a squeaky-clean President who ran on a platform to end corruption might just be that elusive winning combination the country is looking for.