ith Filipino heroes few and far between these days, the undisputed boxing hero in the Philippines and around the world,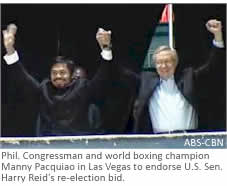 Manny Pacquiao took time out of his tight training schedule and flew out to Las Vegas to endorse U.S. Senator Harry Reid, himself an amateur boxer during his High School days in Henderson, Nevada.
A bold move for the freshman congressman from Sarangani, Philippines who despite a large Republican tilt in the Fil-Am community, has shown that he is as gutsy outside the ring as he is in the ring. Reid, a longtime supporter of the Filipino-American community, who sponsored bills to help the Filipino Vets of World War II, summed it up best when he said "What makes Manny Pacquiao really tough is, I believe, because he fights for those who can't fight for themselves. That's why Manny is chosen into public service in his home country where he is a member of Congress."
In a few days Filipino-Americans will go to the polls to elect a new set of politicians who will either try move the country forward in a spirit of bipartisanship or try to shut it down by digging in their heels refusing to compromise on anything. Sadly, the later seems to be the stated goal of the right-wing fringe groups as well as many Republicans. GOP stalwarts such as House Minority Leader John Boehner and Rep. Mike Pence, are on record stating empathically that they will not compromise, thus almost guaranteeing legislative gridlock for the next two years.
The Tea Party and their radical right wing supporters have also been resorting to heavy-handed bullying tactics in a misguided attempt to intimidate the press or anyone who happens to disagree with their politics.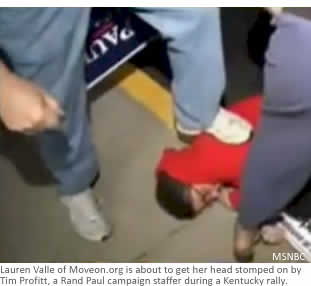 Case-in-point Sara Palin-endorsed Joe Miller hired off-duty military personnel to handcuff and detain a reporter who's only transgression was a desire to ask the candidate some tough questions. More recently, a defenseless young woman was wrestled to the ground and had her head stomped on by a burly Rand Paul campaign staffer.
Those of us who grew up in the Philippines know all too well the terror and intimidation that Philippine elections bring. The triumvirate of guns, the goons, and the gold that sadly have become a staple of the Philippine electoral scene, are now rearing their ugly heads in the U.S. As we said in our previous editorial, of all people, we need to speak up against it as we've been there before. We know first-hand what it can do to a country. Filipino-Americans must sound the alarm and warn all Americans about the dangers of extremism and intimidation during elections. Vote wisely.



[2010/ads/300_COL_01.htm]