he Corona impeachment trial now three days old is turning out to be somewhat of a disappointment.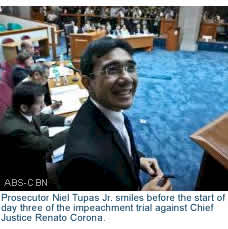 The month-long period form December 14, 2011 when the Senators first took their oaths as Senator-Judges to the January 16 start, only served to heighten the public's anticipation for a blockbuster court drama that would play out live in their livingrooms.
Instead for the first three days of the impeachment trial, what TV viewers have been treated to is Court TV starring high school sophomores playing the role of the House prosecution team. What is distressing is that although the Congressman-prosecutors and their team of private lawyers may have prepared well for this trial, they come off as inept and unprepared. For the majority of Filipinos who just want to see justice served, it is quite disheartening—even painful to watch this prosecution team in action.
For the defense's side you have lead defense lawyer Serafin Cuevas, a retired Associate Justice of the High Court, playing the role of a cantankerous old "battle horse" who despite his protestations to the contrary seems prepared to string-out this trial for as long as he can, and contest anything and everything the prosecution does—to the dismay of the viewing public and even some of the Senator-Judges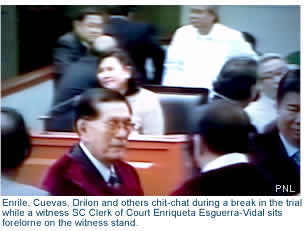 themselves. He appears to be thoroughly enjoying this moment of his in the limelight, playing to the TV cameras and hoping he can streach-out his 15 minutes of fame into several weeks or even months.
Then you have the Senator-Judges. They have so far proven to be the saving grace of this trial. Several of them seem to have taken up the cudgels for the prosecution team and appear to be litigating the trial for them, since they (the prosecution team) seem at times completely dumbfounded and at a loss as to how to litigate this case. If not for the Senator-Judges, the prosecution team would have conceded a handful of golden opportunities that the Senator-Judges stepped in to save for them. For instance, if Senator Frank Drilon had not stood-up and questioned Supreme Court Clerk of Court Enriqueta Esguerra-Vidal, the impeachment court would never have found out that she in-fact had in her possession Corona's SALN (Statement of Assets, Liabilities and Net Worth) documents that it subpoenaed.
An exception to this noteworthy group of Senator-Judges, has been the distinguished gentleman from Bicol, Sen. Joker Arroyo. Even after the witness, Ms. Vidal confirmed that she had indeed brought with her the subpoenaed SALN documents, Arroyo still put forward the convoluted argument it was best if Vidal took those documents back with her instead of turning them over to the impeachment court as required.
Overseeing this entire "three-ring circus" is Senate President Johnny Ponce Enrile who so far appears to not be his combative, supercilious self and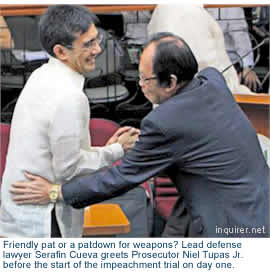 seems to be bending over backwards to accommodate Cuevas's constant and oftentimes pointless interruptions and objections.
During the past three days, only the Senator-Judges get a barely passing grade of C-minus. The reason for this is because judges (even Senator-Judges of an impeachment court) should not be fraternizing, chit-chatting or shooting the breeze with people in the gallery, members of the prosecution, or members of the defense during breaks or recesses. Viewers may get the impression that they are not taking this matter seriously—and the impeachment trial for a sitting Chief Justice should be treated by all as an extremely serious matter. We suggest that Senator-Judges instead all retire to a private chamber during breaks and recesses.
One last point, Everyone involved in this trial should keep in mind that it is the people's money that is ultimately paying for all this so don't waste time, be professional and please…take it seriously. Published 1/19/2012

Saved Comments
Name: RENE ARGUEZA
City/State/Country: AL AHSA, SAUDI ARABI
IP Address: 78.93.229.5

Comments
Atty. Vidal lied when she was asked if she brought jc corona SALN. Later, she admitted she has when grilled by senator-judges. Is this a kind of ploy from the defense? Feeling and waiting first the court how they will react on this issue? I presume it was becoz why Ms. Vidal brought the SALN in the first place if there is not purpose all. Does lying to the impeachment court constitute perjury? Perhaps it's an SOP for lawyers to lie and an old practice in this profession that it is acceptable norm.
---
Name: Phil Researcher
City/State/Country: LA County, CA USA
IP Address: 98.119.17.19

Comments
RE Your Editorial on the first 3 days. I have to disagree with you on this.. The Prosecutors are mostly Congressmen you cannot compare them with the trial which appears on TV shows which are fiction and the actors are well rehearsed and memorized lines.. In actuality , you can count with your fingers trial lawyers who can captivate a court room crowd..The likes of Dakila Castro, Alejandro De Santos, Jose W. Diokno, Jovito Salonga were all in the previous century..If you want to observe trials in the Regional Trial courts you will be disappointed too because many lawyers have difficulty expressing themselves.. Corona only admits he owns 5 properties. Now I believe It will be more dramatic when the prosecutors present and identify the 45 properties.
---
Name: Jaime Bigornia
City/State/Country: Urbiztondo, pangasin
IP Address: 112.210.144.98

Comments
Media people mold public opinion the way they want it. They can make a person look very good and look very bad in the minds of the public. Take the case of GMA and the Chief Justice for example. People are craving for their heads (like the Jews who asked relentlessly for Jesus to be crucified) as if they are higher than the law. Without the due process, they are already convicted (Ala, kangaroo court). Day 1 showed the ineptness of the congressmen prosecutor and the Administration as a whole. The other sector will not allow this stupidity, they will be beaten black and blue.
---
Name: 220 Lange
City/State/Country: NJ
Remote Name: 198.228.233.112

Comments
In the impeachment of Corona the defense lawyer Cuevas speaks and reasons like a freshly minted lawyer from some law schools in the province. His counterpart in the prosecutor's panel acts like high school kids. How can I support the logic of "due process" with these kinds of players. It's inconceivable to expect a cab driver to fly a 747 plane!
---
Name: meg
City/State/Country: uk
Remote Name: 86.26.26.229

Comments
PNoy is spring cleaning Pinas and the first to do so is the Judicial Branch, wherein he is to uproot the main cause of the smelly and rotten thing which is CJ Corona. Corona has to be washed, shaken and dried to the public (masa). The masa knows if they are taken for a ride, so beware that their intelligence won't be insulted, ridiculed or belittled. Corona must realize that some people could be fooled sometime, but he can't fool people all the time. To the impeachment trial prosecutors, you have to put your act together so as not to disappoint the masa. Go Forward.
---
Name: EASTERN RIZALKID
City/State/Country: Eastern Rizal, Phils
Remote Name: 121.54.46.9

Comments
"A corrupt judiciary is totally unacceptable as it severely handicaps the legal and institutional mechanism designed to curb abuses in government. As such we shall continuously cleanse the court's ranks by strengthening the integrity of the judiciary and raising it to the highest level possible. I believe that a member of the judiciary who is found guilty of dishonesty should not only be dismissed from the service but also disbarred. No ifs, no buts." Who said this gem? Friends, you'll be surprised!
---
Name: sbejar
City/State/Country: chicago
IP Address: 99.105.68.41

Comments
I agree completely with this forum's editorial in criticizing the behavior of the senator -judges in the Corona impeachment trial for " fraternizing and chit-chatting with the people in the gallery". As judges involved in the litigation of this unprecedented event, these judges should observe proper decorum in every manner and respect, to show to the people that there is no familiarity going on in the handling of the trial. It is a known fact that this typical characteristic of Pinoys is universal in the culture of the country but with the nature and seriousness of the matter of the case in trial, these senator- judges should know better how to be appropriate when it come to this situations.
---
Name: 1 UP
City/State/Country: GOTHAM CITY
IP Address: 74.101.61.3

Comments
I don't understand why the Supreme Court always exempts themselves from the provisions of the constitution. They make rulings or resolutions that benefit only them. Are these SC's resolutions above the law of the land? One case in point is the matter of midnight appointment. The other is public disclosure of justices wealth (SALN). Please read section 17, article XI of the 1997 that is an issue of article 2 of Corona's impeachment. Makes me conclude that SC is violator numero uno of the constitution. Que horror!
---
Name: nothing UP
City/State/Country: laguna
IP Address: 110.93.70.66

Comments
What is either sick? strange? or perverse? is that these "senator-judges" are OUR/YOUR elected officials. You have 2, that tried to overthrow the government, 1 who lied that he was ambushed. & he now seems senile. That lie was part of the reason Martial law was invoked. ,1 who fled justice yet he still obtained his salary, 4 movie stars. 1 man whose father has 16 other wives, plus 70children. What's wrong with this picture?
---
Name: Cristino Espiritu
City/State/Country: AlAhsa, Saudi Arabia
IP Address: 78.93.229.5

Comments
I agree with Mr. Monsod & Mr. Saguisag that technicalities can't outweigh & suppress the truth that people wants to know. Parroting Mr. Midas Marquez words "Make no mistakes", Mr. Defense counsels that your visible antic of dilatory tactics of objections & suspicion hurled against senator-judges will do irreparable damage to favor the prosecution team. The defense is hell bent trying to dig deeper into their arsenal to thwart the exposure of misdeeds of their client. These people who professed that they offered their services "pro bono." Pls tell that to the marines. Assuming it's true for the sake of argument, this does not mean favor will not be accorded to them if CJ is acquitted. They are all lieyers, I mean lawyers of well-known law firms that have cases in courts.
---
Name: HMS
City/State/Country: New York, NY
IP Address: 67.241.96.149

Comments
Reply to Nothing UP: Exactly. This is why the entire country has become a toilet case. Not only are criminals unpunished, they are even rewarded and glorified. The Legislature is teeming with comedians and entertainment people. College educated Filipinos look for work as domestics. In Toronto, Canada it is assumed that Filipinos are menial workers. All this melodrama about impeaching/prosecuting this or that crook will blow over in time. And be forgotten by the Filipinos because other more sordid crimes will be committed on them. And the beat will go on. Just you wait and see.
---
Name: Marie
City/State/Country: Batangas
IP Address: 213.47.170.136

Comments
The power of PNOY is combined with his father and mother's good spirits. Ninoy wanted his ambition pursued through his son. I think the spirit of Ninoy is guiding PNoy to fulfill all his desires/dreams for our country.
---
Name: rene san jose
City/State/Country: phils.
IP Address: 195.173.185.21

Comments
All judges in supreme court are Mafia they are only after of money you cannot get real justice from them, this is the institution that teaches corruption to students taking up law.
---
Name: Steve R
City/State/Country: California
IP Address: 98.234.19.64

Comments
The likely reason behind the impeachment trial of Corona and the arrest of CGMA is the lagay system during elections in the PH. If 188 House Representative & 8 Senators are elected outside the lagay system, the impeachment trial of Corona & CGMA's hospital detention will not be an issue in the PH today. Will the lagay system ever be changed? Who knows. Or Filipinos as one poster had commented, are not bothered, just keep on going as is, that Filipinos are getting used to it, with corruptions & starvation among millions of Filipinos, including the filthy smell of Payatas. Or we can keep on keying comments & hopefully our comments will sink in the minds of Filipino voters.
---
Name: 7gtg
City/State/Country: Regina
IP Address: 24.89.83.99

Comments
I believe you whiners and bashers of the home country Philippines are hypocrites. Granting that you don't like the senator's playfulness during break time, I'm almost sure that you will praise them to high heaven when they decide in your whining obsessions. I'm almost certain they will give the verdict 'Guilty'. Then I will want to read your opinion about the senators. I'm sure you will be a balimbing. Like now you badmouth them right? But when they decide in your favor, I'm sure you will hide under the closet because of embarrassment. I think you people need to grow up. Let our kabayans back home do their job. You are only an observer.
---
Name: Marie
City/State/Country: Batangas
IP Address: 213.47.170.136

Comments
Marami namang matitinik na mga pwedeng Prosecutors bakit hindi syang inilagay. Sa hitsura ay tipong mga hindi aktibo, parang hindi kumain ng isang linggo. Kelangan sa mga kagaya nilang nakapwesto sa ganyang maseselang na imbestigasyon, ang ilalagay ay yong piling-pili na mahuhusay, at ipakita nilang mga smart sila, mukhang matalino, masigasig at laging handa. Bakit tipong minadali ang kaso tapos kulang sa preparasyon. Medyo nakakawalanggana.
---
Name: GFJBHEDF
City/State/Country: Hercules
IP Address: 67.188.19.40

Comments
After all the bunch of malarkey, 26 days of maligning CJCorona in the world media, these P'Noy congressional impeachment hooligan prosecutors, on 1st day of presentation of evidences, could not produce the LRA officer & witnesses who supposedly crafted the LRA documents of 45 RE properties owned by Corona cono. For all their 26 days of media braggadocio, these prosecutors are showing us they are a bunch of comic nit-wits.
---
Name: Steve R
City/State/Country: California
IP Address: 98.234.19.64

Comments
After two days of being unable to read PNL forum, I opted that the best way to "keep abreast" with all posters, was to do a count of who are and who are not in favor of CJ Corona's impeachment. At 11:00 P.M., 01-17-2012, forty six (46) posters made comments favorable to CJ Corona's impeachment and thirteen posted comments against the impeachment of CJ Corona. I vigorously favor the impeachment of CJ Corona. He should have contacted the former PGMA & requested that his wife be removed ASAP from her 4 jobs at Camp J.H. I believe all the events before, during and after the TRO. CJ Corona should be directly link & be held responsible to the ineligible expenditures of $21.p mil intended for judicial reform.
---
Name: Steve R
City/State/Country: California
IP Address: 98.234.19.64

Comments
Mr. Kalabog, I think that you and me are making "baby steps" toward some agreement with our comments in this forum. As you stated "Bantay Salakay ng Bayan", CJ Corona in my view is "Bantay Salakay ng Bayan" I believe that his final approval of the TRO to prevent CGMA from boarding a plane was an act of Bantay Salakay ng Bayan.
---
Name: 1 UP
City/State/Country: GOTHAM CITY
IP Address: 74.101.61.3

Comments
Tony0: You invoke the principle of due process which is "A fundamental, constitutional guarantee that all legal proceedings will be fair and that one will be given notice of the proceedings and an opportunity to be heard." Don't cry wolf adre. Corona knew that impeachment was coming! It was only a matter of time. Courts do not subscribe to that principle of due process in everyday life. The courts (specifically the Supreme Court) preach it but they don't practice it. Let us start with the controversial TRO which is the proximate cause of this impeachment process. FAIRNESS? IMPARTIALITY? Real big words with hollow meanings in Corona's court.
---
Name: A. Poli
City/State/Country: Anywhere
IP Address: 70.64.10.76

Comments
The prosecution is not ready? By gosh, these folks rush the impeachment like a bolt of lightning and now they are saying they are not ready? What kind of people are these? Tarnish peoples reputation in the media? Had the president prioritize the passing of freedom of information law, we would not be listening to this excuses. I don't know, someone's not doing his job properly. :)
---
Name: 1 UP
City/State/Country: GOTHAM CITY
IP Address: 74.101.61.3

Comments
Mockingmaya was so convinced that the impeachment of a chief justice would elevate the standing of the country in the world community. So he made this statement: "I do believe that the impeachment, conviction & removal of Justice Corona from the bench will make Philippine democracy one of the most transparent, genuine & strong democratic institutions in the world." What is your proof? Erudition is non existent in legal proceedings. The country has more Kenkoys than Solomon. Senators acting as judges? Hm.
---
Name: 1 UP
City/State/Country: GOTHAM CITY
IP Address: 74.101.61.3

Comments
Mockingmaya: You keep repeating the constitution without really understanding what it means. There is no such thing as absolute power in a democratic system; if there is, then it is not called democracy but autocracy. If you say that Corona exercises absolute power, why is he the subject of an impeachment process? Where are the checks and balances in a democratic government? Puro theory ka lang with no practical application. You are exhibiting parroting behavior.
---
Name: 1 UP
City/State/Country: GOTHAM CITY
IP Address: 74.101.61.3

Comments
To the skeptics, they compare the trial of RC to JC. There are close similarities: koronang tinik, pako sa cross, Ponsio Pilatao washing his hands and the angry mob shouting "crucify him !" A PREVIEW OF THE LENTEN SEASON. Tony0 will be there in the drama as a friendly and compassionate centurion.
---
Name: A. Poli
City/State/Country: Anywhere
IP Address: 70.64.10.76

Comments
Can blaming others consider as part of a job? Or a sign of incompetence? Can anyone really really ascertain if someone is telling the truth without the benefit of a valid evidence? Is the rule of law better than the rule of mob? Are people given real honest information so they could make an intelligent decision? Is our media unbiased? Who guarantees that they are not biased and will never be biased? What process is in placed that ensure media is not being used for personal or political favor and propaganda? What's the difference between dissemination of truth and brain washing? More questions later..... :)
---
Name: Vanessa Lee
City/State/Country: Kuwait
Remote Name: 62.215.228.249

Comments
Let's not judge and be judged. It is just barely four days now since the start of impeachment I believe it is premature to say that the prosecution team is lackluster in the sense that they are unprepared or at a loss when time of litigation. The Administration is not stupid to rely to this team had it been they are not competent to handle such crucial case. There are many more issues in the Articles of Impeachment, there will come a point the defense team could not display their hostile defense. Truth always surface it won't favor the bad no matter how smart the lawyers that defend this case.
---
Name: Phil Researcher
City/State/Country: LA County, Ca USA
Remote Name: 98.119.17.19

Comments
RE: Former USEC of Justice Ramon Esguerra one of Corona's defense counsel was quoted: "The disclosure proves that he is filing the SALN and there fore did not violate the law...Mr Usec R. Esguerra ..it proves that he filed his SALN but the question is? Where did he get the money to buy those condominiums.. From his salary as Prof. of Law at the Ateneo.?. or as a Partner in a Law office that charges "New York Rates".. But he has been a Justice of the Court for 9 years is there a private practice inside the SC? that is the question.
---
Name: mockingmaya
City/State/Country: taft avenue, manila
Remote Name: 67.182.75.243

Comments
I think the Philippine Constitution provides for two removal tracks of impeachment: "via ordinary criminal conviction & the extra-ordinary-politico-judicial process of impeachment. In fact, scholars agree that by law, ordinary courts could entertain prosecutions brought against judges or jurists, who committed bribery, plunder, and so forth. And a jurist convicted of crimes in a criminal court must immediately forfeit his judgeship. For the sake of evidence & reason, the First Congress of the USA did just that in a 1790 statute.
---
Name: Marie
City/State/Country: Batangas
Remote Name: 213.47.170.136

Comments
I'm with CJ Corona if he's owning properties wherever because he's not an ordinary citizen. He can own and buy more condominiums if ever he wishes to have those things. Maybe Corona is a businessman too, worked hard and gained/profit that he's able to acquire all the properties stated. Besides, he's an old man and probably saved much. But, SALN must be submitted and honestly declared. If not, that's really a problem bec. he's the CJ of SC.
---
Name: Phil Researcher
City/State/Country: LA County ,CA USA
Remote Name: 98.119.17.19

Comments
RE: Pending Petitions in the SC to stop the Impeachment. The latest count is maybe 5 or More Petitions in the SC to stop the Impeachment..Why did they not issue the TRO..simple No one would execute their TRO..The President / the Executive Department was the branch that "urged" the Lower House the Impeach CJ Corona..the lower house has to cooperate with the Executive Branch. after all the executive controls the release of money.. Do you think the other Justices would defy Congress.. There is another Justice who is in the process of being impeached..Justice Del Castillo, another SC Justice who had a bypass heart operation paid for by GMA. these 2 Justices literally owe their lives to GMA .. Do you believe they can issue a Decision against the interests of GMA?
---
Name: 220 Lange
City/State/Country: NJ
Remote Name: 198.228.233.112

Comments
In the impeachment of Corona the defense lawyer Cuevas speaks and reasons like a freshly minted lawyer from some law schools in the province. His counterpart in the prosecutor's panel acts like high school kids
---
Name: tonyO
City/State/Country: pinas
Remote Name: 111.68.59.72

Comments
KOREKTOL: "Senate President Juan Ponce Enrile "assured a fair trial with the decision to be based on the evidence presented and not on public opinion." LINK Well, the Senate Trial Court set the tone how this case may be decided. Foremost, Counsel Serafin Cuevas contended in his opening statement, which has been admitted in evidence, that CJ Corona has been impeached without notice and hearing which means Corona's basic Constitutional right that "No person shall be deprived of his life, liberty and property without the process off law" has been violated. Hence, the Impeachment is unconstitutional, and therefore, null and void and ineffective. How else may Corona be convicted?
---
Name: Ding
City/State/Country: Illinois,USA
IP Address: 98.253.126.66

Comments
The prosecutors team lead by Neil Tupas may be amateurish, but they have presented concrete evidence of an ill-gotten wealth of Corona. Just a simple Math...How can a gov't public servant who earned from a salary of P400,000 a year amass wealth of more than 22 Million Pesos from 2002 to 2010? The defense lawyer team lead by Serafin Cuevas are mostly experienced lawyers and academicians in the interpretation of the law who are also experts in the manipulations of the law to show they are above the law.
---
Name: Jesse D. Magtiis
City/State/Country: Bacolod City
IP Address: 121.54.58.145

Comments
To Chief Justice Corona and all his legal counsels. No one is above the law. Truth will prevail, for there is truth, there is peace. Only you (Justice Corona) who knows this all and your conscience will bother you, the more you suppress the truth. Kudos to all jurors who made good to rescue the prosecution panel from the cunning strategy of darkness (Satan). Transparency is the expectation of the people, not conviction because we are all sinners.
---
Name: 1 UP
City/State/Country: GOTHAM CITY
IP Address: 74.101.61.3

Comments
The 1992 resolution authored by Justice Narvasa of exempting justices of the Supreme Court from disclosing their net worth publicly is an affront on the constitution. This country cannot afford to have two sets of rules- one for the justices and the other for the rest. This is a classic class legislation. Even the argument advanced by the Supreme Court why SALN is sacred is insane. People become secretive only when they have skeletons to hide in their closets (Corona has unfortunately a Memorial Park to hide) It is the opaqueness of the Supreme Court and the government in general that is eroding the faith of the people in the system.
---
Name: Bernie David
City/State/Country: Sydney
IP Address: 210.185.92.97

Comments
The Prosecution team is a bunch of neophytes who are good at giving press releases and fronting TV camera interviews rather skilled litigators. They should henceforth refrain from granting interviews and concentrate instead on preparation and studying their case thoroughly.
---
Name: LPiF
City/State/Country: LosAngeles/Mla
IP Address: 121.1.11.38

Comments
I do not understand why we go around in circles just to understand to reason why he (CJ) must be impeached? It boils down to what 1 UP just explained. FAIRNESS? IMPARTIALITY? And let me add HONESTY? To sum it up, it is his INTEGRITY being questioned. Without a doubt, a chief justice who has a CRIMINAL MIND will lead this country's legal system to OBLIVION! For Christ sake, we need brilliant prosecutors who can get this job done! There is no better opportunity for this country to turn the corner BUT NOW! Tsk tsk tsk...
---
Name: Phil Researcher
City/State/Country: LA County, CA USA
IP Address: 98.119.17.19

Comments
RE: Corona's Extensive Real Estate holdings....There are still a number of bloggers believe that CJ Corona acquired all his holdings legitimately the problem is the SALN does not reflect what he has in the Register of Deeds ..One example was when he sold two properties with a sale price of 26M.. The proceeds he reported as 16M.. some amounts disappeared.. Whatever happens now Corona has lost his credibility as a Chief Justice of the SC. The World Bank loan is a simple lack of supervision using the proceeds to pay travel expense of Justice attending "seminars". WB is demanding that the SC reimburse that portion.. Approx $199,000
---
Name: Steve R
City/State/Country: California
IP Address: 98.234.19.64

Comments
"Showing knowledge to the point where it can harm you". Soon, by 01-30-12, I honestly believe that the preceding statement will be true to all Filipinos and/or "Filipinos are too good for their own good." The pros & con can do their brilliant exchanges in months or a year but the longer they do, corruptions in govt. are presented to the world. Best that CJ resigns or in the interest of the nation, Judges can find CJ. guilty. Evidences being presented are very damning per Manila Times 1-20-12 that include Deed of Absolute Sale (DAS) presented by Rutaquio of Registry of Deed, Taguig City. Prop. prices were "peg" - prices lower than what is stated under under DAS & the CJ was under oath when he made statements thus he can be charged w/ perjury.
---
Name: mockingmaya
City/State/Country: taft avenue, manila
IP Address: 67.182.75.243

Comments
I do believe that Justice Cuevas' defense team can't defeat the House prosecutors because the "natural rights" of men (the Filipino citizens) are considered as the moral foundation of government. Justice Cuevas' was absent from his freshman Political Theory class. President Aquino & Congress reflect the Filipino people as a whole. The Filipino people's best interests, survival, & defense of their rights are also depend on the power of their votes: elected President Aquino & representatives. A corrupt & partial jurist can't protect the "life, liberty, & property" of human beings.
---
Name: Phil Researcher
City/State/Country: LA County, Ca USA
IP Address: 98.119.17.19

Comments
RE: JRH of Montreal Canada.. Asking why not the Jury system....Mr. JRH I don't know if you have TFC (the Filipino Channel). Well, I am watching the Prosecutor/ Congressman and the Defense Judge Cuevas... These people are educated and look, it is a circus.. If you have a jury system...with high school and elementary graduates as jurors... The jury system might work in 2112 (that is 100 years from now) if there is still a PI. by then we might be just another province of China considering that even now we are already owned by China
---
Name: 1 UP
City/State/Country: GOTHAM CITY
IP Address: 74.101.61.3

Comments
I think there is some parallel between the celebrated OJ Simpson murder trial and CJ Corona's impeachment of today. The legal case had been hyped by the media. Enrile is behaving like Judge Sato and Cuevas is acting like Johnnie Cochran. They all love the drama in the courtroom. I see Congressperson Tupas Jr. playing the role of Marcia Clark (of LA DA's office) If Corona gets convicted don't be surprised if Cuevas says, " oh sh*t sumabit!"
---
Name: Phil Researcher
City/State/Country: LA County, Ca USA
IP Address: 98.119.17.19

Comments
RE: Why did CJ Corona lower the values of his Prime properties? .. Considering that the correct value is in the Deed of Absolute Sale.. there is already a misleading purpose on the SALN. it would appear that his properties were worth less when in truth and in fact the 4 properties total 42 million pesos.. Mr CJ and you want to tell the Filipino people that you are an honest person and in fact you had several novenas to prove your honesty... It is time for you to leave the Supreme Court..
---
Name: EASTERN RIZALKID
City/State/Country: Eastern Rizal, Phils
IP Address: 121.54.46.9

Comments
C/P'ed fr the WWW: "Lead counsel of Corona Serafin Cuevas should inhibit because he is receiving a pension from the government. This conflicts with the condition of R.A. No.910. Section 1.) It is a condition of the pension provided for herein that no retiring Justice during the time that he is receiving said pension shall appear as counsel before any court in any civil case wherein the Government or any subdivision or instrumentality thereof is the adverse party, or in any criminal case wherein and officer or employee of the Government is accused of an offense committed in relation to his office...." [con't]
---
Name: EASTERN RIZALKID
City/State/Country: Eastern Rizal, Phils
IP Address: 121.54.46.9

Comments
C/P'ed fr the WWW: Con't -- "... or collect any fee for his appearance in any administrative proceedings to maintain an interest adverse to the Government, insular, provincial or municipal, or to any of its legally constituted officers." Nung say mo dito, Tonyo?
---
Name: CRISTINO ESPIRITU
City/State/Country: AlAhsa, Saudi Arabia
IP Address: 78.93.229.5

Comments
Many have said that Lawyering is the most dirty profession ever created on earth. More severe than flesh traders. They are compromisers & coach their clients to lie & keep on lying until the lie becomes truth. To those who stand firm w/ the truth, may your tribe increase. And to those liars, children of Satan, the father of lies, may your tribe decrease. To the impeachment lawyers, God is watching you.
---
Name: Martin
City/State/Country: Khobar, KSA
IP Address: 166.87.190.168

Comments
I think many here in Saudi are starting to find the senate hearings a joke. Where I work many Filipinos, Americans, and Europeans are watching and tracking Philippine news. Most usual comments range about incompetent prosecution lawyers and mainly from the foreigners are questions "....how can Filipinos vote for such senators" I think looking back on everything we the people all should blame ourselves for not making wise choices for senators. How Estrada and Lacson are still allowed to remain senators is shocking. And don't forget that Earp received 8 million votes last presidential election.
---
Name: Steve R
City/State/Country: California
IP Address: 98.234.19.64

Comments
I think that all actors in the impeachment are feeding communism. When NPAs are out convincing new members, they'll use corruptions blamed on Corona as tolls to increase recruitment. It's all academic now. Nothing will change the outcome. Excerpt: "Senate President and Presiding Judge Juan Ponce Enrile, however pointed out that Article 2 also include a specific allegations (2.4) that Corona is "suspected and accused of having accumulated ill-gotten wealth" The PH Constitution does not limit the time to be used during impeachment; defense team are probably prolonging their agony of defeat. Mr. Enrile also ruled that Corona is not being denied his right to due process. Sometimes, lawyers are too smart for their own good & poor Filipinos who're in the majority are needlessly suffering.
---
Name: tonyO
City/State/Country: pinas
IP Address: 111.68.59.73

Comments
Steve R said "Evidences being presented are very damning …" Dre, the you may be right if the articles of impeachment is not declared unconstitutional and only if the evidences presented are proven ADMISSIBLE. Thus, "Cuevas has said once the prosecutor moves to formally offer the documents as evidence, that is the time we will oppose and pick up a quarrel with the prosecutors." The former Supreme Court justice said the prosecution can enter any evidence they want to, but whether these fall within the articles of impeachment is another thing entirely."
---
Name: OSS
City/State/Country: Ca. USA
IP Address: 124.6.164.183

Comments
Watching the trial of CJ Corona is one of the best entertainment in TV I've seen. Idiots in the defense panel defending the S.O.B. that made this country more corrupt. Don't these idiots know that S.O.B. Corona has to go so this country can move on? Anyway it was worth watching. Why not, we paid for it and to watch these morons argue in court for 5 hours was fun because that's all they ever do, talk and investigate and argue whose the best BSer.
---
Name: 1 UP
City/State/Country: GOTHAM CITY
IP Address: 74.101.61.3

Comments
I don't blame observers of the current impeachment of CJ Corona to comment negatively on the process particularly on that aspect of evidence presentation. Both defence and prosecution have to approach either side to examine the evidence. Much time is wasted. The government (Congress and the Supreme Court) should have put in place some kind of evidence presentation system that would be capable of projecting on a flat screen both physical and digital evidences. All that are needed are laptops, video cameras, slides, audio and video cables etc. When they are projected or broadcast outside of the court or halls of congress, people get educated.
---
Name: 1 UP
City/State/Country: GOTHAM CITY
IP Address: 74.101.61.3

Comments
continue ... People get a good grip of the impeachment process. If people do not understand, people lose interest and consider the legal proceeding as a soap opera or a zarzuela. Essentially the issue in this entire impeachment is one of honesty. Did Corona lie? Remember that the courts are gatekeepers of the truth.
---
Name: 1 UP
City/State/Country: GOTHAM CITY
IP Address: 74.101.61.3

Comments
Tony0 was complaining that Miranda rights were not read and hence Corona was denied due process. Corona was impeached by the House (formally charged) and the senate is hearing Corona's case. How much due process is needed to over turn the impeachment of Corona as unconstitutional? Here in the US, the DA with the assistance of the police would arrest a person, put that person in police custody, face a judge later and plead (guilty or not) and then a hearing date is arranged. That is due process adre. If a person is detained unlawfully without charging that person, the detainee could invoke the writ of habeas corpus. People could relate to that during PH martial law years under Marcos regime.
---
Name: 1 UP
City/State/Country: GOTHAM CITY
IP Address: 74.101.61.3

Comments
Ordinary people in the Philippines are not interested in CJ Corona's impeachment because people are not aware of what the process in all about. It is always the lack of education. Those who watch the process get lost of the busload of Latin or foreign terms that are being used by lawyers like Cuevas. These watchers have no clue of what "magistrado ponente" is. They only know Pontio Pilato. Watchers have no clue of what "status quo ante" (translated the way things before) either. But they know what "Dios ko po!" means to them. Res judicata (a thing that is decided) is too Greek to these watchers. Resbak na lang ako!
---