he ongoing impeachment trial of Chief Justice Renato Corona has brought to light what appears to be a faulty,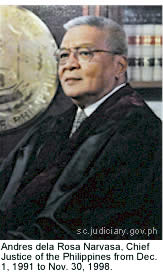 if not patently unconstitutional 1992 En Banc resolution of the Philippine Supreme Court that effectively ended any public disclosure of the Statements of Assets, Liabilities and Net Worth (SALN) of any Justice or Judge. Chief Justice Andres Narvasa's court in their ruling—A.M. No. 92-9-851-RTC, dated September 22, 1992—resolved that henceforth all "All requests for copies of statements of assets and liabilities of any Justice or Judge shall be filed with the Clerk of Court of the Supreme Court or with the Court Administrator, as the case may be, and shall state the purpose of the request."
With a tinge of paranoia, the resolution argued that the High Court "be wary of deceptive requests for information," as well as requests that appear to be a "fishing expedition intended to harass or get back at the Judge." Thus with the stroke of a pen, the Narvasa court slammed the door on the Constitutional mandate to make available SALNs of high-ranking public officials.
Section 17 Article XI of the 1987 Constitution states that "A public officer or employee shall, upon assumption of office and as often thereafter as may be required by law, submit a declaration under oath of his assets, liabilities, and net worth. In the case of the President, the Vice-President, the Members of the Cabinet, the Congress, the Supreme Court, the Constitutional Commissions and other constitutional offices, and officers of the armed forces with general or flag rank, the declaration shall be disclosed to the public in the manner provided by law."
The above provision unambiguously states who is required to file their SALN. In addition the oral record of the Constitutional Commission itself allows us to glean the intent of the framers as they wrote a particular provision. In that regard, the late Senator Blas Ople who was also a delegate to the Constitutional Commission argued that only high ranking government officials should be required to file a SALN. The framers, he said, wanted to "introduce a new form of accountability." Stating further that "in a society, it is understood that we have to lead by example and those who have this burden more than the others are the holders of the greatest power." In comparison, Ople further pointed out that "In the case of the United States, comparable officers are required by law to so disclose their assets and liabilities to the public."
Thus although the Narvasa court did not defy the constitutional provision outright, it effectively prevented the public from viewing any of the SALN documents kept by the Tribunal's clerk of Court. Ever since A.M. No. 92-9-851-RTC went into effect almost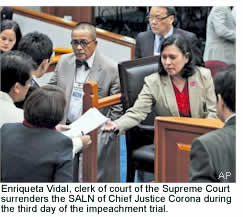 20 years ago, not a single request has ever been granted—not one! Corona's SALN which was reluctantly surrendered by Clerk of Court Enriqueta Esguerra-Vidal to the Impeachment Court did not go through the court's approval process—if it did it would have likely been denied as well.
So, the question arises: were the various SALN requests filed with the Supreme Court over the past 19 years all frivolous or illegitimate that not a single one merited approval? Of course not, Nervasa and his judicial accomplices knew exactly what they were doing and what would happen once their resolution took effect.
In a country like the Philippines where there both local and international organizations acknowledge that sky-high levels of corruption exist; and with a judicial system where judges are the sole arbiters in civil and criminal cases (unlike the US where a jury determines guilt or innocence), hiding the SALN of Judges and Justices is simply unconscionable. It is so easy for jurists to accept bribes or engage in illicit activity. In fact, simply playing the stock market by buying or selling stock based on decisions to be rendered can make a judge a bundle of money—and without access to their SALN, the public will have no clue anything illegal is going on.
Narvasa who is now retired and likely enjoying his twilight years should nonetheless be made to answer for this travesty of justice which in its nearly two decades of existence, has likely caused immeasurable damage to the Country and its people. Sadly the poor and helpless usually end up bearing the brunt of such wrong-headed if not criminal decisions by magistrates who knew better, but didn't seem to care about anyone but themselves. Published 1/24/2012
Postscript:
6/12/2012 New era of SC transparency? Court's financial reports made public. Following the ouster of Chief Justice Renato Corona, the Supreme Court has decided to give the public access to its financial reports on SC special funds, as well as the Commission on Audit report on the high court. Acting public information office chief Gleoresty Guerra said the directive to make the records public came from Acting Chief Justice Antonio Carpio who is temporarily taking over Corona's vacated post while the Judicial and Bar Council looks for a replacement.
Postscript:
8/28/2012 SC discloses zero SALNs, 3 months after Corona trial. THREE MONTHS after Renato C. Corona was impeached as chief justice for his failure to declare and disclose the full and true details of his wealth, the justices of the Supreme Court remain unrepentant over their opaque ways of old.

Indeed, they have yet to show proof that transparency in regard to their Statement of Assets, Liabilities, and Net Worth (SALNs) has now become both principle and practice of the highest tribunal of the land.

Until last week, the personnel in charge of receiving requests for SALNs in the Office of the Clerk of Court say the Court has not yet released even a single SALN to any one of the 64 parties – media agencies (including PCIJ) and law students – who have filed requests for SALNs as of Aug. 17, 2012.
Postscript:
6/9/2013 SC grants release of justices' SALN
THE Supreme Court has granted the plea of the Philippine Center for Investigative Journalism (PCIJ) to release the statements of assets, liabilities and net worth (SALN) of Chief Justice Ma. Lourdes Sereno and 14 associate justices of the court. According to a well-placed source the of The Manila Times, the court en banc granted on Tuesday the letter request filed by the PCIJ headed by Malou Mangahas.


Join our poll: Should former CJ Narvasa be held accountable for his resolution 19 years ago? CLICK HERE to vote.


Saved Comments
Name: sbejar
City/State/Country: chicago
IP Address: 99.105.68.41

Comments
This forum's revelation of former Supreme Court Justice Narvasa's resolution of not making public of their SALN in spite of a constitutional mandate is a bombshell. No wonder the whole court system is a heaven for corruption. Judges are quick to ask for bribes from the litigants for a favorable verdict. Where are all our or politicians when this Narvasa resolution came out? As usual, some of these politicians serve more their pockets than the people who elected them. Or because its a two way street: for example; if a politician is brought to court for corruption, and the court finds out that he or she opposes the resolution, the poor politician will get an unfavorable verdict quickly. So, let us all make aware of our "politicos'" to fight this corrupt system.
---
Name: EJ Flores
City/State/Country: Calgary, Canada
IP Address: 112.203.17.85

Comments
Why only Narvasa? Those Chief Justices that assumed office after him and maybe the rest of the SC Justices are equally guilty because they chose to shut their mouths. Everyone in the SC is guilty of the sin of omission. Here is one reason why the SC is having a very low approval rating from the citizens. Slow dispensation of justice, corrupt justices and now self serving directives intended only for their own selfish interest.
---
Name: 1 UP
City/State/Country: GOTHAM CITY
IP Address: 74.101.61.3

Comments
The 1992 resolution authored by Justice Narvasa of exempting justices of the Supreme Court from disclosing their net worth publicly is an affront to the constitution. This country cannot afford to have two sets of rules -- one for the justices and the other for all the rest. The essence of a law is its fairness. The law must no discriminate. What the SC is doing is to elevate this branch of government superior to remaining branches of government. Even the argument advanced by the Supreme Court why only their SALNs are sacred is insane.
---
Name: 1 UP
City/State/Country: GOTHAM CITY
IP Address: 74.101.61.3

Comments
continue.. People become secretive only when they have skeletons to hide in their closets (Corona has unfortunately a Memorial Park to hide) It is the opaqueness of the Supreme Court and the government in general that is eroding the faith of the people in the system. I am sure other justices are even worse than Corona.
---
Name: Juan der Pol
City/State/Country: Manila
IP Address: 122.52.159.218

Comments
Buti na lang nagkaroon ng Impeachment Trial dahil kung wala, malamang hindi na, na-alala yong ginawa ni CJ Narvasa...ang problema kasi, kapag ang nagkamil ay ang mga Husgado mahirap o' di man lang mabigyan ng ka-ukulang kaparusahan. Mayroon din palang naidudulot na maganda ang Impeachment Trial, dahil yong BAHO, kahit anong klaseng imported na perfume ang gagamitin mo ay lalabas din ito ...amoy pa rin ang BAHO!
---
Name: tonyO
City/State/Country: pinas
IP Address: 111.68.59.76

Comments
Phil Researcher is right! Former Chief Justice amended R.A. No. 6713 by setting condition/s not provided for in R.A. No. 6713, to secure a copy of a public official's SALN. Any one had the right to challenge its validity. Congress was empowered to revoke said memorandum. Yet nobody was vigilant to defend the Constitution, not even the present House of Representatives! Mga inutil lahat. Nakipagiskrimahan at nag grandstanding pa sina Sen. Drilon vs SC Clerk of Court, Ms. Vidal. They did not even challenge Narvasa's unconstitutional order. Mga sanamagan, sanamabits.
---
Name: 1 UP
City/State/Country: GOTHAM CITY
IP Address: 74.101.61.3

Comments
"Thus although the Narvasa court did not defy the constitutional provision outright, it effectively prevented the public from viewing any of the SALN documents kept by the Tribunal's clerk of Court. " This statement is to be debunked. The provision of section 17, Article XI was very explicit: that public officials upon assumption of office must declare under oath their assets and liabilities and disclose them publicly. Two words are key here: Oath and disclosure upon assumption of office. Keeping them in the hands of the clerk of court is no public disclosure. That is a cockamamie argument! What is probably implied is if this act of submitting SALN is to be done annually.
---
Name: deo
City/State/Country: flour city
IP Address: 74.74.186.35

Comments
Soon a new sets of Supreme Court justices will reverse the Narvasa court. Then the truth of what they were hiding will be exposed.
---
Name: Vanessa Lee
City/State/Country: Kuwait
IP Address: 62.215.228.249

Comments
There is a negative purpose as to why former CJ Nervasa amended the Constitution in 1992 regarding SALN of justices and judge. The mere fact he initiated to amend the SALN in point shows only he himself was the first one beneficiary of this amendment. If the concerned government entity could amend again the Constitution to return Section 17 Article XI of the 1987 Constitution, I believe this will curtail judge or justices violating the law and abusing the governmental powers vested in them.
---
Name: JRH
City/State/Country: Montreal, Canada
IP Address: 70.82.113.23

Comments
What should be the appropriate comment on this new editorial who said..Andres Narvasa should be held accountable for his 1992 resolution? Who knew about the implications of a simple honest SALN & the important implications during a court case? Everybody presumed everybody was that honest. Wrong. People who are involved are now the ones accused cuz of SALN declaration or misdeclaration. It's very obvious that a lot of manipulations & misrepresentations were done in a big scale by all those involved. Corruption & corruption as it can be. If we have to convict the highest crook (CJ Corona et al) & his mentor GMA, her sidekick Abalos & others, then let's do it.
---
Name: JRH
City/State/Country: Montreal, Canada
IP Address: 70.82.113.23

Comments
In our Code of In our Code of Citizenship, it states that we have to respect our constitution, which is the expression of our sovereign will. This gov't is our govt. It has been established for our sovereignty & welfare. So far so good. We then must obey the laws & see to it that they are obeyed by all & that all public officials be the first to comply with the rules as promulgated. In the Narvasa case, the opposite happened. They instead made this special law which is favorable only to those in power & nobody else. Meantime the general public are left to suffer. It's obvious & clear that our august politicians do not contribute to our people's welfare or any public social welfare. They have been screwing the Filipinos for a long time now.
---
Name: LATEPOCA
City/State/Country: SOMEWHERE IN TIME
IP Address: 121.1.30.222

Comments
YES, Narvasa should be held responsible for enacting into a law a resolution that would go against the constitution. Public interest will always prevail against personal gain. Look, all Supreme Court Justices are all rech and their wealth cannot be justified by their salary alone......So, NOW is the time to forcibly act by sweeping the SC of thieves. CONDUCT lifestyle checks on them.
---
Name: Silahis
City/State/Country: BahayToro, QC
IP Address: 166.248.51.198

Comments
Abuse of power, even for so called good cause, is a misuse of power. And, the destruction of one of the legs of government (the Judicial) affects the stability of that government. The 2nd Aquino administration should know that.
---
Name: 1 UP
City/State/Country: GOTHAM CITY
IP Address: 74.101.61.3

Comments
LATEPOCA: There is something wrong in what is he going on with the government in the Philippines. The Supreme Court always puts a check on the executive branch and Congress but who does the check on the Supreme Court? This Court comes out with cockamamie resolutions and memos that contravene the constitution but also tradition and common sense. They exempt themselves from the midnight appointment rule and consider their SALNs as sacred! Congress must act to correct these anomalous practices by the highest court. CONGRESS PEOPLE wake up! You have been sleeping too long.
---
Name: Marie
City/State/Country: Batangas
IP Address: 84.113.254.100

Comments
Lawyers/justices/judges what else, they're all born to lie and to defend the sinners if asked to help. They took that profession to lie and defend criminals even the evidences are as clear as crystal - Criminals.
---
Name: 7gtg
City/State/Country: regnsk
IP Address: 24.89.83.99

Comments
All these hysteric whiners in this forum, not even one wondered why that resolution was even thought of. So PNL did explain the reason. "the resolution argued that the High Court "be wary of deceptive requests for information," as well as requests that appear to be a "fishing expedition intended to harass or get back at the Judge." So the resolution is good. Because it protects the integrity of the 'good and honest' judges. But if the judge is corrupt, then I agree the judge has to be removed. But the resolution is valid. Hindi puwedeng ma influence ang decision ng supreme court through harassment or blackmail. Which is what appears to be happening right now i.e. in the hacienda luisita decision.
---
Name: deo
City/State/Country: flour city
IP Address: 66.66.175.23

Comments
If the resolution of the Narvasa Court exempting the Judges and Judstices of the Philippine Courts from disclosing their SALN, were challenged then, it could have been declared unconstitutional, since the resolution have the force of a law. The resolution do not afford the "equal protection of the law" as provided in the Philippine Constitution because tonyO and many others can not invoke the protection of the resolution when deo and one up will demand to see his (tonyO's) SALN,
---
Name: Rojie Ledesma
City/State/Country: Manila, Philippines
IP Address: 124.106.85.100

Comments
BONJOUR: I am one of the many that listened/viewed the ongoing impeachment trial. My point is, it is the right time for all government officials/employees to indicates/reflect in the SALN the exact/accurate amount generated from salary and in business as well, so as the BIR can collect the exact taxes and the government can raise fund intended for the people. As I observed, the prosecution panel was questioning about the ill gotten wealth of Corona? How about them? (Senate Jury, Defense & Prosecution). I'm not against nor in favor of the defense or Prosecution... what I am saying is that, all government/employees must adhere the golden rule "GOVERNMENT OFFICIALS MUST BE ACCOUNTABLE AT ALL TIME"
---
Name: Steve R
City/State/Country: California
IP Address: 98.234.19.64

Comments
Having made a comment that one can compare Corona to a falling tree & that the tree is likely to fall 'flat' on the ground, I also think that not even the intended meaning of the Narvasa court can save Corona as provided by the PH Constitution. Corona's two daughters should ask 'Dad' to 'step down & his wife Cristina to do the same. Art. 2.2 & 2.3 of the Articles of Impeach are intact. After an Enrile interview, my understanding include reports that the defense have the burden of proof in the end to show evidences that the provisions of Art 2.4 are not relevant to Corona. To save his family from further embarrassment & disgrace, CJ Corona must resign.
---
Name: Manuel C. Diaz
City/State/Country: Montnclair CA USA
IP Address: 76.174.219.92

Comments
To Deo where will we challenge this Narvasa resolution regarding its constitutionality? In the Supreme Court? d Bantay Salakay yan. It is good that the impeachment exposed it to the "sunlight" now these SOBs in the Government will have to expose not their p*nis but their SALN.
---
Name: Cristino Espiritu (PJWM)
City/State/Country: AlAhsa, Saudi Arabia
IP Address: 78.93.229.5

Comments
The way the speed of the Impeachment trial is going, it may conclude within 6 months unless the respondent suddenly has a change of heart in spite of his bold pronouncement of dying to death of his revered post in SC. A lot of worms are coming out either true or false, the perceptions of many ordinary people is that SC is not in anyway incorruptible & trustworthy. The root cause of all of this was CJ Narvasa resolution & also all politicians who were scared to challenge vigorously the SC about this issue.
---