he Filipino people have just about had enough of Miriam Defensor-Santiago.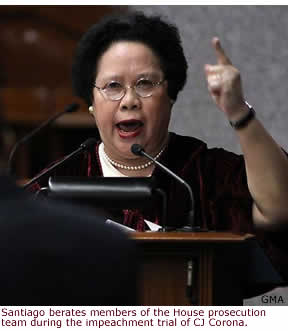 She is loud, arrogant, and intolerant of anyone but herself. In her Ilongo-accented diatribes Santiago bullies anyone and everyone she dislikes or who happens not to share her views. It is somewhat disheartening because Santiago is reasonably smart and adequately educated—but the minute she opens her mouth, those pluses just fly out the window.
In the ongoing impeachment trial of CJ Corona for instance, the Senate impeachment court was experiencing a few fits and starts in its first few sessions but was doing reasonably well on its own without Santiago who at the time was too sick to attend. She finally showed up the following week and immediately set out to "commandeer" the proceedings with her boorish lectures and pointless interruptions. She berated the prosecution as well as the defense panels, and even took a guarded swipe at the court's presiding officer, Senate President Juan Ponce Enrile by hinting that the trial was moving too slow for her liking. Though most viewers would have agreed with her on that, her subsequent interruptions and lengthy legal pontifications had just the opposite effect, delaying the proceedings even further.
In June of last year Santiago and her husband, former Interior and Local Government undersecretary Narciso Y. Santiago, Jr. celebrated their ruby wedding anniversary with an "en grande" event at the Manila Cathedral officiated by no less than Manila Archbishop Gaudencio Rosales. Santiago's chosen sponsors for the event provide clues as to who she sees as her allies or chosen friends. Among her principal sponsors were Imelda Marcos, Danding Cojuanco, Renato Corona (shouldn't she recuse herself from the impeachment trial because of this), and Jejomar Binay. Secondary sponsors included Mar Roxas, Manny Pangilinan, and Manny Villar. Santago's entourage included Senators Jinggoy Estrada, Loren Legarda, Ramon Revilla, Antonio Trillanes,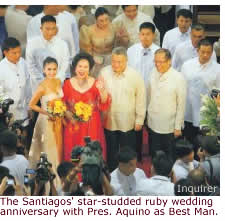 Peter and Pia Cayetano, Edgardo Angara, and former Sen. Miguel Zubiri. Her special guests included former Presidents Joseph Estrada and Gloria Macapagal Arroyo (neck brace and all). Last but not least, her best man was none other than President Noynoy Aquino.
So who does Santiago ally herself with? It appears that she allies herself with everyone from every side of the political spectrum and thus proving to one and all that she stands for nothing in particular! To Santiago, the names: Imelda Marcos, Danding Cojuanco, Joseph Estrada, Gloria Arroyo, or Noynoy Aquino are nothing but names which she can embrace or shun depending on the political expediency of the moment—a true traditional politician or 'trapo" in the most derisive sense of the word.
Miriam Defensor Santiago may think she has the world on a string but she doesn't. Her arrogant and bullying "palengkera" demeanor has turned her into a one-woman freak show that will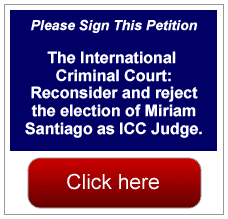 ultimately be her undoing. She leaves in March of this year for a nine-year stint as a judge at the International Criminal Court (ICC). Let's keep our fingers crossed and hope she does not make herself too much of an embarrassment for the country.
Our thoughts (and crossed fingers) will go with her nonetheless when she finally leaves for the ICC in the Hague. As former President Erap Estrada might say—as he did when his close friend Nora Aunor told him she wanted to enter politics): "Anong Gagawin mo doon? Magkakalat ka lang doon" (What will you do there? You'll just create a mess!). Santiago had best keep her head down and her ego in check at the ICC. And she can start by practicing some humility at the Corona impeachment trial. Published 1/29/2012

Saved Comments
Name: Peony
City/State/Country: San Diego, Cali
IP Address: 99.247.77.136

Comments
Well said. Miriam should just keep her mouth shut once and for all. She is so disgusting. Very arrogant, thinks highly of herself, talagang TRAPO. She maybe smart coz of education, pero tagmak sa kabastusan, palingkera, WACLASS. What a waste of God-given gift of a sharp mind, dahil she has equally sharp mouth na nakakasuklam pakinggan or basahin ang mga pinagsasalita. Talagang me topak ang ulo ni Miriam, kakahiya kung baka ano pa ang pagsasabi nyan sa Int'l court. Yikes!
---
Name: sbejar
City/State/Country: chicago
IP Address: 99.105.68.41

Comments
I was shocked to hear from this forum that this woman, Senator M. Santiago was hobnobbing with the trapos like Imelda Marcos, the Cojuangcos, Estradas, Binay and the Arroyos during her wedding anniversary. Knowing all about these trapos character and the history of what they have done in the past, some of which are still in the court docket like Imelda Marcos and the Cojuangcos, it is hard not to ignore where this bad mouthed woman senator is coming from as far as propriety is concerned. No wonder the country was never successful in prosecuting these trapos, and as such the good life of these trapos goes on and on. Na saan ang conciencia mo madam Senator?
---
Name: deo
City/State/Country: flour city
IP Address: 74.74.186.95

Comments
I hope this Santiago as International Crime Court justice will not "magkakalat doon". She knows how the "legal" system works in Pinas so she should refrain from "practicing" the same in the ICC. You know "bad habits" die hard, she might think she is still practicing law in Pinas.
---
Name: Steve R
City/State/Country: California
IP Address: 98.234.19.64

Comments
At this point in her life, Senator Miriam Santiago believes that she earned her bragging rights thus she is pushing it & not considering to accept that she is over-reaching, over-acting to the extent of hurting the feelings of others in the impeachment trial. Her self righteousness & pride of all that she achieved overtook her self discipline. She is fully aware & knows how embarrassing it is for her to be verbally loud. But, she is careful in choosing words that will prevent her from being sued. Part of her outraged is to remind Filipinos that she thinks she was actually cheated out of the Presidency in 1992. True? In March 2012 she will have to report for duty at the International Criminal Court. Senator, your colleagues at the ICC will not tolerate your current behavior.
---
Name: Caloy
City/State/Country: Bothell, WA
IP Address: 50.46.235.96

Comments
Sen. Santiago has the smarts, I give her that. But that does not give her a reason to be a loudmouth. Her demeanor is as ugly as her looks and I mean she is ugly!
---
Name: Phil Researcher
City/State/Country: LA County, Ca USA
IP Address: 98.119.17.19

Comments
RE: The antics of Sen. Miriam Defensor-Santiago..If you conduct a survey on the antics of Sen. Santiago, I believe many people were turned off when she rattles her mouth as if she were addressing an elementary school kid.. Sen. Santiago.. you are talking to Congressmen who also passed the bar and especially Atty. Arthur Lim is a respected and a very successful law practitioner..I believe you owe him an apology for your very disrespectful and uncalled for behavior.
---
Name: Vanessa Lee
City/State/Country: Kuwait
IP Address: 94.128.56.74

Comments
It is not possible to match a person's ability to another. You can't expect people having the same intellect. Sen. Santiago should not expect a person's reply is according to her standard as what happened last Thursday's when she was asking one of the prosecutors. Can she display the same behavior if and when she join her new position abroad?
---
Name: Cristino Espiritu (PJWM)
City/State/Country: AlAhsa, Saudi Arabia
IP Address: 78.93.229.5

Comments
As Pinoys we were taught to show respect to others, its our cherish value may they are lowly or famous & rich people. As respect is earned not through intimidation or favor but purely the manifestation of your personal character to others. In the case of Senator-Judge Santiago, I praised her for her intellect however, it lacks GMRC when argumental confrontation is on the line. She was scolding the prosecutors who like her deserve also even a little respect & this people are all well educated like her. It so happens only that she enjoys the privilege in that position through the peoples votes. Her outburst is not good for the viewers foremost to young people. If she could only moderate her temper then how pleasant it is to watch her.
---
Name: wdc
City/State/Country: california
IP Address: 75.38.79.177

Comments
Miriam Defensor Santiago is a bi#ch by all accounts. Blame it on those morons who voted for her.
---
Name: Ding
City/State/Country: Illinois,USA
IP Address: 98.253.126.66

Comments
Miriam Defensor-Santiago might be academically qualified to take the post as one of the judge in the International Court of Justice in Hague, Netherlands. But emotionally her personality and the way she handle the presentation and delivery of the technicalities of the law shows..."Lack of Civility". She is rude and flamboyant and not good profile to represent the Philippines. Her temperament and volatile emotions do not show refinement of character as judge.
---
Name: pepe
City/State/Country: bolingbrook, IL
IP Address: 203.87.139.40

Comments
As usual, at Miriam's age, she hasn't changed. Her style fits that of a guidance counselor of a primary or secondary school. Cool it Ma'am! Watch your BP! CJ Corona isn't worth dying for. Do not emulate Angie Reyes' death. He died suppressing the truth. He died covering Arroyo's asses. He is no hero. Ma'am you could be the best stateswoman of our country, if you are pro-masses. Makatao, hindi maka GMA. No need to be legalistic kung karapatan ng iilang magnanakaw na nagsamantala sa mga Pilipino ang ipagtatanggol mo.. May chance ka pa Ma'am Miriam na makilala na mabuting Pilipino. Matalino ka pa naman.
---
Name: voiceofcebu
City/State/Country: edinburg
IP Address: 70.124.46.158

Comments
Well, Miriam is explosive. That's a given. The prosecution team should not have given her fuel - their incompetence - so that Miriam wouldn't go "boom!". So, to stop Miriam from giving "boorish lectures", the prosecutors should go back in prepared. Lectures are given only to those who misbehave.
---
Name: Lee Buyagan
City/State/Country: ksa
IP Address: 94.98.225.138

Comments
I cannot exactly understand why this lady is never given a chance to rule this country who is far beyond incomparable to Ramos, Erap and Gloria or even Fernando Po Jr. After her duty as international judge, she will be in her twilight time and her double AA brain will no longer be serving to the Filipino people.
---
Name: deo
City/State/Country: flour city
IP Address: 74.74.186.95

Comments
The only thing I know about this Santiago is that she was once a law classmate in U.P. of my Friday night poker game buddy who is a "retard" Pinoy U.S. lawyer. He did not say nice things about her but no bad things either.
---
Name: James
City/State/Country: Manila
IP Address: 112.198.82.133

Comments
Sen. Santiago is making the Impeachment Trial ALIVE and KICKING! Her presence will make you awake, as the controversial slogan says "Its Fun..." Some may not like her, but, you got to thank her because, ordinary people understand more what she is saying than those Male Lawyers...Making objection after objection!
---
Name: Jacqueline Chui
City/State/Country: Hong Kong
IP Address: 203.218.5.28

Comments
If Sen. Santiago was a bully in the impeachment court at least it is in a proper forum unlike Pres. Aquino who accused CJ Corona in a wrong place..........so who is stupid and bastos in front of the Filipinos/
---
Name: jeff lopez
City/State/Country: san diego, ca
IP Address: 99.116.205.254

Comments
Senator Santiago is a disgrace!! How can such a supposedly intelligent woman behave so badly? She may have gone to college and earned a degree but she failed to get educated. Sobrang yabang!!! Lalo na siguro kung walang Ilonggo accent ang English nya. Kala mo kung sinong magaling!! What an arrogant, obnoxious creature.
---
Name: 1 UP
City/State/Country: GOTHAM CITY
IP Address: 74.101.61.3

Comments
The behavior of Miriam is understandable. You are considered intellectually inferior and low class. Now let us see how she would compete and measure up against European and other white jurists while she is in Hague. Maybe her condescending attitude would change, humility will set in and her thick English accent is reduced after a year or so. This time she has to suck it up!
---
Name: Bonifacio Andres
City/State/Country: austin tx
IP Address: 24.162.158.40

Comments
This lady from the upper chamber has no principle at all, a true leader must have principle and values, and I never saw that in this lady. She thinks of herself as an all-knowing senator but truthfully she knows nothing..a truest trapo, a failure..You can see that she wants to please everyone who is in power, a sigurista to the max.
---
Name: bernardo david
City/State/Country: Sydney,Australia
IP Address: 210.185.92.97

Comments
Miriam's behaviour in the Senate hearing is unacceptable and unpardonable. Here is a woman who has been appointed a Judge of the ICC and yet acts as an uncouth, uneducated and ill-bred bully. She insults and berates her fellow practitioner, Arthur Lim and admonished him not to engage in colloquium. I hope she does not open her foul mouth when she sits as a Judge in the ICC, otherwise she would bring ignominy and disrepute to the Philippines.
---
Name: HMS
City/State/Country: New York, NY
IP Address: 67.241.96.149

Comments
She looks like a mongoloid She seems to be afflicted with Down syndrome. She looks it for sure. She also acts like one. Symptoms: Screaming/screeching/shrieking for the slightest or no reason at all. She does her countrymen a great disservice by lecturing them and insulting them at every turn. Someone should stand up to her and put her in her place. That an unbalanced, unstable, extremely obnoxious, not to say extremely ugly woman like this has been elected to the senate repeatedly speaks volumes of of how far down the country has fallen. Things have really come down to this. Having this demented woman stalking the halls of the Senate. That bad.
---
Name: EASTERN RIZALKID
City/State/Country: Eastern Rizal, Phils
IP Address: 121.54.46.9

Comments
Take note of this Miriam: "[Defense Counsel Head Serafin] Cuevas said he sympathized with prosecutors whenever they got scolded during the televised trial. He said he particularly felt bad when Tupas and private counsel Arthur Lim were castigated by a fuming Sen. Miriam Defensor-Santiago on separate occasions last week. "I could not affix my stamp of approval on that kind of an actuation," he said. "Para bang hiniya mo 'yung mga tao eh naghahanap-buhay yan. Masasabi mo naman nang maayos. (That amounted to embarrassing a man who was only trying to make a living. What was said could have been said nicely.)"
---
Name: Aiota Capli
City/State/Country: San Bernardino,CA
IP Address: 173.55.209.57

Comments
The wedding entourage of M.S. is proof that she is full of it. In life and in politics people have to choose who we want to be with and who to align with depending on principles and beliefs. M.S. sides with no one but herself and like the editorial pointed out here, she could care less about anyone. All she cares about is for her to be the focus of attention. I wonder if she should have been an "artista" in the first place. To M.S., enough of drama and lecturing please. Get the impeachment proceeding going. You may be serving in the I.C.C. but in the PH you are simply not the best. Not the way you have made other people look stupid.
---
Name: cristino Espiritu (PJWM)
City/State/Country: AlAhsa, Saudi Arabia
IP Address: 78.93.229.5

Comments
I wonder how televiewers assess the behavioral antic of Senator Santiago. For the young kids, she is a bad example to watch and thanks to voters for denying her the presidency before. At the rate she is going, she is exposing herself to health deterioration and worse, she is being watched globally. ICC officials have now an advance idea about her behavior and they might thinking now on how to deal with her.
---
Name: 1 UP
City/State/Country: GOTHAM CITY
IP Address: 74.101.61.3

Comments
Sbejar: hobnobbing - good word. When Miriam was just an aspiring politician she used to suck it all up. Now on the road to Hague, she will soon be rubbing elbows with white jurists who are critical of non-whites. I hope she does not embarrass herself. There is no redemption there.
---
Name: Phil Reseacher
City/State/Country: LA County,CA USA
IP Address: 98.119.17.19

Comments
Re: Sen. Miriam Defensor- Santiago- Those whom the gods wish to destroy they first make them mad. It is good for the Filipinos that by March she would be resigning from her position as Senator and take oath as a judge of the ICC.. I seriously doubt that she will last for a year in the ICC. Someone will complain about her court behavior as a judge and she will be sent back to the PI.
---
Name: blumntrit
City/State/Country: lumaki ang ulo
IP Address: 174.44.5.202

Comments
During her vows, there's no doubt it was a gathering for the trapos (w/the exception of Pnoy & Mar Roxas) an event for each other to talk, a chance to mend their differences and add to that, it must be the summit of some of the worst greedy politicians. What's important for her to broker that circus is to show how well she's connected. What I don't get, nobody seems to have the guts among her colleagues to say straight to her face if she's out of line or for better words - a certified Wacko!
---
Name: 1 UP
City/State/Country: GOTHAM CITY
IP Address: 74.101.61.3

Comments
Cut "dragon lady" Miriam Santiago some slack. She will soon be joining ICC where if she is not careful she might embarrass herself. Locally, Miriam looks down on people as her junior and inferior. Her statements have always been condescending. We all have to consider that she's past the menopausal stage and hormones do play a lot in a person's behavior (ERRATIC BUT QUITE PREDICTABLE).
---
Name: JRH
City/State/Country: Montreal, Canada
IP Address: 70.80.150.56

Comments
Our feisty & abrasive Miriam 'quick draw' Santiago is a very good candidate for anger management & yoga. The health issue is she has a very high blood pressure that make her explode & be that quick-tempered when she sees something that's not right & proper. So, we don't exactly know how she'll do in the Hague & if her common Phil-style scolding, bullying, & threatening manner will pass the true test of an international lawyer. Her doctor should provide her with a lot of Valiums or a shot of her favorite drink to calm her down. Otherwise, baka lang magkalat duon sa International Court. She is the first to be nominated, so she better do good.
---
Name: mockingmya
City/State/Country: taft avenue, manila
IP Address: 67.182.75.243

Comments
Senator Santiago will never be an impartial & neutral Senator-Judge. You don't need to be a rocket scientist, a shrink, a political scientist, a behavioralist, & so forth to comprehend her deceptiveness, biases & political partisanship. I think she would turn the Senate trial into a snake pit to influence other Senators-Judges to acquit Justice Corona. But the wisdom of democracy to prosecute partial judges, corrupt politicians, tax evaders, plunderers & criminals can't be defeated.
---
Name: deo
City/State/Country: flour city
IP Address: 74.74.186.95

Comments
There are two ways to interpret the emotional outburst of Sen. Santiago during this trial of Corona; either she is indirectly trying to help the defense short of calling the prosecutors bungling keystone kops or she is disposed to convict Corona but she wants it coming from the prosecution but is disappointed/frustrated by their performance. It's anybody's guess.
---
Name: Manuel C. Diaz
City/State/Country: Montclair CA USA
IP Address: 76.174.219.92

Comments
Senator Mariam Santiago had an MRI after her blood pressure shot up during the impeachment hearing. The Doctors found nothing in her skull except hot air. The reason why her blood pressure went hi-wire because air expand when it is heated.
---
Name: 220 Lange
City/State/Country: NY
IP Address: 207.237.54.3

Comments
The amazing Santiago is back berating both prosecutors and defense team. She trashes them like crazy. By March she will be leaving senate to join an international court and audience. Let us see how her antics will work over there.
---
Name: mcokingmaya
City/State/Country: taft avenue, manila
IP Address: 67.182.75.243

Comments
I do believe that Senator Santiago's ruby wedding supported by powerful priests, jurists & politicians at Manila Cathedral is not a fairy tale. The Bible speaks of "Epimanes" (madman) & the venality of high priests to support dictators in Jerusalem: plundering the temple, slaughtering the population (see Dan 11:31; 12:11 cf. Mark 13:14; Job 13, & so on). Justice Corona knows the power of priests when he uses them for political interest to defend his impeachment trial. He is trying to play the role of "Epimares." Senator Santiago & Corona must read: Matt 5:22, Jas 1: 19-20, Matt 6: 19-20, Jas 2:10.
---
Name: blumntrit
City/State/Country: bigat nang dating
IP Address: 174.44.5.202

Comments
Sen Enrile finally noticed the pit-bull senator. We'll keep watch and see if she will moderate/continue her outburst attitude towards the other lawyers. She better take a leave if not I'm pretty sure this impeachment will kill her - first casualty of fatman's overwhelming problems.
---
Name: mockingmaya
City/State/Country: taft avenue, manila
IP Address: 67.182.75.243

Comments
According to Senator Santiago, the meaning of "the path of the law has not been logic; it has been experience" is "technicality" (see ANC Press Interview: Senator Santiago). Baloney! It has nothing to do with technicality. Justice Holmes declared that the "study of law could never be precisely defined. The law embodies the story of a nation's development through many centuries, & it can't be dealt with as if it contained only the axioms & collaries of a book of mathematics." Hindi ako nagtataka kung bakit may produktong 1UP na scholar daw ng Ateneo University mahina naman ang kokote. Bakit? Binalitungueg. Ipapahiya lang kayo ni Senator Santiago sa ICC. Ilongang "talakitok."
---
Name: Ferdot
City/State/Country: Fl.
IP Address: 98.82.108.36

Comments
They won t be calling her BRENDA for nothing.
---
Name: Matanovic Klundt
City/State/Country: Kamloops, BC
IP Address: 199.247.253.42

Comments
Thought her name is Brenda and not Miriam! Is this a typo error here?
---
Name: Pongpyang
City/State/Country: Makati
IP Address: 184.144.67.25

Comments
Between Defensor and this editorial writer-- the latter has a far questionable mental capacity! Miriam I salute-- it is hard to be an eagle when you are surrounded by turkeys! Turkeys meaning like the caliber of many Filipinos in this forum! EDWARD- you're the man!!!!
---
Name: GFJBHEDF
City/State/Country: Hercules
IP Address: 67.188.19.40

Comments
Castigation, by anti Santiago media (if any dare), fellow senators, the P'Noy manipulated majority congress, the executive branch, including P'Noy himself, better be substantive and sway weigh, or else he/she/they will get blasted, and sent cowering. She is nobody's fool, and won't take crap from anyone that make it to the news media. Fortunately, we are a forum, amongst tons, not a news media. Whatever negatives said here about her won't be responded to. You are safe MCD.
---
Name: GFJBHEDF
City/State/Country: Hercules
IP Address: 67.188.19.40

Comments
Dragon Lady? More than that. Senator Santiago is a no nonsense lady. Pit her against P'Noy, and P'Noy will look like a whipped puppy. Arrogant? That's BS. Proud Pinay? Yes. Remember that senator with PGMA entourage in New York City? While everyone in the entourage ate expensive dinner and drunk expensive wine at a posh French restaurant, this senator refused to joined them, and ate her dinner at an ordinary eatery? That's senator Santiago.
---
Name: Paquito
City/State/Country: Manila
IP Address: 70.79.59.43

Comments
She is the best, I love her when she speaks.
---
Name: florliza
City/State/Country: Colorado
IP Address: 75.70.138.120

Comments
Miriam Defensor Santiago may be tactless.... but she knows what she is talking about..... hindi naman niya ipapahiya ang Pilipinas..... she is a well educated woman.... Prosecutors need to be more prepared..... hawk na nila ang kaso.... dahil di sila so organized..... malamang mawala pa sa kanila....
---
Name: Paquito
City/State/Country: Manila
IP Address: 70.79.59.43

Comments
Mabuhay ka, Senator Merriam Santiago!!! You will not be accepted as judge in international court if you are like what the topic writer of Inquirer is suggesting. You are the best, I will vote for you again next election. For Chief Justice Corona, if you survive this avalanche of 100 witnesses, (present administration fishing for evidence) you will be good for Presidential candidate next election. Corona for President next election and I will personally campaign for you. Your motto will be, "the great fighter for constitution". "Hindi Paaapi."
---
Name: Manuel C. Diaz
City/State/Country: Montclair CA USA
IP Address: 76.174.219.92

Comments
Senator Mariam Defensor look at the history in Islas de ladrones. Marian can be made to shut her mouth by just appointing her husband as deputy Custom Commissioner or any lucrative position in the Islas de Ladrones Mafia of a government..
---
Name: Matinde
City/State/Country: Vancouver/Laguna
IP Address: 112.207.45.231

Comments
Sen. Santiago acts like a prima dona in Philippine politics. Hopefully, matulad din siya sa mga Filipino na naging behaved nang magtrabaho sa ibang bansa.
---
Name: aabel natividad
City/State/Country: Netherlands
IP Address: 95.36.47.70

Comments
Who's Afraid of Virginia Woolf? is a play by Edward Albee that opened on Broadway at the Billy Rose Theater on October 13, 1962. In Philippine sitting – Who is afraid of Miriam Defensor-Santiago? A long playing drama in Philippine political scene. And of course, who's afraid of a rags-to-riches Illonga who go to the extent of PROSTITUTING herself in three administrations – Estrada, Arroyo & now Aquino. She trumpeted time and time again her "intellectual prowess" so that Filipinos below her would worship her as the ancient goddess ATHENA (Godess of Wisdom). Miriam Defensor-Santiago IS a total embarrassment to all Filipinos and an affront to the entire human race.
---
Name: Phil Rresearcher
City/State/Country: LA County, CA USA
IP Address: 98.119.17.19

Comments
RE: Why is Senator Santiago upset with Arthur D. Lim..Well Arthur lim is a former president of the Integrated Bar of the Phil and a very successful practitioner. He represented among others big cases in the SC.. In one case he represented a company in the SC which led to the resignation of a Supreme Court Justice when he was caught using a draft of a Decision prepared by a counsel of one of the parties..Arthur Lim made his money defending or advocating for his clients whereas Santiago made her money as a Senator with her senate salary /pork barrel. I believe Sen. Santiago is envious of the success of Atty. Arthur Lim.
---
Name: Marie
City/State/Country: Batangas
IP Address: 213.47.170.136

Comments
Miriam will be joining the ICC as one of the judges? If that will be the kind of attitude in court, she'll be the center of 'destruction.' Katawa-tawa. Some might even ask Who's that schwein? kein schwein hier bitte! Because in other countries more people are educated esp. professionals. Kahit na pati anong baho na ng katabi sa upuan they would not even cover their noses as respect na rin. They don't have that attitude of embarrassing anybody.
---
Name: EASTERN RIZALKID
City/State/Country: Eastern Rizal, Phils
IP Address: 121.54.46.9

Comments
Sen. Santiago, better clean up your act now, before going to the Hague -- dahil kapag ganyan kayo, baka doon kayo ay IHAGIS!
---
Name: Marie
City/State/Country: Batangas
IP Address: 213.47.170.136

Comments
Miriam Santiago was really a disgrace during that time. But her bigmouth can be helpful in some cases like Ampatuan, Ligot, Garcia, Abalos and Arroyos. Go on Miriam benbangin mo ng disrespectful mouth mo yang mga bad spirit roaming around our country baka sa buka ng bibig mo matauhan sila. Pero, huag sa mga lawyers na nandyan sa senado kasi hindi naman sila kapares mong walang modo.
---
Name: kevinj
City/State/Country: san jose california
IP Address: 24.130.203.122

Comments
Whose afraid of Miriam, Dragon Lady or Dragon pest ..every time she opens her rapid-fire mouth, they all keep quiet. Her display of reasoning in the hearing is too overkill, not to me to believed.
---
Name: As I See It
City/State/Country: Cebu City/SD,CA
IP Address: 68.8.59.197

Comments
I agree, MIRIAM may have the most acidic tongue and exudes an aura of arrogance but she knows what she's talking when she opens her mouth. Even the most aggressive pit-bulls of the Palace are now trying to follow the rules of the court and not to misbehave like kids, or else they will see another TUPAS being dressed down like CHICKEN!
---
Name: jb adams
City/State/Country: MD/ batangas
IP Address: 138.162.0.44

Comments
Senator Santiago's bullish actions during the hearings are very unprofessional and unbecoming but, her points are dead on accurate and have substance. Let's look beyond the rhetoric, be fair and at least see her views to educate ourselves. Senator Enrile should take charge on the start of the trial and give guidelines on court ethics and decorum to all concerned.
---
Name: pngit mooks pngit ugali
City/State/Country: blumntrit
IP Address: 174.44.5.202

Comments
PNL editorial topic must have reached ICC and hopefully they include this on her profile. Miriam must be thinking by now to withdraw fr being an ICC judge, making her erratic bp as an excuse. The wacko senator may also decide perhaps to stay and maybe try to bargain her vote in the impeachment for a position in the SC w/c we hope not to happen. She should just retire and take care of her looks and attitude. Mukha na syang monkfish.
---
Name: tonyO
City/State/Country: Sen. Miriam Defensor
IP Address: 111.68.59.72

Comments
Sen. Miriam Defensor Santiago Is wise, she knows when not to fight but retreat. Ang laki ng takot niya ke Mommy Dionisia Pacquiao. Nanay ni Manny Pacquiao, when she criticized Manny. Isang salita lang ni Mommy Dionisia ng pagalit, tiklop agad si aleng Miriam, hehehe. Mommy said "MALASWA"!
---
Name: pinaskongmahal
City/State/Country: usa
IP Address: 70.129.42.163

Comments
Whatever you say of Sen Miriam, she deserves the respect and accolade of the Filipino people. She knows how slow, hardly move, ineffective our wheel of justice is like the Ampatuans. She knows one case in the supreme court that took 30 years to reach a verdict. She wants the Corona firing in a week time. Per MCD, KALI, deo, Edward, except tonyO, Corona stinks already like a rotten commodity enriching himself, his underemployed wife and siblings in the millions of pesos. Enough already. His honor deficit, he can't rebuild that trust again as 'thief justice of the supreme court'. PNoy fire him.
---
Name: Edward
City/State/Country: Angeles City
IP Address: 98.160.174.84

Comments
I want to caution all those who want to make fun out of this woman. She may read the inputs from this site and hunt each and everyone of you down. Me. I'm taking no chances at all. MS Senator, I think you doing me great job. HAHAHA.
---
Name: 7gtg
City/State/Country: regnsk
IP Address: 24.89.83.99

Comments
'Fear brings anger to a man's talk" (by kungfu). I think the posters anger towards Brenda is driven by their fear that their wishes for a 'lutong makaw guilty verdict' by the palpak prosecutors will be somewhat affected. Kasi sa tutoo lang palpak naman iyong prosecution. So if it takes a Brenda to keep them straight and make the guilty result unquestionable later on so be it. And if it takes a Brenda to get this process go faster (so that PNOY can do his job as a President), so be it. Kayong mga posters ang nangangailangan ng Anger management. Noon pang sinauna ganyan na iyan si Defensor. lol.
---
Name: Kalentong
City/State/Country: Mandaluyong
IP Address: 64.40.183.70

Comments
"Miriam's behavior in the Senate hearing is unacceptable and unpardonable. " He he he-- it is hard not to lose one's decorum when surrounded by inept people who are suppose to know better and prepared!! It is the like of Tupas et al who are unacceptable and unpardonable. If they lose this impeachment trial-- I blame Wangwang Aquino for being the more stupid for marshalling a collective of dimwits who goes to war unprepared and without any strategic and tactical plans other than Fishing and shooting in the dark for "evidence" with a shotgun!! BRAVO MIRIAM!!
---
Name: 7gtg
City/State/Country: regnsk
IP Address: 24.89.83.99

Comments
Juan palpalatok: "What an ugly b*tch. No need to elaborate.." I think this post of yours can get you in trouble. You can call a woman bad, evil, fat, thin, etc.. but to call them 'ugly'... meen that's a mortal sin. Lawyer pa naman iyon. lol.
---
Name: SannerCrayz
City/State/Country: PH
IP Address: 207.5.100.30

Comments
Opinion is very different from wisdom, arrogance is very different from persuasion, lunacy is very different from brilliancy, she might be the best statesman our country can provide in a millennia, though most men that belong to the same caliber think radically, like Einstein, Nash, Da Vinci etc, I would say Go for Noble Prize, but try to spell the world euphemism sometimes cause you might loss the opportunity of helping fellow men, I know that you are bound for even greater things.
---
Name: ank lwen
City/State/Country: canada
IP Address: 2.91.180.255

Comments
Philnews editorial writings against Miriam... it seems he/she is not a civilized Filipino. It seems that he/she got personal grudge with Miriam...idiot..may you vanished from the face of the earth.
---
Name: GFJBHEDF
City/State/Country: Hercules
IP Address: 67.188.19.40

Comments
You call it bullying? Far from it. Senator Santiago bullies no one. She dresses you up side down if you are out of line. She is a no nonsense lady, and as long as she is member of the sworn senate impeachment judges, she is not going to let this mischievous prosecution get away with their mischief. She'll call their BS every time they try to pull a fast one. So, call her names all you want, She is impervious to your diatribe. She won't knuckle down to dictator P'Noy, much less his minion forces.
---
Name: Ibarra
City/State/Country: Intramuros
IP Address: 137.82.188.162

Comments
With out her, I will not be watching the Senate Court hearing. It will be very boring and no fun to watch without her sarcastic remarks. She is the best Senator we had ever had. She is a fighter and other dummies are scarred of her because she shout when she is right. It hurt the feelings of others in this forum because she is against them in principle. She is in line with my belief and principles that is why I adore her and I am very excited when she speaks the truth. Check the "You tube" and she is always the front news of the hearing in Senate. She must be very important. Go on Miriam I am one of your great fan.
---
Name: Phil Researcher
City/State/Country: LA County, CA
IP Address: 98.119.17.19

Comments
RE: Your Editorial about Defensor- Santiago.."You can start by practicing humility"...I f you ask me, that word humility is not part of her vocabulary. She is a Senator Judge she was upset at Atty Arthur Lim because when Santiago asked what part of law did he practice in 42 years? Atty Lim said: "everything".. Santiago always has the last word.. "that answer is impertinent".. The bad thing is in the eyes of the audience she appeared to be overbearing and disrespectful to a fellow lawyer.
---
Name: Mar Velasquez
City/State/Country: Canada
IP Address: 12.207.74.3

Comments
I'm watching every night from Canada through TFC the on-going Corona impeachment trial. It was all OK for a while, although there were few hickups here and there, until Miriam showed up. Saksakan ng YABANG ang babaeng yan. Grabe! Akala mo kung sinong magaling. Mukha naman buhay na bangkay. Sa totoo lang hindi ako impress sa talino niyang sinasabi nila. Para sa akin parang may TILILING sa ulo. Higpitan kaya ng screw driver. Dapat nasa Vulcanizing Shop business siya dahil sobra ang hangin sa katawan.
---
Name: Vanessa Lee
City/State/Country: Kuwait
IP Address: 94.129.175.117

Comments
Self conceited lady Sen M. Santiago is frantic to show that she is above all. Very proud to think she has that gifted intellect that nobody could surpass her. For every question asked she already allotted her hostile remarks notwithstanding this embarrassed many people, lawyers and she doesn't care. Anyway, everyday is a new day, who knows maybe in Hague she will experience to be shouted and if that time comes she will realize her deficiency.
---
Name: Keen Observer
City/State/Country: Concord, California
IP Address: 99.35.134.235

Comments
I've watched Senator Santiago many times on TV and I must admit that her selection to the ICC is not something to be proud of. Why? She'll make a fool of herself, she'll make a scene, she'll ramble and rant and she'll be totally hard to understand with the thick Ilongo accent. When she talks, it seems that she is the center of the universe. Aren't we glad that she didn't become our president. This is not a condescending remark about her but it's the truth. After watching her many, many times, it's agonizingly painful!!! An honor? I don't think so. An embarrassment, I think so.
---
Name: KALI
City/State/Country: HAWAII
IP Address: 66.91.35.33

Comments
PNL; I wish all Senator-Judge are Dragon Lady and Dragon men, then, we can say that this thrilla in Manila could have been over in a hurry. For me, efficiency in prosecuting the process of impeachment is the bottom line. Get it over ASAP. No time to play games or be educated as some quarters profess. Name calling is a kid's game. My teacher in Elementary used to "guripat 'yong tainga" (pinch ears) if students come to class not doing their homework. She would say "you must be playing "sungka" all day why you didn't do your homework. Fortunately for these prosecutors they got only verbal scolding. Senator Defensor is intelligent, smart person. She knows when to fire her cannon. You will see the best of Senator Miriam Defensor when she is with ICC. MABUHAY PHILIPPINES!
---
Name: 1 UP
City/State/Country: GOTHAM CITY
IP Address: 74.101.61.3

Comments
As I see It sees it this way "I agree, MIRIAM may have the most acidic tongue and exudes an aura of arrogance but she knows what she's talking when she opens her mouth. " Really? Substance is not the issue but the tone and rhetoric that turns people off. Gingrich promises a colony in the moon if he gets elected as US president. It is worth sending Miriam there.
---
Name: 1 UP
City/State/Country: GOTHAM CITY
IP Address: 74.101.61.3

Comments
People are shocked to see Miriam acting less like a lady and more like a rascal or bully typically seen in men. If PNoy has more estrogen, Miriam has less of that but more of testosterone. That leaves Miriam loving to toast people. She will mellow down once she gets to Hague where Miriam's usual antics are seen as unacceptable and frown upon. Give Miriam a year and she will change and her thick English accent will be reduced. From a dragon lady she will morph to a beautiful butterfly.
---
Name: Diego Talahib
City/State/Country: Malaysia
IP Address: 205.206.226.194

Comments
It is indeed showing how intelligent Senator Miriam Santiago. She should have been the President of the Philippines had she prepared her political machinery very well when she ran for that office before. In the impeachment court, Miriam berated the chief prosecutor Niel Tupas not once but twice. Her act showed her bipartisan color. 1st- she declared before that she is supportive of Corona. 2nd - Her family is a political enemy of the Tupas in Iloilo. Indeed she is brilliant. She berrated Tupas to support Corona and damage the political standing of the Tupas in Iloilo. And was it not that the court is to hear testimonies and not for the purpose of scolding anyone. Why does she need to do grandstanding? Politics my friends.. Politics..Trapo pa rin!
---
Name: 1 UP
City/State/Country: GOTHAM CITY
IP Address: 74.101.61.3

Comments
Matinde thinks that Miriam Santiago is a prima donna in Philippine politics. I agree with that observation. By definition a prima donna is a temperamental and conceited person. Those adjectives apply to the senator. As women advance in age hormonal changes affect both public and private behavior. It should not a shocker to all of you guys.
---
Name: Nelson T Santos
City/State/Country: Union City Ca.USA
IP Address: 24.5.120.182

Comments
I hope ICC people that voted this woman to be part of the international court are not watching, Ngayun pa lang nahihiya na ako. Hambog masyado si Santiago. Pwe !!
---
Name: cpo
City/State/Country: Philippines
IP Address: 110.54.245.109

Comments
A senator should NOT behave like that ... so rude and condescending as if she knows it all and everybody is a fool. Whatever happened to the professional conduct that is expected of a senator...??? She must not forget the public owes her and not the other way around.
---
Name: rodge
City/State/Country: cebu
IP Address: 75.63.183.189

Comments
I don't see it as arrogant, she has the reason to get hype at para naman matuto itong mga kunyaring prosecutors sa impeachment na magaling lang sa press-con e wala namang sinasabi sa actual trial na?..I do expect na magaling at solid ang mga prosecutors but what happened really upsets me!!! ...I wanna be an independent after I saw what's going on in the trial.
---
Name: GFJBHEDF
City/State/Country: Hercules
IP Address: 67.188.19.40

Comments
Elected to a 9 Yr tenure as judge of the International Criminal Court, (ICC), Dec 12, 2011, overwhelmingly, by 79 States (countries), in New York, "an indication of strong support by these State parties." Senator Santiago will assume her post, as one of the 6 ICC judges starting March 2012. She is the first Filipino and first Asian to win a sit in the ICC. > LINK
---
Name: Demosthenes Apetrior
City/State/Country: Balamb
IP Address: 121.54.92.34

Comments
I'm sorry...would you rather pamper the ones on trial with a mani-pedi? In case you guys have not noticed, what you're watching isn't your afternoon teledrama of some sort. This is an IMPEACHMENT trial, in case you people are forgetting... Haven't you heard of "psyching" people out? It's a strategy. Her delivery may be brash, true... but it separates those who are telling the truth, to those who are just plain wankers. It's a hella lot better than those who actually "prolong" this entire tango. Her intellect and authority should also not be questioned, for the simplest reason that she is capable of doing how the actual procedures run. She's done this a hundred or so times before, why question her for being a crazy woman? Senator Defensor-Santiago is a rock star. Period.
---
Name: James
City/State/Country: Pilipinas
IP Address: 112.198.82.230

Comments
There is too much discrimination in this Forum the PNL Editorial allows some Fil-Am Posters to Call any names they want to any Filipinos and Country - The Philippines. But they got no balls at all to criticize Uncle Sam and his trillion dollars DEBT; They don't like to see a Filipino being a member of ICC. In this forum, an ex-Pinoy totally DISCRIMINATE his/her own former kababayan & bansa. Is that what you learned from Uncle Sam? Baon na ang USA sa utang at wala na kayong ipagyayabang, uuwi rin kayo sa Pinas! As they say: Its more Fun, in Pinas!
---
Name: James
City/State/Country: Pinas
IP Address: 112.198.82.230

Comments
The Editorial says: "Santiago had best keep her head down and her ego in check at the ICC. And she can start by practicing some humility at the Corona impeachment trial." - You should tell that also to some Posters who don't understand what humility is all about. Walk The Talk, so to speak. Binastos na rin nila yong "No Name Calling" but you still allow them to do so because you don't like, and hate Sen. Miriam!
---
---
Name: Manuel C. Diaz
City/State/Country: Montclair CA USA
IP Address: 76.174.219.92

Comments
To 1UP as the saying goes you cannot teach an old witch new flying tricks. Senator Miriam Defensor is no Dragon Lady she is more of a "Toko" Lizard too noisy and changes her color to blend with any new environment. Senator Miriam Defensor blended with the ERAP color, then she Blended with the GMA color and got her husband appointed deputy customs commissioner, now she is trying to blend in with the yellow jacketed "hornets".
---
Name: Dwarding
City/State/Country: Az
IP Address: 70.162.239.254

Comments
Re: ICC - Sen. M. Santiago - First Filipino there, Yes. First Asian, No! Current president of the 18 member court is a So. Korean. A Japanese judge also serves. First from an Asian "developing country", Yes! Sen Santiago will serve for 9 yrs. (2012 - 2021), unless removed for a variety of reasons. Removal of a judge requires a vote of 2/3 majority of the 18 member judges, and 2/3 of the member states. The ICC is organized into three divisions: the Pre-Trial court, the Trial court and the Appeals Court. Sen Santiago could be the Phil.'s biggest PLUS in this area, or she could also be our biggest embarrassment. Let us hope not!
---
Name: hms
City/State/Country: new york, ny
IP Address: 67.241.96.149

Comments
Miriam Santiago is so ugly she can charge people admission just for looking at her. On top of her ugliness is an ego only a demented person can possess. Poor Filipinos. stuck with a repulsive person like this. Looking and listening to her and her antics is like penitencia. How can someone so revolting be honored and gifted by the Filipino people to such a high office. Filipinos should start a campaign to treat her in kind. Insult and humiliate her too. Why should the Filipino people, and for the matter, anybody take any insults from some repulsively ugly woman like Brenda. Who the hell is she anyway?
---
Name: lee buyagan
City/State/Country: ksa
IP Address: 94.98.225.138

Comments
Ang problema sa atin kasi kagaya kay Miriam na may kaunting kaalaman ay ipinagyayabang samantala sa ibang bansa ang kaalaman na kagaya na mayroon kay Meriam ay isang ordinaryo lamang. Kung talagang magaling sana siya, dapat may nangyari na sa Pilipinas kaso hanggang ngayon ang institusyun na kanyang pinagtratrabahuan ng maraming taon na ay wala man lang asenso at nandiyan nga tayo ngayon na puro sila corrupt, in short never na umasenso ang justice system natin.
---
Name: 1 UP
City/State/Country: GOTHAM CITY
IP Address: 74.101.61.3

Comments
Senator Miriam Santiago is being described as the dragon lady. I thought another modifier should have been added so that the following reads : "fire-breathng dragon lady" Even if this year is the year of the dragon, according to the Chinese lunar calendar, I would prefer to paint Miriam as a raging bull. Look at the picture in the editorial and you see one angry lady. She is there ready to gorge anyone blocking her way.
---
Name: Ding
City/State/Country: Illinois,USA
IP Address: 98.253.126.66

Comments
As I watch Miriam Defensor-Santiago showing her acts in the Impeachment Trial of Corona. I can easily distinguished that Miriam's illness is not only "hypertension" as what was reported. Evidently she has also got ADD "Attention Deficit Disorder" She needs a professional Psychiatrist to clinically help her balance the "serotonin hormones" in the brain. Her erratic behavior shows that she is handicapped by the pressures of the job she is doing. She needs urgent treatment before she reports to her new post at ICC in the Hague, Netherlands.
---
Name: mockingmaya
City/State/Country: taft avenue, manila
IP Address: 67.182.75.243

Comments
The history of legal ethics or ("The Fall & Rise of Legal Ethics") will educate the Filipino people that legal knowledge of Senator Miriam Defensor-Santiago is not enough to be a member of the ICC. Why? One rational answer: "an unprofessional lawyer like Senator M. Santiago would have difficulty to arrive at accurate & intelligible rules of action." Remember that "Vice-President Agnew (US) & Pres. Nixon (US), both of whom resigned in disgrace, were lawyers." Filipinos must support the strong presidency of President Aquino to clean up the government: reform the judicial system, NBI, BIR, Immigration, Customs & other governmental agencies for the common good.
---
Name: GFJBHEDF
City/State/Country: Hercules
IP Address: 67.188.19.40

Comments
Senator impeachment judge Santiago said she will defer her oath taking at the International Criminal Court, (ICC), in order to see the impeachment trial to its conclusion. For those hoping she would soon depart, so that they can get back to doing mischief in the impeachment trial, this is disheartening news indeed. Dragon lady she is not. Senator Santiago is the "Impeachment Whip."
---
Name: As I See It
City/State/Country: Cebu City/SD,CA
IP Address: 68.8.59.197

Comments
IUP: Methinks substance is more important than trivialities! As long as Sen. Santiago does not stifle or encroach on the rights of Tupas or who-ever he or she may be, it is OK for me. It is also okay as long as she is not abusing or misusing her right and privilege as a senator-judge in this impeachment proceeding. She or Enrile being judge has every right to call the attention of Tupas to closely abide by the rules of the court. If Tupas is still hardheaded after the 2nd time of call, then the latter had better prepare himself to be dressed upsidedown like chicken!
---
Name: A. Poli
City/State/Country: Anywhere
IP Address: 199.119.129.106

Comments
Why be upset of Miriam's demeanor? Is it because she is doing a good job of making the public know the real truth? That the process is a big FISHING expedition? :D
---
Name: LPiF
City/State/Country: LosAngeles/Mla
IP Address: 121.1.11.38

Comments
ATTITUDE is what makes a person; Defensor happens to have a very unique one. Culturally, Filipinos differ from the rest of the world. An Ilongo differs from an Ilocano and the list goes on. If you ask me who should I respect, EDWARD or DEFENSOR? Hands down, she gets my vote!
---
Name: WDC
City/State/Country: CA
IP Address: 66.122.12.172

Comments
Philippines needs somebody like Miriam Defensor Santiago to stir the pots. I can't blame her to be disgusted by showing her emotions to her other supposedly bright lawyers who can't even answer a simple questions? I am siding Sen. Santiago this time, we need more like her in the Philippines to show that lawyers in the Philippines are bunch of morons.
---
---
Name: Mike
City/State/Country: Japan
IP Address: 124.26.145.86

Comments
I don't care about Miriam Santiago either. I think the has no class and is not really as smart as she wants everyone to believe. I've heard her argue in the Senate and her remarks, after you remove the bluster and high drama, are really mediocre at best. I think it is time we moved on to another topic instead of giving this undeserving individual all this media attention.
---
Name: RAM
City/State/Country: PERRIS CA
IP Address: 66.121.238.130

Comments
Sa sobrang talino ni Madaam Miriam kung minsan ay hindi na alm ang ginagawa at sinasabi niya. Masyado kang KSP. Ang dapat sa iyo magpagamot ka muna dahil masyado ng malala ang iyong tililing sa ulo
---
Name: John
City/State/Country: California, USA
IP Address: 98.176.144.172

Comments
Looking at her picture here, she looks so ugly physically and you can sense her satanic rage of anger inside here, looks like a demon. This woman is the most arrogant person that we have seen in Philippine politics.
---
Name: 1 UP
City/State/Country: GOTHAM CITY
IP Address: 74.101.61.3

Comments
The locals are not that critical like immigrant Pinoys when it comes to women's behavior like those of Miriam. We are less forgiving and we don't allow crap or BS. Women and men are treated alike. So Miriam gets away with her antics because the locals don't censure her nor even say a word. We do. If we had our way, we would slap her but local Pinoys would not even pinch her (or make kurot). LOL
---
Name: Pete T
City/State/Country: Glory Town.
IP Address: 69.223.104.58

Comments
OK sa akin si Brenda. Pag punta nya sa Europe, doon siya maghamon ng suntukan. Maraming babae doon na hindi siya aatrasan. Baka maging sikat pa siya as the fighting judge from the Philippines. Malay niyo baka mailagay pa siya sa Guinness Book of World Records...di forever na ang kasikatan niya! Hahaha.
---
Name: James
City/State/Country: Manila, Phil.
IP Address: 122.52.159.218

Comments
Sir, With due respect, its not good to emphasize that "Ilongo accent" because, worldwide, hindi naman perfect ang English ng mga highly educated, rich people living in Europe, middle east, Africa and Latin America; they have their own accent and UN as well as, US Gov't officials, never criticize nor, insult or downgrade them. "Do unto others, what you want done unto you"
---
Name: 1 UP
City/State/Country: GOTHAM CITY
IP Address: 74.101.61.3

Comments
For all the negatives we heard about Miriam, she is a legend. She has quite a following especially among the younger crowd. "Her wicked and witty criticisms" are her trade mark in the senate. Her academic achievements are to be admired. Mockingmaya hates that. MCD calls her a WITCH; I call her a BITCH. Behind that image, however, is the soul of a feisty lady who lives on a solid code of conduct. What the Corona impeachment process lacks is the interpellative skills of the players on both sides of the aisle. Miriam is showing them the way.
---
Name: James
City/State/Country: Mla, Phil.
IP Address: 112.198.82.102

Comments
Sen Miriam Santiago is really hated by hundreds but, was voted by millions. And the truth about it is even her fellow "ilongo" in this forum really hated her, because she is more popular and accomplished more than the number 1 hater of the Philippines in this forum. All their accusations against Miriam are nothing but HEARSAY, no evidences to support their accusations. Its all quack, quack, quack...come on show your medical evidences that she is out of her mind...or Biblical references that she is a demon...
---
Name: WDC
City/State/Country: California
IP Address: 67.114.115.158

Comments
You can call Sen. Miriam Defensor Santiago any names but she is better than the majority of the Philippine senators who are inept and brainless. I would call her "Bonifacia" who is not afraid to tell like it is.
---
Name: 220 Lange
City/State/Country: NY
IP Address: 207.237.54.3

Comments
You don't judge a person by their looks. Not all angelic looking lady comes from heaven; hell makes them too. You have to judge Miriam on the substance of her comments. This. Ilonga minces no words. Her tone is terrible her language is caustic, and her behavior is condescending. Miriam to me is a fighter and not a lover
---
Name: Manuel C. Diaz
City/State/Country: Montclair CA USA
IP Address: 76.174.219.92

Comments
To 1UP in the Philippines aka Islas de ladrones the witches do not use broomstick to fly. They can fly without the aid of anything the only problem they cannot make up their minds so they fly only half of their body MANANANGAL. The witch has to go back to be whole again is that not typical of the diaspora we always want to go back or is this another manifestation that we Filipinos cannot make up our minds..BTW Miriam Defensor is from Iloilo next door neighbor is Capiz the land of the witches who knows maybe Miriam came from Capiz.
---
Name: aries
City/State/Country: cebu, city
IP Address: 222.127.234.184

Comments
Inggit lang kayo ni madam Miriam, tama yong ginawa nya, bobo kasi yong prosekosyon kaya pinagalitan , puro palpak at ayaw pang umamin sa 45 property na talagang sila ang kumalat sa publiko
---
Name: Manuel C. Diaz
City/State/Country: Montclair CA USA
IP Address: 76.174.219.92

Comments
Let us review our history of Senator Miriam Defensor Santiago; Miriam was a Corp Sponsor of UP ROTC, became an Editor in Chief of the UP Collegian, Graduated with Honors from UP College of Law and was always in a red Mustang convertible driven by her boyfriend now her husband Santiago (btw it was the only red Mustang convertible that plied the UP campus streets at that time). Miriam became a Judge no question about her intellectual prowess. Ran for President and lost to dadgdag buwas operator President General Tabaco Ramos, that was the start of Miriam Defensor Santiago's weird behavior.
---
Name: 7gtg
City/State/Country: regnsk
IP Address: 24.89.83.99

Comments
Lpif: "Defensor's demeanor may not fare well with ICC at this time, but she should know better. She is not admitted to be a member unless she qualified and earned it!.." I agree 100%. I was in the home country during the Ramos election and Miriam's 'mayabang' approach I believe turned off lots of voters away from her. The Pinoys are brought up not to be assertive. Which explains kung bakit karamihan dito hates her guts. The 'hatred' is justified 'IF she is a nobody' But fact is, May ibubuga iyong tao at magaling naman hindi biro. Kaya kayong mga haters, lamunin na lang ninyo ang inyong pride. She is going to the ICC and you are immigrants in a foreign country.
---
Name: mockingmaya
City/State/Country: taft avenue, manila
IP Address: 67.182.75.243

Comments
Some Ilongos & Ilongas can't accept the fact that Senator Ilonga-Miriam Defensor-Santiago's high-and-mighty talakitok mentality is despotic. There are many Western brilliant lawyers, including President Lincoln (US), who didn't have formal legal education. They prepared for the bar largely by self-directed reading of books or works of brilliant legal scholars. Civilized & decent voters believe that good moral character is one of the attributes of a good judge. Legal ethics or professional ethics is not a new phenomenon. In fact, it's embedded in the Constitutions of other countries, for example, from 1851 to 1933 the State of Indiana's Constitution provided that "Every person of good moral character, being a voter, shall be entitled to admission to practice law in all courts of justice."
---
Name: Marie
City/State/Country: Batangas
IP Address: 213.47.170.136

Comments
I am not convinced that Miriam is really very intelligent because she doesn't know the importance of GMRC. It's hard to deal with a kind of person like Miriam's behavior.
---
Name: kali
City/State/Country: Hawaii
IP Address: 66.91.35.33

Comments
Ver laucsap: "The crazy lady should have no place in any government position especially in the Senate. She is setting a very bad example". CORRECTION; she sets an example of how a case/s should be prosecuted in a proficient manner. As she opine, if the prosecutors were prepared in presenting their impeachment argument, the case would have been over in a week. To me that is the bottom line. The court is arena for the battle of titans, no holds barred and greenhorns will fail. Other scenario in the Senate, Senator Miriam Defensor was sweet as a pussycat.
---
Name: mockingmaya
City/State/Country: taft avenue, manila
IP Address: 67.182.75.243

Comments
I do agree with Senator Lacson when he says that "Senator Miriam Sangtiago is out of order." I do believe that Senator Santiago is an obstructionist Senator-Judge, who adheres to unconstitutional defiance of congressional subpoena of an impeached Justice Corona's bank accounts. It appears that the Filipino people will face a Herculean task of re-establishing trust in the judiciary branch of government. The arrogance of Justice Corona, Senator Santiago, Justice Cuevas & the members of the defense team is one of the signs of "the dept of evil to which individuals may sink when they try to play the role of God in history."
---
Name: mockingmaya
City/State/Country: taft avenue, manila
IP Address: 67.182.75.243

Comments
Re Enter The Dragon Lady: Mirriam Defensor-Santiago. How a judge can endure criticism? It is intellectually rejuvenating to listen to Honorable Richard S. Arnold (US) (see The Art Of Judging) when he says that one of the good qualities of a good judge is "polite or politeness." A judge like Senator-Judge Mirriam Defensor-Santiago must be polite to other lawyers & judges. Why? According to Honorable Richard S. Arnold, lawyers in the Senate trial are considered her sisters & brothers. Another good quality of a judge, according to Honorable Arnold, is that judges or lawyers should respect bringing out the opinions of others. Senator Santiago must also "respect the organs of government." Senator Santiago must remember the word "polite" when she returns to ICC.
---