upreme Court Administrator Jose Midas Marquez may have made a fatal career mistake when he threw all his eggs into the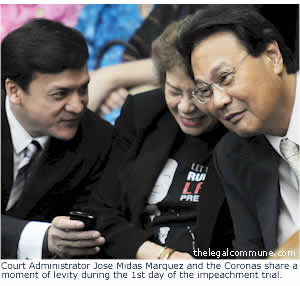 Corona basket. Blind loyalty to one's superior in certain instances can be admirable, but unfortunately in most cases, it is unprofessional and counterproductive.
Marquez however was only displaying a trait that he shares with most Filipinos. In the novo feudal culture that is Philippine society today; Filipinos remain unquestioningly loyal to their superiors. They stick with them through thick and thin pretending not to notice their shortcomings or misdeeds. Some even become willing participants in their boss's questionable activities. Pinoys are loyal to a fault and this is probably one of the reasons why the country is in the sorry shape it's in.
This explains why corrupt and incompetent local officials from Barangay Tanods to Mayors and Governors are continually reelected. This also explains why political dynasties continue to thrive in the Philippines today.
Had Marquez taken a purely professional perspective, he would have realized from the onset that his job required his fidelity to the court itself and not to Chief Justice Renato Corona. Chief Justices can come and go (or be impeached and replaced) but that is "above his pay grade" and should be of no concern to him. His job as spokesperson and administrator is to see to it that the courts continue to operate smoothly regardless of what is happening at the very top. Had he done that, it would have been seen by one and all as the actions of a true professional.
The situation that now confronts Marquez and the Supreme Court is analogous to one that routinely confront officers of a naval vessel. Should the" top brass" high up the chain of command decide to replace a ship's captain or Commanding Officer, it is the job of the Executive Officer and all the Department Heads underneath him to keep the ship at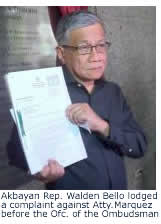 its required readiness level so that the transition from one captain or CO to the next would be smooth and uneventful.
Marquez should have done the same but instead chose to turn his job into that of errand boy/cheerleader to the Chief Justice, rallying other court employees who like him manifest that trademark Pinoy fuzziness as to whom or what to owe allegiance to—the boss or the institution.
For a smart individual like Marquez to get it so wrong, sadly highlights the appalling level of civics education in the country. Schools, both public and private have failed to train generations of Filipinos how to be good, responsible citizens.
Marquez will soon find himself in a no-win situation. Having firmly tied his fate to that of the Chief Justice; should Corona lose his impeachment trial, an Aquino-appointed replacement will likely not want Marquez around. And even if Corona keeps his job, Marquez has shown one and all that he is unfit for the job because he lacks that level of professionalism that allows him to understand that his loyalty is to the institution of the high court itself, and not to the person who happens to sit as its Chief Justice for the time being. Published 2/4/2012

Saved Comments
Name: pepe
City/State/Country: bolingbrook, IL
IP Address: 203.87.139.40

Comments
The editorial comment hit the jackpot, regarding Filipino culture! Atenista, Upsilonian, lawyers, mga priests, bishops, nag-aral at hindi nag-aral, Ph D's , pare-pareho. Ipagtanggol ang individual na corrupt na magnanakaw because of his/her rights. Kalimutan na ang magnitude ng ninakaw, election o millions dollars or pesos. Akala natin may pag-asa na tayo sa tuwid na daan ni Pinoy, wala yata! Maraming kumokontra at humahanga sa mga Marcoses, Arroyos, Estradas. Marami kang asawa mananalo ka sa election dahil sikat sa mga taong bayan. Walang pakialam ang mga taga Lubao kung magnanakaw si GMA, basta maganda ang Lubao. Ganyan mentalidad ng Pinoy.
---
Name: Bert Dellosa
City/State/Country: melbourne australia
IP Address: 211.28.42.30

Comments
This is article is soo true...allegiance should be to the country (and to some extent to God)..ask the Japanese, Singaporeans and Koreans...
---
Name: Phil Researcher
City/State/Country: LA County, CA USA
IP Address: 98.119.17.19

Comments
RE Court Administrator Midas Marquez... Not only is Marquez Court Admin, he likewise is the spokesman of the court. He messed up in his additional duty of signing releases for the World bank loan as the WB questioned the use of the loan money for travel expenses of Justices attending seminars, when the WB loan was specifically for improvement of judicial facilities..Thus the WB in that Report asked the SC to return the $199,000 released by Marquez but he just followed the directions of his boss the CJ. If Corona goes I guess he has to look for another job.
---
Name: Ferdie
City/State/Country: Fl.
IP Address: 98.82.110.113

Comments
There is word for this, CANINE DEVOTION of Marques To Mr. Crown.
---
Name: kali
City/State/Country: Hawaii
IP Address: 66.91.35.33

Comments
PNL; you are not playing the game on even terms. As I see, I think Marquez is performing his job per his job description. If he is not doing his job satisfactorily, the Supreme Court could be in chaos already. In a naval vessel, all eyes and ears are directed to the Captain. Until properly relieved, his wishes are his command. Sorry if I compare, but political Adviser Llamas is more of extra baggage for PNoy than alleged wrongdoing of Marquez.
---
Name: James
City/State/Country: Mla, Phil.
IP Address: 112.198.82.54

Comments
The Editorial says: "Schools, both public and private have failed to train generations of Filipinos how to be good, responsible citizens." - There are a lot of American Executives who run companies that went BUNKRUPT!, Ex Pres Arroyo got her Doctorate Degree in USA, & yet she is perceived to be corrupt! It's all about the real Character of a Person on what he/she do when no one else is present. Nearly all educated persons knows the saying: "Honesty is the best Policy" and yet they don't put it on practice. Even here in this Forum, those who claimed to be knowledgeable, they continually violate simple rules! Don't blame the School, blame the WRONG choice of a person if he commits crimes!
---
Name: Mikaela
City/State/Country: San Francisco, CA
IP Address: 204.68.210.39

Comments
After Sen. Santiago now it's Midas on the hot seat! Expect attacks left and right. I feel so sorry for him already. PNL I think you should spare him. I think he's doing a great job as a spokeperson for the court and not solely for Corona. And what's wrong speaking on behalf of Corona? What did he do wrong? Obviously you guys are certified pro-Admin. and anybody who is associated with GMA/Corona, et al . will be condemned/crucified to the max. Enough provoking already. This forum is a haven for public opinions against Corona. Obviously, no way Corona is getting a fair trial - Already, he is guilty as charged.
---
Name: Vince
City/State/Country: California, USA
IP Address: 98.210.202.59

Comments
One quick question: who appointed Midas Marquez to his position(s)? If it was Corona who did so, then it stands to reason that Marquez will try his hardest to protect the hand that feeds him.
---
Name: aabel natividad
City/State/Country: European Union
IP Address: 95.36.47.70

Comments
The Philippines is a primitive country with trappings of modern civilizations. Historically an ill-prepared nation, this fragmented tribal society (Visayan, Ilocano, Pampangeno, Tagalog) was hastily formed by early politicians (Revolucionarios) to become independent from its colonial masters (Spain & America) that gave the latter a highly organised political system. The modern-day Filipinos had prostituted that system and now the younger generation reaps its lethal consequences. The mentality of the so-called "educated" is still primitive with respect to law and order, fairness/ honesty and good governance and universal human rights.
---
Name: mockingmaya
City/State/Country: taft avenue, manila
IP Address: 67.182.75.243

Comments
I do agree with PNL editor's penetrating analysis about the impact of corruption on quality of education, both private & public. But remember that the less-fortunate public school students are mostly affected by the irrational leadership of products of private schools. Some public servants could easily wear the mask of corruption because of voters' fanaticism or blind loyalty. Filipino voters must use their votes wisely to unmask judicial & political despotism: "Don't despair. You need not worry so much about the future of civilization, for mankind has not yet risen so far, that he has so very far to fall"---S. Freud, 1920.
---
Name: JOHN KOLOSKY
City/State/Country: TAYTAY PALAWAN
IP Address: 122.52.40.147

Comments
Never have truer words been printed!
---
Name: Taylor
City/State/Country: smalltown
IP Address: 69.223.104.58

Comments
Is it possible na si Marquez ay too deeply involved para maging neutral on this issue? Baka naman kasabwat sya sa mga kalokohan ng amo niya? O di kaya, may alam si Corona tungkol kay Marquez at ibubulgar nya ito sa press kapag nagkamali ng kilos si Marquez. So no choice is Midas kung di mag sunod-sunuran lang sa amo nyang si CJ. Posible yun di ba?
---
Name: Mike
City/State/Country: Japan
IP Address: 124.26.145.86

Comments
Looks like this editorial is spot on. But even some commenters here are unable to comprehend what it is really saying. They see nothing wrong with loyalty to a boss. Well, that is true for most instances but one's loyalty to his or her superior must end where loyalty to the institution he/she works for begins. So loyalty to the high court should trump Marquez's loyalty to his boss Corona. Marquez doesn't get it and neither do some commenters here either!
---
Name: HMS
City/State/Country: New York, NY
IP Address: 67.241.96.149

Comments
Reply to AABEL NATIVIDAD: Just wanna praise you for your comment. You nailed it. What you said is an exact diagnosis of the country's ills. I just wish there are more participants like you on this PNL Forum. More power to you!
---
Name: 1 UP
City/State/Country: GOTHAM CITY
IP Address: 74.101.61.3

Comments
We always expect our friends and members of our family to be always loyal to us. The same feeling exists in the workplace. We do not ourselves to be surrounded by disloyal friends or co-workers. Midas is no different from the rest of us. We have heard of the Marine Corps slogan "Semper Fidelis" (Latin word) which simply means always faithful. Semper Fidelis has served as a slogan for many families and entities, in many countries, dating as far back as the 16th century. Why should we deride Midas and speak ill of the virtue of loyalty? Others call it "canine devotion" to ridicule Midas Marquez. Perhaps these people prefer to keep snakes for pets more than dogs.
---
Name: kali
City/State/Country: Hawaii
IP Address: 66.91.35.33

Comments
PNL: Come on; stop pre-judging Marquez without you knowing if his performance conforms to his job description. I suggest that you put out his job description in detail so that people may know the scope, and from there people would have the bases for argument. Just look at Phreng Phil Researcher, he is already over his head condemning Marquez without an inkling if he is right about his comments.
---
Name: Aiota Capli
City/State/Country: Inland Empire
IP Address: 165.235.174.75

Comments
For Mr. Marquez to alter his role and duty to the SC and country he serves and acts instead as a personal aide to CJ Corona is way wrong. For this mistake, Marquez, like CJ Corona, has forever lost his credibility as a public servant. With the reported millions the Coronas have, they can still continue to live in prosperity even after the trial. Marquez though, young as he looks, may not be on the same boat regardless of his possible personal rewards for his actions. Would he run for an elective position someday and lose? Lest we forget! And forgive?
---
Name: blumntrit
City/State/Country: Papi marquesa
IP Address: 174.44.5.202

Comments
Midas, the thief justice and wife in cahoots. They got all the ill-gotten wealth to last some lifetimes. The things for them to worry is being safe wherever they are. Must be hard to live life looking behind your back all the time. Midas like an obedient loyal puppy chulo will be in charge afterwards of securing the safety of the coronas.
---
Name: mockingmaya
City/State/Country: taft avenue,
IP Address: 67.182.75.243

Comments
SC spokesman Marquez should ask himself: What does loyalty to Chief Justice Corona mean? Is it morally permissible to rally SC employees & other judicial officers to his political convictions? Identifying relevant obligations to Chief Justice Corona doesn't constitute conflict of interest. I think some fanatic followers of an impeached Justice Corona, arrogant Senator Santiago, Justice Cuevas & some fanatic voters "will soon be enslaved by squirrels & put to work in their nut mines." Accountability is an antidote to modern slavery, political & judicial errors.
---
Name: LEE BUYAGAN
City/State/Country: K.S.A
IP Address: 94.99.180.196

Comments
Mr. Midas Marquez is too young for his reputation is to be tainted with Corona's kalokohan. And there is no way for his political ambition in the Supreme Court to go on and shine, (bata pa lang ay tigasin, mayabang at medyo corrupt na.) Good Filipinos don't need the likes of this man, we have a lot of available and more deserving lawyers out there. Let's take him out of the Supreme Court, sagabal siya sa tuwid na daan!
---
Name: kanada
City/State/Country: kanada
IP Address: 99.226.123.71

Comments
The editorial is certainly bias. what is wrong with being loyal to a boss, a friend, and most importantly if you feel and truly believe your friend is innocent you will certainly stand by them regardless of what others may think. What will Midas gain by siding with his boss? Nothing of course. They are under a microscope that anything unusual will surely show immediately. The problem with filipinos is that they are too cynical and suspicious of others. The 38 million ($700K dollars) was taken from the private company of Mrs. Corona's parents. This is why Corona was NOT AFRAID if they even open his bank accounts.
---
Name: GFJBHEDF
City/State/Country: Hercules
IP Address: 67.188.19.40

Comments
CJ Corona refused to share with P'Noy's minions, and crowned it by heading a SC that voted unanimously to distribute Hacieanda Luisita to the long suffering farmers. For that, 188 pro P'Noy solons impeached him, some without even bothering to apprise themselves of the 8 articles of impeachment. For siding with the SC decision to distribute HLI to the farmers, The Solicitor General, Jose Anselmo Cadiz was forced to resigned, or be charged with incompetence. For supporting the SC and CJ Corona's decision to distribute Hacienda Luisita, Jose Midas Marquez, is also being persecuted by P'Noy dictatorship et al. > LINK
---
Name: A. Poli
City/State/Country: Anywhere
IP Address: 207.228.157.18

Comments
Why in the world you guys are so mad at Midas Marques when you know that the real issue why the CJ is being impeach is to save the big big Hacienda Luisita from being distributed? Why? Nak ng bakulaw, people the bullet is already rocheting back to the shooter, don't you guys sees it? :D
---
Name: 1 UP
City/State/Country: GOTHAM CITY
IP Address: 74.101.61.3

Comments
Mike of Japan put up this comment re Midas Marquez "one's loyalty to his or her superior must end where loyalty to the institution he/she works for begins." Better said than done pal. Who wants to play here nowadays? Heroes are dead people!
---
Name: Sven
City/State/Country: EU
IP Address: 57.124.221.39

Comments
Your editorial says Midas Marquez painted himself into a corner. That is very true. And there was no reason for him to do that. Had he stayed neutral, he would have probably had a long and illustrious career with the Court. Maybe ending up as a Justice some day. But now his tenure with the Court may be cut short---very short!
---
Name: Manny
City/State/Country: Meycauayan
IP Address: 180.194.249.230

Comments
Righteously speaking I would say that Midas action is uncalled for. First of all public servants should render service first to the country before someone else. But he must have a valid reason and that is his right. Are we sure that he is turning his back to the country? Are we sure that Impeaching Corona is righteous? SURELY Corona would have been spared of this trial if only he submitted himself to the wishes of PNOY. 188 house members would not be in a hurry spending millions of people's money due to the marching order. Their action is NOT genuine for the people. It's for themselves and we call this HYPOCRISY? If this succees, a RUBBER STAMPPED Supreme Court is in the making. PNOY won a popular vote but this does not mean he GETS what he wants.
---
Name: Antonio Ramirez
City/State/Country: London ,UK
IP Address: 194.176.105.141

Comments
You are judging Midas Marquez because he is loyal to CJ Corona. that is absolutely ridiculous opinion! instead, we must admire his faithfulness as he adhere believing his principles in life. I know Aquino's Govt. want to remove all the Supreme Court Justices linked to Arroyo's Govt. from their offices so that Noynoy will have a full control of the SC, as he will appoint his own CJ to continue corrupting the humble poor Filipino people.
---
Name: GFJBHEDF
City/State/Country: Hercules
IP Address: 67.188.19.40

Comments
That P'Noy et al is going after Marquez as well, is good because it divulges the consistency of this administration, of the vengeance on all implicated, great and small, on the Cojuangco family/Aquino family lose of Hacienda Luisita to the long suffering (40 Yrs?), farmers, still waiting for the remainder of HLI be distributed to them. Soon the rest of the justices may also be implicated for impeachment if CJCorona loses in the senate impeachment.
---
Name: A. Poli
City/State/Country: Anywhere
IP Address: 207.228.157.18

Comments
"Gloria Arroyo, Justice Corona, Senator Santiago aka Ilongang talakitok na may katok, Atty, Marquez, Justice Cuevas, Atty. Jimeno, Senator Lapid, Senator Joker Arroyo, Senator Enrile & other corrupt politicians are products of educational institution so oblivious to the ethical-morality of law." - mocked one poster. Wrong. These are better people than the current government. I would have agreed if PNoy's policy is RECONCILIATION for all. Who want a never ending political discourse? Filipinos should be using all its energy in improving itself like in disaster preparedness and the economy. Not stupid politicking.
---
Name: 1 UP
City/State/Country: GOTHAM CITY
IP Address: 74.101.61.3

Comments
Mockingmaya wrote "SC spokesman Marquez should ask himself: What does loyalty to Chief Justice Corona mean? Is it morally permissible to rally SC employees & other judicial officers to his political convictions? " Why not? What law was being broken? What moral teachings had been violated? In a democratic state the right to assembly is protected by the constitution. You speak of democracy but your views are undemocratic. That is what you get from going to a third rate school.
---